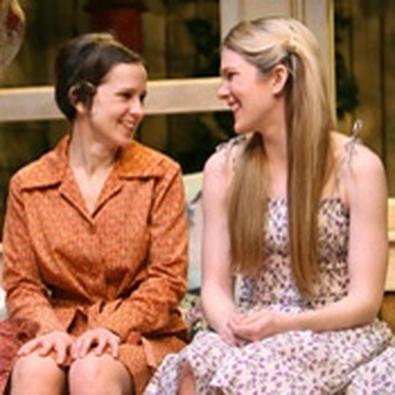 Those merrily melancholy hooligans, the Magrath sisters, have returned to the boards. And in Roundabout Theatre Company's lovely revival of Beth Henley's Crimes of the Heart — a transfer from the Williamstown Theatre Festival, staged once more by actor-turned-director Kathleen Turner — this motley threesome seems as palpably real and inordinately nuts as ever. Well, to be fair, all six of Henley's characters are direct from a bag of pecans. Maybe they're not the pride of Hazelhurst, Miss., but us Yankees love our kooks.
Crimes is set in late 1974, yet aside from David Murin's character-driven costumes and Anna Louizos' open set, it never feels like it's taking place 30-odd years ago — or 25-odd years since it opened on Broadway and won the Pulitzer Prize. Perhaps it's because an actor staged this revival, but each performance is founded on a kind of effortless realism, allowing plot and character points that might seem outdated — say, oldest sister Lenny (Jennifer Dundas) considering herself a spinster at 30 — to be fast forgiven. Plus, the play, at least initially, isn't about Lenny; it's more about why youngest sister Babe (Lily Rabe) shot her husband and whether middle sister Meg (Sarah Paulson) is still going after a singing career in L.A.
All three sisters are together in the house, owned by the Magraths' ill, unseen grandfather, courtesy of the manic telegram Lenny sent Meg about Babe, who shot her husband to stop his abuse. Or was it because he assaulted the teenage black boy Babe's been trysting with? And did you know about Meg's nervous breakdown? Or about Lenny's shrunken ovary?
When Henley's play was first produced, the tragicomic shocker was the idea of the Magrath sisters blithely accepting, even justifying, Babe's gunplay. Time — and the lucid way Turner stages the play — has revealed lots of additional layers in the text. For one thing, this revival plays upon the idea that Americans love their gossip. It's evident not only from the endless intrusions of Chick (Jessica Stone), the Magraths' detestable, debutante-ish cousin, but also from how the sisters ultimately know more about each other than perhaps is healthy. It's the source of their sisterly ties, that's true, but it's also the wellspring of their pain — their tragedy.
It's an open question whether Babe's young, excitable lawyer, Barnette (Chandler Williams) — who also holds a grudge against Babe's husband — will spare her from jail. It's also debatable whether Meg will rekindle her romance with Doc (Patch Darragh) despite deserting the poor guy during Hurricane Camille after he'd been injured and fleeing to L.A. Or whether Lenny will summon the courage to call that nice Memphis man who was sweet on her.
Let's applaud Turner's casting. First, the physical resemblance of Paulson and Rabe — height, hair, vocal tone — is startling beside the tinier Dundas, pointing up the ovary dysfunction that provides some of the play's funniest and saddest moments. Indeed, all three actors have mined Henley's text and discovered diamonds. Stone, for her part, plays pompous Chick with the airy lightness of someone people love to loathe. Tall as a tree and with his loping walk, Chandler is total fun as Barnette — watch as the lawyer, defending Babe on a charge of attempted manslaughter, becomes as intense as a man arguing before the Supreme Court. In his short scenes, Darragh offers a glimpse of the world beyond the mental Magraths — a place where normality, not the tragicomic, reigns.
Presented by Roundabout Theatre Company
at the Laura Pels Theatre, 111 W. 46th St., NYC.
Feb. 14-April 20. Tue.-Sat., 7:30 p.m.; Wed., Sat., and Sun., 2 p.m.
(212) 719-1300 or www.roundabouttheatre.org.
Casting by Tara Rubin Casting/Laura Schutzel.