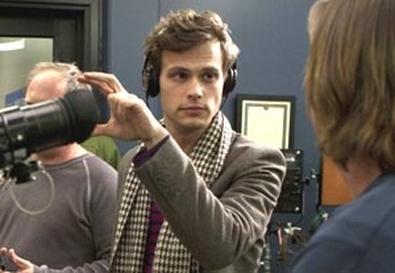 For six seasons, Matthew Gray Gubler has played socially awkward genius Dr. Spencer Reid on the CBS procedural drama "
Criminal Minds
." In the fifth season, Gubler—or "MGG" or "The Gube," as he is known to his fans—took on another role at the show: director. He helmed the "Mosley Lane" episode and follows it up this season with the segment called "Lauren," airing March 16.
Gubler is no stranger to directing. He attended
NYU's Tisch School of the Arts
intent on being a filmmaker. Lack of actors for his friends' school projects put him frequently in front of the camera. "Tisch has a great film program and a great acting program, but they are segregated; you don't really intertwine," says Gubler. "My peers knew I liked acting, so they'd be like, 'Go get that guy Gubler. He'll be in your student film.' I was in the same building. I became their go-to guy. So I left NYU having been in probably one thousand short films. That was the most acting training I had."
While at film school, Gubler was required to take part in an internship. He landed one with his favorite filmmaker, Wes Anderson. While Anderson was directing "The Life Aquatic With Steve Zissou," the director cast Gubler in the part of "Intern." "And that's how I luckily and miraculously became a working actor," says Gubler.
He also directed a "behind the scenes" short documentary called "Life Aquatic: Intern Journal," which Anderson included on the DVD. That short, as well as others and music videos he directed, garnered Gubler attention, so he moved to Los Angeles and got a directing agent. When the agent found out his new client had also acted in Anderson's film, he was impressed and tried to persuade Gubler to go on some auditions.
"I was like, 'No, Wes is known for using outside nonactors and the real people in his life,'" says Gubler. "I had never considered [pursuing acting], but my agent said, 'There's this interesting character you should read for. I think it would be something you might have fun with. Go in and try out. If nothing else, it will be a good experience on learning what it's like to cast actors.' Because, you know, I had never made anything with a budget, really. So I went in. Literally, my first audition after 'The Life Aquatic' was for the 'Criminal Minds' pilot."
Reading for Reid
Gubler decided to audition for "Criminal Minds," playing the character Dr. Spencer Reid as sincerely and honestly as possible. They told him he was great, but totally wrong for the part. "I think I was too gregarious," says Gubler. "Originally, they wanted the character to be more stoic, like Data from 'Star Trek.' Maybe they were worried I would bring too much weirdness." Even so, the next day he got a callback. He went in, did the same thing and again they said, "You're so wonderful, but so wrong." After the fourth or fifth audition, they decided to cast him.
Though Gubler was thrilled to get the part, he was also terrified. "One day I woke up and I was on CBS in front of millions of people and I'm like 'Oh man, I don't know anything,' " he says. "The only thing I'd ever technically studied was filmmaking. [I did learn] a lot of technique like camera understanding and lens appreciation. Plus, I knew what I liked when I was directing actors and I knew what I liked to watch, but, as my friend and co-worker Joe Mantegna said, I was 'in the middle of the public eye and learning everything on a giant basis.'"
Gubler doesn't want to undersell how grateful he is for the opportunity to act. "I've had this unbelievable amount of good fortune and I'm just so thankful for it," he says. "But at the same time I feel exceptionally guilty. I have so many friends who are talented graduates of Juilliard and are exceptional actors and I'm the lucky one that somehow got such a fortunate break."
After getting the part of Dr. Reid, Gubler started going out on more auditions and getting cast in films like "
(500) Days of Summer
," in which he played Joseph Gordon-Levitt's best friend, Paul. Because of his filmmaker background, Gubler says he understands the casting process and has learned to love auditioning. "I know when an actor goes in to audition, if they don't get the part it's not because they're a bad actor at all; it's because it's not quite the right fit. I've been in a lot of casting rooms as a director where I see these 17 superb actors, but I need the one that looks a certain way or brings a tiny tinge of an element—equally as good as the others but just different."
Finding His Method
For some people, a lack of technical acting training could hinder their ability to find truthfulness in a scene, but Gubler strives for it, even when Dr. Reid must spout lengthy scientific speeches. He tries to bring whatever is happening in his life to the moment and give his dialogue a context of realism. "I luckily have a pretty good memory because my character has to say a lot of exceptionally long-winded and bizarre things," he says. "But at the same time I like when you can look into the other people's eyes and have it occur in as natural a way as possible and not even think about making a TV show."
When asked about whether viewers will ever learn the cause of Dr. Reid's headaches, Gubler can honestly say that he doesn't know, and he doesn't want to. "They are hinting at schizophrenia, but I don't know," he says. "I'll be the last guy to know. I'll know as we're filming it. In my efforts to keep everything as real as possible, I don't like to know too much of the script that doesn't inform or involve my character. I have to not know what's happening in the script outside of what my character knows."
Gubler says he looks at every episode like a dinner-theater mystery: He doesn't read the end of the script and doesn't want to know who the killer is because his character is trying to find the killer. "To me, to know who the killer is would misinform my portrayal of Reid," he says. "I like to be kept in the dark. Then as it's unfolding, the revelations happen more realistically on camera. Preferably instead of in my bathtub while I'm reading the script."
Last year, Mandy Patinkin surprised Gubler by saying, "Matthew, I don't know if you realize this, but you're actually 100 percent a Method actor." Gubler was shocked. He had always heard jokes about the fabled technique and thought Method actors were crazy. "You know what? It's easier to be 'Method'!" he exclaims. "Painful, but easy." Gubler knows it helps that he gets to work with great actors. "From Mandy [Patinkin] to Joe [Mantegna] to Paget Brewster and all of them. When you are in a scene with someone that good and you're sharing energy with them, it's kind of hard to look bad. I'm very blessed in that regard."
Directing Himself
While Gubler was honored to direct two episodes of "Criminal Minds," he admits that it was difficult to switch back and forth from director to actor. He respects people like Woody Allen and Todd Solondz who have directed themselves, but much prefers to do one or the other. "To play the part of Dr. Reid, as lame as this sounds, I have to become him for it to be real," he says. "I can't become him when I'm trying to watch and make sure the frame is capturing Shemar [Moore] and everyone in the scene. It creates this interesting problem for me as an actor because all of a sudden I can't pretend I'm hunting a criminal. I know I'm driving the ship as a director."
Thankfully, he got through it and was pleased with his work. "I was lucky to have great camera operators, crew, and my co-stars to help me when I would ask, 'Did I butcher that? Was that all right?' But it was hard to seamlessly switch in the second from director to actor," he says.
Best Advice
"My best advice to actors is if you love acting, do it every chance you get," Gubler says. "Success does not mean success. All that matters is whether or not you're doing your best to entertain. The way this business works is all about luck and timing. I get really sad when people say, 'I'm no good. I haven't been cast in a pilot.' It doesn't mean you're not good; it just means someone hasn't seen you yet. It doesn't mean that in real life you're not the greatest actor. It's unfortunate, but I think if you can find happiness in just purely enjoying the craft and doing what you love, you'll forever be happy."
He also advises actors to self-generate projects rather than waiting to be cast in someone else's project. "[It] can drive actors crazy," he says. "I refuse to let that be an issue to me. I try to self-generate as much stuff as I can. All I am interested in is if I can bring people some entertainment, some happiness. I don't care if it's one person. I don't care if it's just my dad or 14 million people every Wednesday night at 9. As long as I'm getting to make somebody smile or be moved, I couldn't be happier. If I weren't on this show, I'd probably be doing mime work on Santa Monica Boulevard or something. I try not to stop. I don't want to ever stop."
OUTTAKES
– Other films include "Magic Valley," "How to Be a Serial Killer," "R.V.," and "The Great Buck Howard."
– Is the voice of Simon in the "Alvin and the Chipmunks" movie franchise
– Wrote, directed and starred in a series of mockumentaries titled "Matthew Gray Gubler: The Unauthorized Documentaries" and "The Authorized Documentary." In addition to directing other short films, he directed, edited, and co-produced The Killers' "Don't Shoot Me, Santa" music video.
– Is an accomplished watercolor painter and model and has recently started his own music label, Corn Stalk Recordings.