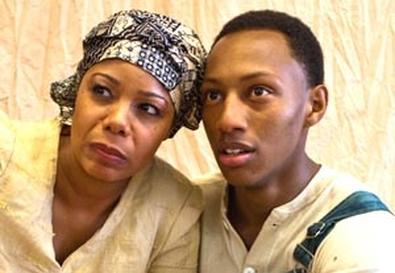 Devastatingly moving describes the theatrical experience of Andrew Carl Wilk and Allan Harris' "Cross That River." Unafraid to take risks, songwriter Harris proves he has the talent to meld American musical styles—blues, folk, country, jazz, gospel, and rock—into a cohesive score. He also displays heart serving as the story's narrator and main character, Blue. Wilk, who directed and provided the methodical book, has created a fully formed man for Harris to inhabit as the production's anchor.
Much like a diary, the story of Blue, an archetype of the pioneer black cowboy in the post–Civil War West, flows like a flip book: snapshots of Blue's life streaming together to form a grown man on the final page. Donna McKechnie's musical staging fashions the story's grace in the body. Her work originates naturally, emerging from the tilled soil of Wilk's script.
The cast is the cream of the crop. Harris' strong connection to the audience more than makes up for some occasionally muddy diction. Recent Juilliard graduate Brandon Gill is Boy Blue, who sprouts from the snapshots of Blue's time as a slave. With mature tone and rich quality, Gill conquers the challenge of Harris' emotive "Blue Was Angry" and fills in the gaps in narration.
Soara-Joye Ross excels in two very different roles. As Mama Lila, Blue's elder caregiver and fellow plantation slave, she's the embodiment of tough love, moving like a woman who has known nothing but work, her face taking on a worried glow as she watches over everyone on the plantation. Mama Lila is a preaching woman, and Ross brings down the house with the Act 1 finale, the overwhelming spiritual "I Must Believe." Relentlessly specific in her depictions, Ross also impresses as saloon girl Pearl, a role that exploits her youth and sexuality.
"Cross That River" ranks as a highlight of the festival. Its accessible presentation of history combined with a tumultuous emotional experience achieves the highest level of musical theater storytelling. This vital fusion of American music styles and groundbreaking talent fosters the evolution of musical theater as an art form.
Presented by Love Productions Records as part of the New York Musical Theatre Festival at TBG Arts Center, 312 W. 36th St., 3rd floor, NYC. Oct. 13–18. Remaining performances: Fri., Oct. 16, 8 and 11 p.m.; Sat., Oct. 17, 1 p.m.; Sun., Oct. 18, 4:30 p.m. (212) 352-3101, (866) 811-4111, or www.nymf.org. Casting by Heather Meisner Wilk and Elias Tray.