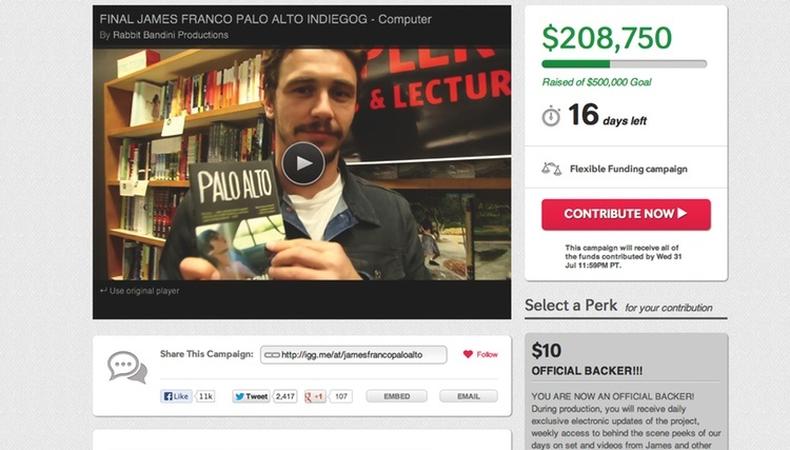 The failure of James Franco's Indiegogo crowdfunding project demonstrates how difficult it can be to raise money online—even for established performers.
High-profile successes such as Zach Braff raising more than $3.1 million on Kickstarter—more than $1 million over his goal—for his feature "Wish I Was Here" and Rob Thomas raising $5.7 million for a "Veronica Mars" feature—more than double his stated goal—helped create the impression that the Internet was a money tree that could be picked by anyone with the right amount of fame.
But Franco's "Palo Alto Stories," a collection of three shorts for which he sought to raise $500,000, has come in with less than half that amount. "We're probably not going to make our goal, but it's OK," Franco told his fans in a video posted July 15. "We have enough to do a couple
of these projects in the right way, and so we are incredibly grateful for that." He then extended the campaign for two more weeks. "And there will be more things you can get if you donate," he said.
Franco's experience shows there's no secret sauce for feature-project fundraising, but there are things producers can do to help attract attention. Organizations ranging from the SAG Foundation to the newly formed Los Angeles Crowdfunding Film Society are helping educate actors and producers eyeing crowdfund- ing platforms as a way to get their projects made. Deciding what platform to use is the first step.
Kickstarter takes a fee of 5 percent of the amount raised if the project is successfully funded. According to the site, 44 percent of its projects reach their funding goals. Meanwhile, Indiegogo takes a fee of 4 percent of the money raised if a project's goal is met or 9 percent if it isn't.
It's easy to make mistakes. "The problem with 90 per- cent of crowdfunders is they all launch too early," said Danny Kastner, CEO of Crowdjammer, which consults on crowdfunding projects. "You can be on the home page of Indiegogo, and if your project is not geared toward the actual audience that would respond to your campaign, you might get a hundred bucks."
Kastner said producers should work to build a robust social media presence through sites such as Twitter, Facebook, and Instagram in advance of their crowdfunding request. "Your friends, they're your initial fan base; then it spreads out," he said. "If you pre-build some following, then you go out to the following and say, 'This is what I plan on offering; we're going to do a special pre-event; how many of my friends want to come to that?' Or they might be like,
'We're going to have a speaking role.' You can ask people to donate things as perks. Really involve your friends; be really creative about letting your friends be active."
Beyond the donation world,
new sites such as FilmFunder con- nect investors with film projects in need of financing. "On FilmFunder, you're getting ownership of
the film," said Jude Tucker, the company's CEO and co-founder.
"So it motivates people to see the film do well because they'll get
a return on their investment." Tucker said his company does "due diligence" on potential projects to assess their chances of success before marketing them to investors. "That's why an investor—let's say, a high-net-worth individual such as a dentist or a doctor who's interested in getting involved in films—comes to our platform to know that the due diligence has been done by people who know what they're doing."
Tucker said the company targets projects with a budget of around $1 million. He pointed to a feature titled "Fast Life," which stars Mischa Barton and is set to be directed by Rock Jacobs. According to IMDb.com, it's slated for release in 2014.
In the meantime, the International Crowdfunding Film Festival
runs Oct. 2–6 in San Francisco 
for crowdfunded projects.