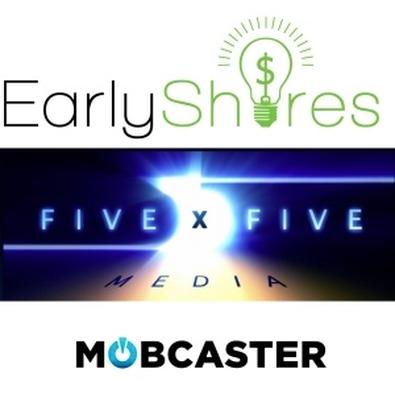 Online fundraising services Kickstarter and Indiegogo have revolutionized the entertainment industry, giving artists the resources they need to independently produce projects. Now the two sites' success has spawned a growing number of competitors. These new services may specialize in film, television, music, or other media, but they have a common purpose—connecting artists with communities of fans and donors interested in investing in the final product.
One of the newest is EarlyShares, an equity-based crowdfunding platform that in late November announced its partnership with Five by Five Media. Unlike Kickstarter or Indiegogo, which collect donations in exchange for rewards—such as a signed DVD, backstage access, or even IMDb credit—EarlyShares users invest in a project directly and become stakeholders who will see a return on their investment, should the final product earn a profit.
The site launched with a focus on investment in startup businesses, not feature films. But with the Five by Five partnership, EarlyShares co-founder and chairman Stephen Temes believes users will be more likely to discover new ways to invest in entertainment.
"I think most people don't know you can invest in the arts or in a movie," Temes said. "When somebody's watching a trailer, they might say, 'Wow, I'm going to see this movie. I can't wait.' The other side is 'I'm going to invest in this movie. Not only do I think it's going to be good, but I think it's going to make a lot of money.' "
Until this year, equity-based crowdfunding was illegal, and only donation- or rewards-based sites could collect funds via crowdsourcing. Thanks to the Jumpstart Our Business Startups (JOBS) Act, however, which President Barack Obama signed into law in April, anyone will soon be able to invest a small percentage of his or her annual income in startup companies—and film projects—through online crowdfunding.
Temes and executives from EarlyShares and Five by Five plan to host a live educational online chat Dec. 12 on the EarlyShares Facebook page. "Most people who invest in films can and do lose most of their money," Temes warned. "It's far from a sure thing. That's why we want people to be educated."
Film and video is by far the most popular category on Kickstarter, which has helped nearly 22,000 projects raise more than $100 million to date. Yet full-length television pilots or series are hardly represented on the site. Enter Mobcaster, a new TV-centric crowdsourcing site where fundraising is only part of the equation.
"What we were thinking initially wasn't 'Let's build a crowdfunding platform,' " Mobcaster co-founder Aubrey Levy said. "It was 'Why is there no independent television?' And it started from there. Mobcaster came to be out of a problem that we saw in effective and efficient ways of developing television."
Levy envisions television networks and production companies using Mobcaster to discover original content. Creators pitch their concepts to the Mobcaster audience before shooting a single episode. If viewers think they want to see more, they can donate toward the production cost. Once the pilot has been funded and made, the producers come back to raise money for the rest of a six-episode season.
EarlyShares and Mobcaster face competition in a rapidly growing online marketplace. Indiegogo recently partnered with JuntoBox Films to give users access to production, mentorship, marketing, and distribution services. Similar to EarlyShares is Slated, an invite-only network of independent filmmakers, accredited investors, and industry players who collaborate to create, finance, and distribute feature films.
"There's a lot of banks on every corner," Temes said. "It lends credibility to the entire business. I welcome competitors. It's a huge market."