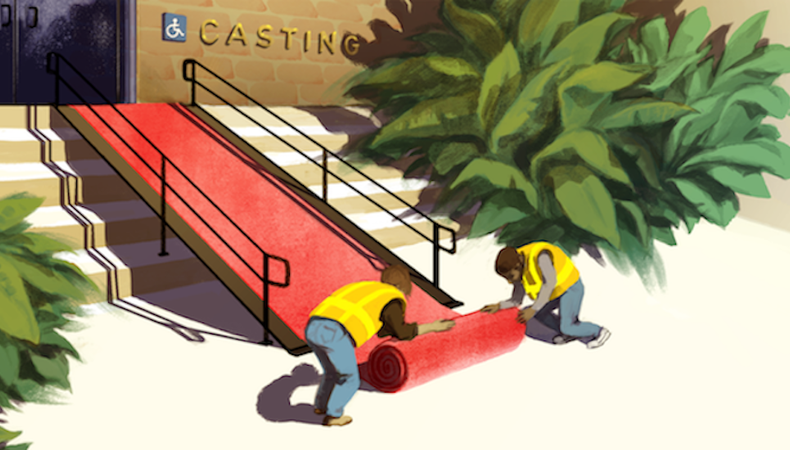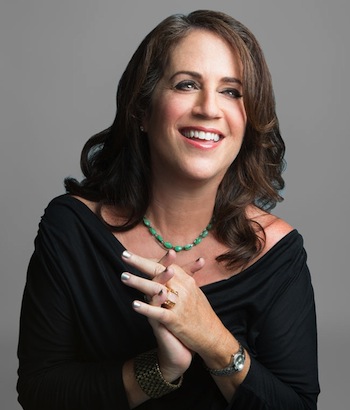 On Jan. 7, the Casting Society of America produced an open call for actors with disabilities. Roughly 750 people came in and were seen by 50 casting directors and associates in 16 cities across the country. I was lucky enough to participate in this monumental undertaking. We were overwhelmed with the sheer talent.
The initiative is part of CSA's commitment to—according to the head of its Inclusion and Diversity Committee, Russell Boast—"challenge unconscious bias, empower casting directors to lead the inclusion conversation, and discover, educate, and promote the next generation of bankable talent within a wide range of diverse communities." He adds that events like last month's open call "give [underrepresented actors] access to us while offering casting directors an opportunity to cast authentically and become advocates for genuine and accurate representation in the entertainment industry."
The experience was a learning process. All of the participating casting directors were educated on how to help and assist a person with a disability in the audition room. We were given guidance on how to make the room comfortable by verbally describing the room to a blind or low-vision actor either before they entered or once they were in the room. We were given tips on how to make the talent most comfortable, like placing American Sign Language interpreters to the sides of the room and only focusing on the auditioning actor. Even smaller but extremely important details were implemented, like providing a music stand to give deaf actors and those with impaired mobility more freedom to use their hands, or having cups of water with straws for performers with muscular dystrophy, or dimming lights for those affected by light sensitivity. The CSA Inclusion and Diversity Committee was ready for everything, and the actors' appreciation was apparent in their terrific work.
READ: Stop Excluding Actors With Disabilities
We also learned how to use the correct descriptors in the casting breakdown and to supply crucial information on the needs of the incoming cast member to our producers and crew so that their experience on set was a good and safe one. When auditioning several deaf actors, they used the ASL interpreters we hired for the event. Those interpreters were the cream of the crop. The actors told me that when they come to auditions, they tend to use the provided interpreter, but that those interpreters are often not experienced in the acting world. These actors' auditions hang on the interpretation of the ASL specialist, and if they don't have a good one, it all goes south. Based on our event, the CSA is compiling a list of the best ASL interpreters to recommend when CDs are in need of one for auditions.
As we did for the international open call for transgender actors, we videotaped all of the auditions and wrapped by setting up a database so our members can access these wonderful actors when a role comes up. The next step in this journey is to continue championing actors with disabilities for roles in which the character is not necessarily described as disabled.
Casting directors have long been at the forefront of casting with inclusivity and diversity. I'm glad to see our filmmakers are finally catching up with us. Thank you to the CSA Inclusion and Diversity Committee for your continued and tireless efforts!
Known for her work in film and television, producer and casting director Marci Liroff has worked with some of the most successful directors in the world such as Steven Spielberg, Ridley Scott, Mark Waters, Christopher Nolan, Brad Bird, and Herbert Ross. While working at Fenton-Feinberg Casting, she, along with Mike Fenton, cast such films as "A Christmas Story," "Poltergeist," "E.T. – The Extra Terrestrial," "Indiana Jones and the Temple of Doom," and "Blade Runner." After establishing her own casting company in 1983, Liroff cast "Footloose," "St. Elmo's Fire," "Pretty in Pink," "The Iron Giant," "The Spitfire Grill," "Untamed Heart," "Freaky Friday," "Mean Girls," "Ghosts of Girlfriends Past," "Mr. Popper's Penguins," "Vampire Academy," and the upcoming "The Sublime and Beautiful," which she produced as well, and the upcoming film "Magic Camp.".
Liroff is also an acting coach, and her three-night Audition Bootcamp has empowered actors to view the audition process in a new light. The class spawned an online course available at Udemy entitled "How To Audition For Film and Television: Audition Bootcamp." Visit Liroff online at marciliroff.com, follow her on Twitter @marciliroff and Facebook, and watch her advice videos on YouTube. You can also read her blog.
Ready to get to work? Check out Backstage's TV audition listings!