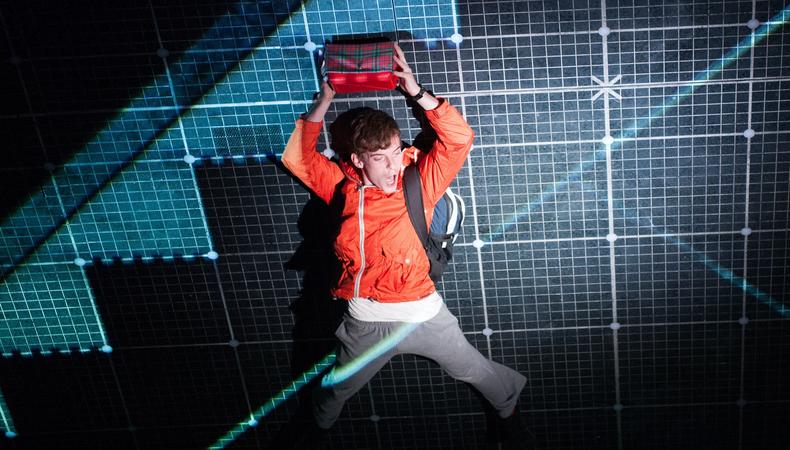 "The Curious Incident of the Dog in the Night-Time" is the lead-off presentation of National Theatre Live's new season, and it's a delight. Simon Stephens' adaptation captures the utterly unique essence of Mark Haddon's international bestseller about Christopher Boone, a 15-year-old autistic boy who sets out to discover the killer of a neighborhood dog. Director Marianne Elliott, the co-director of "War Horse"; movement coordinators Scott Graham and Steven Hoggett (who devised the choreography for the Broadway musical "Once"); and a sterling National Theatre cast theatrically capture the way Christopher views the world, creating a highly original play that brims with humor, pain, and mystery.
However, as with all National Theatre Live presentations, "The Curious Incident of the Dog in the Night-Time" is a recording of a London performance broadcast on a big screen in a movie theater. While it unspools in real time, with a 20-minute intermission, there are no live actors involved. Thus, it isn't technically a play. It is marvelous, though, and I recommend it to theatergoers and cineastes alike.
Following the lead of his hero Sherlock Holmes, Christopher sets out discover the identity of the person who killed Wellington, a dog belonging to a neighbor. The search proves difficult because Christopher cannot conduct casual conversations, being easily confused by crowds and stressful situations and unable to abide being touched, going into a frenzy of screaming and hitting when he is. His investigations eventually set him on a journey from his small-town home to London, an epic odyssey filled with danger and terror. By the play's end Christopher has confronted a rending family conflict, tested himself against society and mathematics, and resolved the mystery of Wellington's murderer.
While the entire cast is splendid, as one might expect from the National Theatre, Luke Treadaway, who plays Christopher, is astonishing. He conveys his character's irrationality and intelligence, his strangeness and humanity, with no hint of showiness or condescension, and in so doing he provides the piece with both a heart and a strong center of gravity.
Elliott and her collaborators maintain a sure balance between showing us a world that's fascinatingly exotic when filtered through Christopher's consciousness and heartbreakingly immediate when presented straightforwardly. Bunny Christie's multipurpose set consists of a flat gridlike floor that lights up in gorgeous patterns when required. Both Paule Constable and Ian Dickinson find ingenious ways to take us inside Christopher's mind with their respective lighting and sound designs.
"The Curious Incident of the Dog in the Night-Time" has a bounty of pleasures for lovers of fiction, theater, and broadcasting. For theatergoers, though, it has the extra attraction of one of the most entertaining curtain calls I have ever witnessed. Don't leave before you see it.
Presented by National Theatre Live. For a complete list of U.S.dates, times, and locations, visit www.ntlive.com.
Critic's Score: A