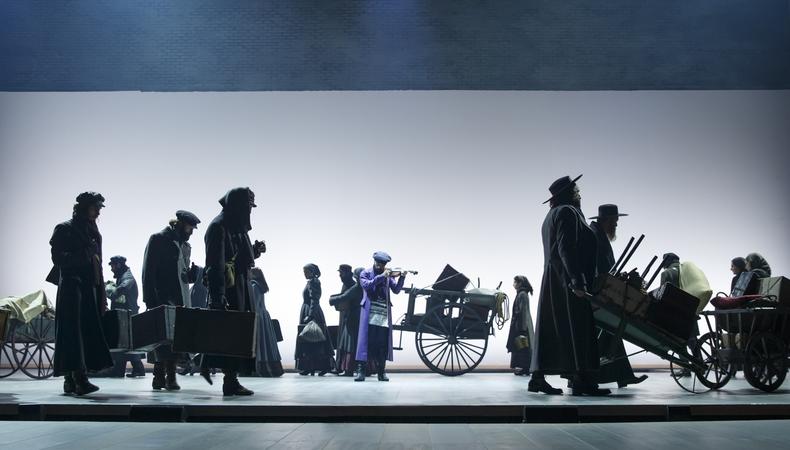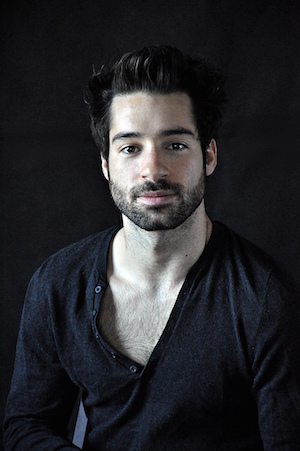 Jesse Kovarsky is not your typical Broadway performer—and he likes it that way. "I'm never going to be the standard male dancer, and I think because of that, I've looked for things a little different." With a thick, scruffy beard and standing well below six feet, his appearance often gets him typecast in roles like a Russian ballroom dancer in "Anna Karenina" and a Palestinian terrorist in the Metropolitan Opera's "Death of a Klinghoffer." Using this to his advantage, Kovarsky landed the role of the Fiddler in the updated "Fiddler on the Roof," which has been nominated for three Tony awards including best revival and best choreography.
How did the audition process for the show begin for you?
I heard that Hofesh [Schecter] was going to be [choreographing] "Fiddler on the Roof" about four or five months prior to the actual audition. I knew that's what I wanted to do, and I did everything I could to find out when this audition was. I wrote to my friends who are producers on Broadway, casting directors, casting agents. My friend, who was in "Sleep No More" with me, got invited to the audition. So she gave me the email address of the person in charge of it, and I emailed them and wrote down what I'd done and what I looked like. I mentioned "Sleep No More," which I knew they'd recognize. I said I was in "Death of a Klinghoffer," which got a lot of publicity and kind of proved that I looked like that particular region, and I sent a headshot as well.
They were looking for a look, and I knew I was perfect for that. And, I knew they were looking for non-traditional Broadway dancers. Since I did "Sleep No More," I knew that would be enticing to them because it's contemporary and a bit avant-garde, which is like Hofesh. So they invited me, and I went to the audition. There might have been around 60 of us [there]. I think the day before at the open call there were around 700. By the end of the day they cut us down to around 15.
How did you prepare for the audition?
I felt like I knew Hofesh's work. I had actually studied his work; weeks before going, I looked him up. I needed to know his body, his language, what his movement was. I don't think that many other people did. Looking around, a lot of people looked like they went into it blind. I had never auditioned for Broadway, so I was so nervous. Looking at some of his work online, I had a visual reference of some of the work that was being taught.
READ: "Why Adam Kantor Thinks 'Fiddler' Resonates Today"
What happened after they narrowed the group down?
The next day the 15 of us came back and there were a few people from the day before. They separated us into two groups. It ended up being, like, six guys and six girls at the end of the day. And we were asked to be a part of a workshop. So basically the audition wasn't for the show, the audition was for a workshop. We did a two-week workshop this past summer with Hofesh. This was the first time "Fiddler" had been given the rights to do the show without Jerome Robbins' choreography. So, they wanted to investigate what that meant.
We spent the first week learning Hofesh's material and understanding how he moved, so we could have a skeletal understanding. Then the second week we spent drawing it apart and putting it to music and songs that we would be dancing to. We created so much material; we created eight or nine pieces that could have been used in the show. At the end of those two weeks the director, Bartlett Sher, said to us, "We're so happy that you were able to do this. Unfortunately we can't use all of you," which was really shocking. So basically it was a two-week audition. We all knew it was an audition; it wasn't definite. It felt very competitive in some ways, like the pressure was on. From 12 we were narrowed down to eight who got into the show.
So how did you come to portray the Fiddler?
On the last day of the audition workshop, the director told us that he wanted to conceptualize the idea of the Fiddler, that he didn't want it to just be a fiddler playing on stage. He wanted it to be a dancer. He said, "Well maybe we'll do some movement for him, we don't know," and he looked at me and said, "I want you, right now, to just play around and see what you can do."
You've mentioned being typecast before. In this case, do you think it was to your benefit?
I'm grateful that my look is desirable for certain roles, like in "Klinghoffer," like "Anna Karenina," like "Fiddler on the Roof"—my look really fit the part. I walked into the audition for "Fiddler" and I had a feeling that I was a strong contender. Not many people had my facial hair or my look. Many Broadway dancers are very clean cut, ready to smile and be on [stage]. They could be put into any chorus line. So, it has worked in my favor. The one audition I went to that it didn't work in my favor was one of my first auditions, for Disney Tokyo. And that worked against me, they couldn't cast me because of my height and because of my [appearance]. So you win some and you lose some, and I've learned to accept that.
Inspired by this post? Check out our audition listings!