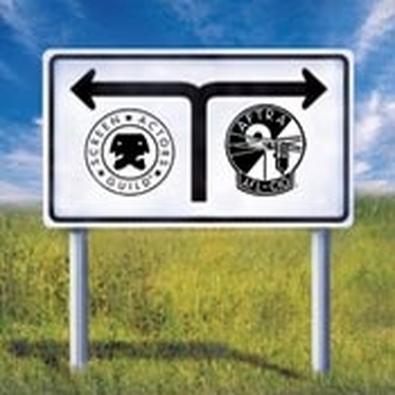 It was summer, and the Screen Actors Guild and the American Federation of Television and Radio Artists were tangling with Hollywood producers over payment for work in emerging media, which would profoundly change the entertainment industry for decades. At one point, after a long, drawn-out battle, one union wanted to end the turmoil and get back to work, while the other indicated that it wanted to keep fighting.
It was 1980, the dispute was over pay cable and videocassettes, and it was AFTRA's Los Angeles local that voted down a tentative deal that would end a three-month strike for new TV and film contracts; among the local's objections were the proposed residual payments for the new media. SAG's rank and file, meanwhile, had voted to accept the terms, and guild actors faced the uneasy prospect of crossing AFTRA picket lines.
That didn't happen. Enough AFTRA members in the rest of the country voted to ratify the deal, which sent every actor back to work. But the potential for a split decision chastened the traditionally warring unions and prompted them to forge an agreement to negotiate jointly the major contracts covering areas of shared jurisdiction, such as commercials and scripted TV programming. The pact was called Phase One and was supposed to be the first part of a multipart process that would end in merger. "We took the first step toward merger," William Schallert, guild president from 1979 to 1981, told Back Stage recently, "but it was the only step we ever took."
Despite repeated attempts, the unions have never joined forces fully, even though they currently share about 44,000 members. In fact, they are further apart than they ever have been, and their longtime tortured relationship has taken bizarre turns since late May, when AFTRA reached a separate deal with the Alliance of Motion Picture and Television Producers. As the federation tries to get members to ratify the proposed contract, the guild is urging joint cardholders to vote down the deal and force AFTRA back to the negotiating table -- with SAG.
The principal issues that arose from the 1980 strike -- new media, merger, and how hard to push producers -- continue to exert themselves in today's negotiations and show no signs of being resolved. AFTRA leaders and those in SAG's New York and regional branches have favored merger in the past, cast themselves as more pragmatic and less strike-prone, and tend to take a less insistent approach in negotiating new-media terms: It is not absolutely imperative to lock in a pay structure while the market is still evolving, they say.
SAG president Alan Rosenberg and his supporters in the Membership First faction, which has a controlling interest on the guild's Hollywood and national boards, generally have the opposite perspective: Merger, at least as it has been proposed in the past, is not in actors' best interests; a strike threat is a union's best weapon, and ironclad assurances for work in new media have to be established in the current negotiations. If those assurances aren't won, actors will fail to reap benefits commensurate with their worth -- which, the leaders believe, is exactly what happened in 1980.
'A Very Bad Deal'
Few actors were as angered by the 1980 strike as Edward Asner, an anger that is palpable some three decades later. What most upset him was the unions' failure not only to secure adequate residuals for cable and video but also to set up a system in which the actors' share of the profits would grow as new markets evolved.
"That same baby has come back to haunt us ever since," said Asner, who became SAG president in 1981, largely as a result of the perceived failures of the strike. "It led to the kinds of problems that we have now, not finding a way to convince management that a formula must be devised here and now, rather than wait three years from now when a new form of electronic marvel will have arrived." Asner, who participated in SAG's "Vote No" rally June 9, supports Rosenberg.
Most troubling to many in Hollywood labor groups was the residual rate for home video. For actors, it is 5.4 percent of the producers' gross, a number that has stayed fixed for 28 years. At the time, home video was a niche market, and most of its income was derived from rentals. Today, because of the proliferation of DVDs, income from home video has grown so vast that it now accounts for about 56 percent of producers' revenue, outstripping box office receipts and TV advertising by more than 2-to-1 margins, according to a labor attorney in Los Angeles who spoke on condition of anonymity.
In 1980 the problem was determining the producers' share of income, because some of them manufactured and distributed their own videocassettes while others did not. Labor and management decided that residuals would be based on 20 percent of the total gross -- the average royalty paid by distributors to producers, according to a source who worked closely with the studios and networks at the time of the deal.
In the current era of media consolidation, most producers distribute their own videos and thus get the entire gross. Based on a wholesale price of $16 per DVD, actors collectively receive about 18 cents for every unit sold. If they were receiving 5.6 percent of the total gross, they'd get about 86 cents per DVD.
"We got a very bad deal," Schallert said. "We didn't have the right answer for it.... There was no way for us to reach an agreement over that. They proposed something that we had to swallow."
Many actors, Asner and Schallert added, were not satisfied with the residuals for original series on pay cable either, which involved a certain number of free reruns in the first year. In this matter, Schallert said, the unions were undone by their failure to come up with a clear formula heading into the negotiations. "It was very depressing for us," he said. "There was nothing to be done about it. We couldn't fight our way out of it."
John McGuire, a senior adviser and former associate national executive director of SAG, was a participant in the 1980 talks. "There was a lack of unity of what was the ultimate answer as far as formula," he said. "That sort of contributed to a complete breakdown in the negotiating process."
However, McGuire added that the guild made "substantial gains" in 1980, particularly in the area of residuals for free TV, then the dominant medium. "People tend to forget that," he said.
'Too Much History'
The residual payments established in 1980 have led many in SAG to push for a much harder line against producers -- even if it means a strike. And that is a principal reason that SAG leaders and a majority of the guild's national board are pushing for the defeat of AFTRA's proposed contract, which, they contend, does not do enough in this area.
According to AFTRA's tentative deal, residuals for streamed Internet reruns of TV content are paid only after the content has been posted for 17 or 24 days (depending on whether the series is in its first season) -- terms that are on a par with those won by the directors' and writers' guilds earlier this year.
One particular critic of the AFTRA deal has been Loren Lester, a Los Angeles-based actor, dual cardholder, and Membership First partisan. In a June 17 letter to fellow members urging them to vote against ratification, he wrote: "AFTRA is trying to convince you that it will be easier to get residuals in the future when the Internet becomes a huge moneymaker. This is completely contrary to the lessons of history. In fact, whenever income has increased for producers, so too has their resistance to residuals. Case in point: There has never been an increase in the pathetic DVD rate over the last 25 years even as DVDs have grown into a multibillion-dollar money machine."
A SAG member who has been active in the guild for more than 30 years dismisses the notion that actors were hoodwinked in 1980. "Frankly, it's ridiculous," said the source, who requested anonymity. "People are obsessed with the fact that somehow we've been treated unfairly.... They contend we got nothing for DVDs, when in fact we have made hundreds of millions of dollars from them. In 1980 our residuals were tied in to gross proceeds, [a concept that] was unheard of prior to that."
The SAG member does concede that the unions have not been able to "move the ball down the field" in the interim. "But in succeeding negotiations," the actor said, "judgments were made that we had higher priorities that were more substantial; there were other things we needed."
Moreover, McGuire said the influence of 1980 is overstated. "That's much too much history for one negotiation to bear," he said. "I do believe people tend to seize on those kinds of events and put too much weight on them."
It's uncertain which vision will define the performers' unions over the next decade. All that is certain is that they remain divided, with no reconciliation in sight.
Andrew Salomon can be reached at asalomon@backstage.com.