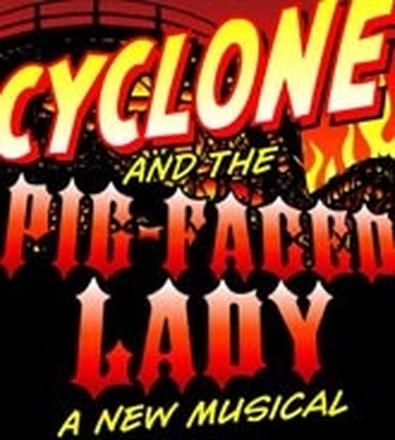 Any musical that rhymes coup d'état with Wonderbra obviously has something going for it, though this fantasy of Coney Island in the 1920s works better as a live-action cartoon than as an evocation of personal tragedy.
Book writer and lyricist Dana Leslie Goldstein alternates between domestic scenes of comic-book artist Sally (Ariela Morgenstern) and the mythic world of the female superhero who stars in Sally's latest opus. Jodie Bentley plays Sally's creation, who is known in civilian life as Roma, a gypsy singer and cooch dancer in Coney Island girlie shows. A spate of suspicious fires and roller-coaster accidents at the Dreamland amusement park prompts Roma to assume her superhero alter ego, Cyclone, and fly to the rescue. What Cyclone's appreciative public doesn't realize is that she has help behind the scenes from her deformed, introverted, but psychically gifted twin sister, Pia (also played by Morgenstern). Sally imagines the twins as two parts of the same psyche, with Pia the visionary introvert supplying woman-of-action Roma with the information she needs to carry out her heroic mission.
Populated with colorful sideshow archetypes — notably Mephisto (David Garry), the satanic impresario of the House of Horrors — Cyclone and the Pig-Faced Lady benefits from Morgenstern's sympathetic presence and the solid vocal talents of the supporting cast. Composer Rima Fand contributes an atmospheric score that conjures old-time cabaret and French accordion music, seasoned with a dash of contemporary dissonance.
It's only in the scenes of Sally at her drawing board that the concept falters. In addition to some standard love-versus-career ruminations, the driven young artist is saddled with an insensitive, clueless square of a boyfriend named Andy (Paul Niebanck), who perishes in a Sept. 11-inspired tragedy. Sally's anguished response just doesn't ring true — partly because the guy is such a clod and partly because the very notion of these two people being attracted to each other feels like a writer's contrivance.
Presented by New Perspectives Theatre Company as part of the New York Musical Theatre Festival
at TBG Theater, 312 W. 46th St., NYC.
Sept. 24-Oct. 4. Remaining performances: Wed., Oct. 1, 8 p.m.; Fri., Oct. 3, 4:30 p.m.; Sat., Oct. 4, 8 p.m.
(212) 352-3101 or (866) 811-4111 or www.theatermania.com or www.nymf.org.
Casting by Michael Cassara.