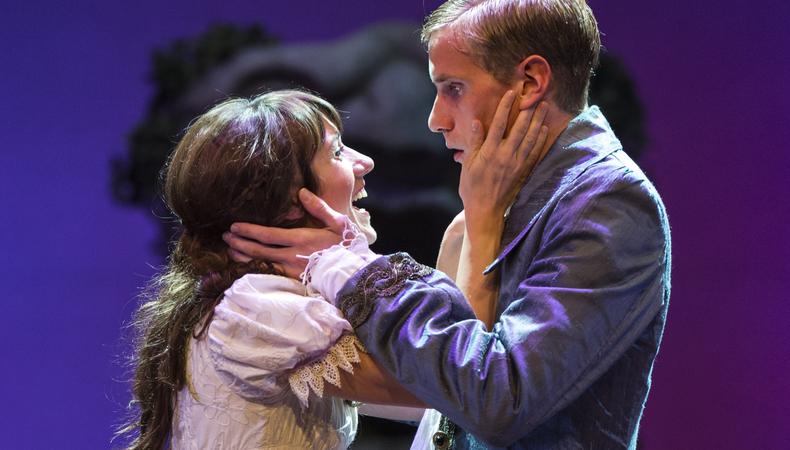 There's a reason William Shakespeare's "Cymbeline" is rarely performed—the play, one of the Bard's "problem plays," seems like the result of throwing a copy of "The Complete Works of Shakespeare" in the blender. A five-act hodgepodge of Shakespearean tropes, it has a powerful monarch, a cross-dressing young woman, a cunning Italian trickster, a potent sleeping potion, and a few long-lost relatives living in the wilderness. What it doesn't have is a solid through-line to keep the audience interested for three hours.
The design for director Bart DeLorenzo's production doesn't help matters. Perhaps costume designer Angela Balogh Calin was trying to reflect the episodic nature of the script with mismatched costumes, but it doesn't work. It is a pity because each individual costume is beautiful. But putting a mélange of characters dressed in 17th-, 18th-, and 19th-century costumes onstage next to Roman soldiers makes a strange play all the more confusing. Ken Booth and John Ballinger's overwrought lighting and sound designs are similarly distracting. The frenzied design concept of this production culminates with a bizarre shadow puppet and booming voiceover portraying the god Jupiter, which elicits awkward laughter from the audience when it appears late in the show.
Challenging script and perplexing technical elements aside, the acting here is strong. In the central role of Imogen, a princess accused of infidelity, Helen Sadler has a few moments of melodrama, but for the most part she acts with energy and confidence. Adam Haas Hunter gives noteworthy performances in his two roles: Imogen's exiled husband Posthumus and her sniveling stepbrother Cloten. As Cloten, his twitching fingers and goofy swagger make him the funniest person in the show. His fight with Guiderius (Jarrett Sleeper)—the fight choreography is by Ken Merckx—is a high point. As conniving Iachimo, Andrew Elvis Miller's performance falls short. His attempt to seduce Imogen doesn't feel believable and though he gets laughs, his character has the potential to be funnier. Time Winters stands out as Pisanio, Posthumus' servant. Working Shakespeare's language to his advantage, he makes his small role amusing and memorable.
If you are a lover of Shakespeare and you have been dying to see "Cymbeline" onstage, see this production. The acting is engaging, the company is clearly working with a comfortable budget, and the production makes a decent effort with a troublesome script. But if you've never heard of "Cymbeline" and you don't always enjoy Shakespeare, steer clear.
Presented by and at A Noise Within, 3352 E Foothill Blvd., Pasadena. Sept. 29–Nov. 18. (626) 356-3100 or www.anoisewithin.org.
Critic's Score: C