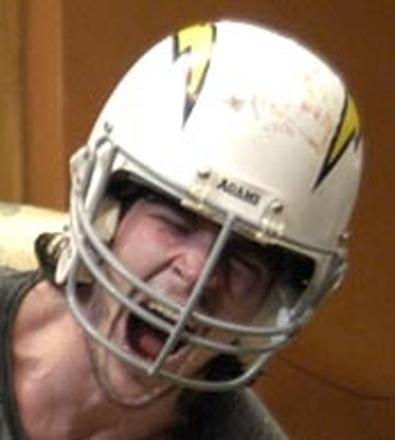 Cascading audience laughter erupted during many of the plays at the 32nd annual Humana Festival of New American Plays at the Actors Theatre of Louisville, which ended March 30. But underneath all the humor was usually profound, almost disturbing cynicism.
In Lee Blessing's two-hander Great Falls, for example, a stepfather, identified only as Monkey Man (a splendid Tom Nelis), persuades his sullen stepdaughter Bitch (the shrill Halley Wegryn Gross) to go for a drive. He cheated on Bitch's mother; there's no debating whether Bitch is right to resent him for it. Still, his intention is to explain that, events aside, their relationship needn't fundamentally change. Bitch's hilarious opening line warns him that he'll be raped in prison for kidnapping a minor. It's going to be a long drive.
And that's exactly what Great Falls is: a kind of anti-buddy movie in which the pair covers hundreds of miles across the Northwest, with stops at scenic wonders, national parks, obscure museums, a Planned Parenthood clinic, and grungy motels. For most of the trip, Monkey Man seems constitutionally unable to initiate that stepfather-stepdaughter heart-to-heart. What makes matters worse is that the more they drive, the more Bitch exemplifies her name. When Monkey Man tries, at last, to tell Bitch that he still cares for her despite his adultery, it comes as a long monologue while she's taking a shower in a motel bathroom — out of sight, earshot, and mind.
For a play that sees stepparental communication in cynical terms, at least Monkey Man still believes in its value; Nelis does a fine job displaying his character's anguish and regret. What's sad is that Gross plays Bitch as a snappish, insolent crab: You wouldn't blame Monkey Man for a minute if he tossed her from the car and left her there. However, she too has something to communicate, but she trusts the world so little and sees life in such mercenary terms that it's not revealed until late in the play — too late for anyone to care. Not only did Bitch lose her virginity recently — going about the process with chilling nonchalance — but she was effectively gang-raped, and now she's pregnant. Their stop at Planned Parenthood, by the way, doesn't put an end to that part of the drama.
What's interesting and neatly symmetrical is how, in the play's first half, Monkey Man's in the driver's seat, literally and figuratively, switching with Bitch for the second half. Director Lucie Tiberghien stages the play, a good deal of which occurs in the front seat of a car, with a light touch. But she should have instructed Gross to moderate her one-note performance, for as it stands, Great Falls is a drive to nowhere.
'Shaw' and Tell
Exponentially funnier — yet even more cynical — is Gina Gionfriddo's Becky Shaw, which is the one play out of them all that should come to New York and fast. Directed by Peter DuBois, it's about folks with such jaundiced worldviews that bountiful one-liners wait to explode like plutonium pellets in search of the right detonator. Suzanna (an excellent Mia Barron) and Max (the superb David Wilson Barnes) were childhood friends; when Max's mother died and his family situation became untenable, Suzanna's father basically paid Max's father to be allowed to finish raising him. That should tell you something.
At the top of the play, Suzanna's father is dead; there's a long disquisition, led by Max, who has grown up to work in finance, on how the late patriarch dissipated the family's wealth and might have been gay. Suzanna's emotionally refrigerated mother, Susan (Janis Dardaris), ailing with multiple sclerosis, dismisses this out of hand — for her, chilliness and skepticism are the twin currencies that make her world go around. Soon, Gionfriddo considers whether Suzanna and Max, technically brother and sister, will consummate their attraction. After they do so, Suzanna marries Andrew (the fine Davis Duffield), a Brown graduate who weds her after a whirlwind courtship and who'd rather return to his old job serving coffee at a local café than toil away as an admin at a law firm.
Max still loves Suzanna. He thinks he knows how to get what he wants — Gionfriddo gives Susan a speech near the end of the play that lays this trait in Max very bare — but the question is how successful he'll be.
Meanwhile, Suzanna and Andrew set Max up with Becky Shaw (an incandescent Annie Parisse), whose fantastic first entrance consists of Parisse poured into a whimsically chartreuse cocktail dress and making a display of her quirky and dizzy nature. It's a key measure of Max's cynicism about the world that his first priority isn't Becky's attractiveness or even her intelligence but making a judgment of her résumé. It's thin: A Brown dropout, she has no family contact, no car, no money, and she rents her apartment. Thus comes more of Max's lacerating barbs (each delivered pitch-perfectly by Barnes), more acid, more bile, and more convulsively funny exchanges between the various characters. Gionfriddo has written, in essence, a laughfest that sticks knives in your gut. It's all the more poignant because Becky, for all her faults, is the one character able to speak the truth, plainly and simply. And in that regard, Parisse is the epitome of good casting.
Max and Becky's date goes badly: They're robbed at gunpoint. And for weeks afterward, Becky seeks out Max for closure. Unfortunately, he found closure after the robbery when he brought her back to his hotel room, had sex with her, and gave her money to get lost. Gionfriddo still has work to do on the play — beefing up the mother's character, for example, and making Suzanna less of a cipher — but she has the makings of a true tragicomedy in her hands.
Faith, Charity, and Confusion
In other works, cynicism is concealed cleverly. This Beautiful City, written by Steven Cosson and Jim Lewis and with music and lyrics by Michael Friedman, is documentary theatre derived from interviews conducted by members of the Civilians, the New York-based troupe, with citizens of Colorado Springs, Colo., a hotbed of evangelicalism. The wonderfully chameleonic cast of 12 — featuring Emily Ackerman, Marsha Stephanie Blake, Ian Brennan, Brad Heberlee, Dori Legg, and Stephen Plunkett in major roles — embodied evangelicalism as a reflection of community sentiment, not the media-hogging, quasi-political national movement we more typically hear about.
It was also sheer luck that while the interviews were being conducted in 2006 and 2007, Ted Haggard, pastor of the New Life Church as well as president of the National Association of Evangelicals, was publicly outed as gay and a meth user. So the piece, while initially seeking to understand the roots and fruits of religious fervor in the Rockies, is equally about what happens to a faith-dominated community when its belief systems are upended by realities on the ground. How the community subtly throws Haggard under the bus — along with another local preacher who came out during the same period — says volumes about who these zealots really are. At the same time, the score, usually through very perky melodies and ditties taken from interview material, lightens the mood and makes these zealots into human beings. As directed by Cosson, This Beautiful City leaves you zigzagging between the pious and the personally powerful, such as a liberal Jew who rages against the infiltration of religiosity in the armed services and a defiant transgender city planner.
Writer-performer Marc Bamuthi Joseph's solo piece the break/s, directed by Michael John Garcés, was the sole work at Humana in which cynicism could be seen as emanating from within, not in response to interactions with the world. In a blend of hip-hop music and poetry with feverishly articulate if unfocused self-examination, Joseph, a choreographer and dancer, traces his journey as a performer and teacher who has worked across the globe. Considering how swaggering hip-hop culture is, especially for men, what was astonishing was how vulnerable Joseph seemed. When break dancing across the stage as video interviews with enthusiasts waxed lyrical about the subculture's charm and meaning, he infused into his hurling gyrations enough self-doubt and introspection to make him a galvanizing figure. I do wish that Joseph had been clearer as to what his ultimate point in the break/s really is, but it was energizing to watch him struggle to discover it.
Two plays — Carly Mensch's All Hail Hurricane Gordo, about a socially maladjusted man who is either autistic or suffers from Asperger's syndrome, and Jennifer Haley's Neighborhood 3: Requisition of Doom, a nihilistic play about teenagers playing a video game that comes to life and brings death to their vanilla town — made me cynical about playwriting. In the first case, the writing in Gordo was simply amateurish and much of the acting even worse; I've heard crummier jokes on How I Met Your Mother delivered with more precision. And the fact that we never learn what's really wrong with Gordo (a moppet-haired Patrick James Lynch) makes the dynamic with his brother Chaz (Matthew Dellapina) uninteresting. First they rent out a room to punkish India (an erratic Tracee Chimo), then her father, Oscar (the fine William McNulty), arrives to take her home. Sean Daniels stages the play with high energy, but it doesn't produce much more than wind and rain. And as for Haley's piece, it's a comet that belongs in outer space.