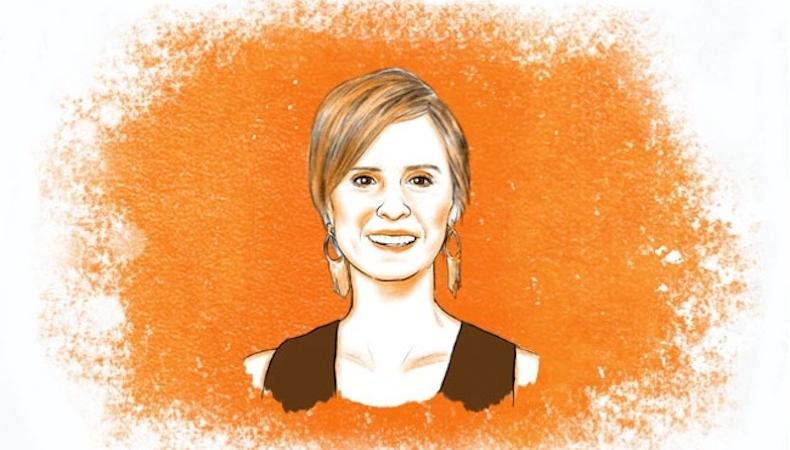 The thing about Cynthia Nixon is that whether she's playing Miranda on "Sex and the City" or appearing onstage in plays like "Rabbit Hole" or "Wit," she makes it all look easy. But the actor (who is an Oscar away from achieving an EGOT) will be the first to say there were challenges in stepping into the shoes of Nancy Reagan for the upcoming National Geographic Channel TV movie "Killing Reagan," which airs Oct. 16. The film focuses on the six-month period surrounding the 1981 assassination attempt on President Ronald Reagan. Nixon reveals how she dug deep into one of our most complex first ladies.
You played Eleanor Roosevelt in the 2005 TV movie "Warm Springs." Is there a through line between her and Nancy Reagan?
They were very different. But if I had to talk about the ways in which Eleanor and Nancy were the same, I would say that the press didn't give them an inch, that the level of scrutiny that they were under was merciless—and almost for opposite reasons—but that also they had the curse of being married to...look, not everybody loved Ronald Reagan, not everybody loved Franklin Roosevelt, but generally well-regarded, charismatic, confident, easygoing men. And they were more complicated, and so I feel like when you have a president like George Bush that not that many people really are crazy about, Laura looked great. And when you have a president like Ronald Reagan that is so beloved, Nancy... you want to vilify one of them.
In playing Nancy, where do you find the line between acting the part and not just imitating?
She's kind of quiet. I lost some weight and the costume designer did an amazing job of coming as close to replicating the clothes, the shoulder pads, and the cheekbone thing. I really focused on understanding [Nancy] and how she ticked and trying to empathize with her and why she was the way she was.
How did you get your SAG and Equity cards?
I did an afterschool special when I was 12 and I remember they didn't want to give me my SAG card. They didn't think I was professional enough. I had to do this whole dog and pony show and go in there and talk about my career. I think it was "Little Darlings" that got me my SAG card. And Equity, when I was 14 I was cast in a production on Broadway of "The Philadelphia Story" starring Blythe Danner, Mary Louise Wilson, and Edward Herrmann.
What advice would you give your younger self?
I would say, try and trust your instincts more and be more in the moment. Don't worry so much and don't shy away from things that you're going to fail at. Failing is not the worst thing. Failing actually can be really valuable.
Do you remember what your earliest headshots were like?
I do. They were OK. It was the late '70s, so they were very naturalistic. I think I might've had my chin on my hand. I had one composite headshot that had five different looks of me—one holding my cat.
As a member of the LGBT community, did you have to separate yourself from what was going on with HIV/AIDS in the 1980s and Reagan's lack of understanding during his presidency?
Not only for that reason, for a lot of reasons. I had to try and quiet down [the thought,] "They don't care about my issues." Their approach to the issues that we share is the opposite of what I wish they would be. But it gave me a fresh look at the things Reagan did that were successful and that were visionary. I [learned] about both of their early histories, their childhoods, coming to understand [Nancy's] level of control and how we think about people who are very controlled and controlling as being very powerful. But often, and certainly in the case of Nancy, she was just overpoweringly insecure and felt unloved and unlovable, and she was trying so hard to win people's affection. And often it backfired.
What parts do you gravitate toward?
It's really about the role. It's about how complex the role can be. I do more drama than I do comedy—but I love doing comedy, I really do!
You started out acting pretty young. Was it always the path for you?
My parents were very careful to explain to me that most kid actors don't become adult actors, so I had that very much in mind. I didn't actually think it was going to happen, but then it just seemed to keep happening!
Want to star in a TV movie? Check out our TV audition listings!