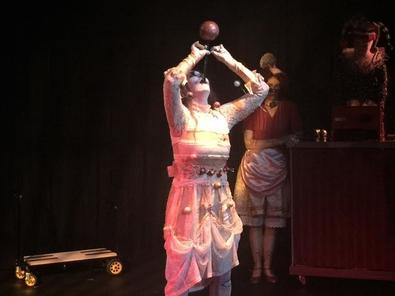 David Meglino is having a FIT. But don't worry. He has one every summer.
In fact, 2015 marks Meglino's eighth season as managing director of FIT, the Festival of Independent Theatres. Founded in 1999 as a means of offering cross-marketing and production support for the expanding number of small theater troupes-in-residence at Dallas' Bath House Cultural Center, it has since cast a wider net, inviting about eight companies each year to mount one-act plays in its 116-seat black-box theater. (Now in its 17th year, Dallas' WingSpan Theatre Co. is the only troupe to mount a show at each festival.)
FIT continues through Aug. 1, so we chatted with Meglino about this year's selection.
The Bath House is, literally, a converted, Depression-era changing facility along White Rock Lake. What's it like presenting theater there?
I think it's pretty fantastic—maybe the best spot in all of Dallas to work. The greatest thing about working at the Bath House is its function as a true community cultural center. In addition to holding a number of theatrical and arts-related events, [there's a] constant stream of bikers, hikers, boaters, joggers, tourists, and local residents who use the Bath House as a way station on their trips along the lake. [They] create an active and participatory environment that feels incredibly welcoming and often creates healthy walk-up business for gallery exhibits and groups performing in the theater. More importantly, the center is palpably rich with history—one of the earliest examples of Art Deco architecture in the Southwest. What's not to like?
How do you select companies to participate in FIT each year?
An open call for submissions is issued usually in January or February, asking for independent theater companies in the area—those without a permanent performance space—to submit proposals. A selection committee is convened, and all proposals are read and voted on with eight companies generally being invited to participate. We ask only that proposals be [of] scripts with a running time of less than 50 minutes. In terms of programming, we like to think of ourselves as a cultural buffet, offering a little something for everyone. There are no other restrictions on content.
We've produced just about every style of theater imaginable including plays, musicals, one-person shows, dance, narrative storytelling, devised movement, outdoor performances, Christmas shows, children's theater, and for the very first time this year, circus performance and cabaret.
Each company receives two technical rehearsals, each two hours in length, plus a one-hour planning session, for a total of five hours to tech an up-to-50-minute production. Prior to tech each company rehearses off-site at its own discretion and, in general, is wholly responsible for its own artistic content, with the festival acting merely as presenter.
What is the special function FIT serves in the arts community of North Texas?
Our primary mission is to provide production support for independent theater companies (both established and emerging), inspiring them to take creative risk by relieving the financial burden of ticketing, marketing and most importantly, venue rental. Unlike most theater festivals, we charge no fees for submission or participation. In fact, at the completion of each year's festival, all participating companies are given an equal share of ticketing proceeds, allowing for the rare festival experience with the potential for local artists to make money as opposed to one that too often comes with travel expenses and other exorbitant costs.
Furthermore, our practice of pairing shows and sharing audiences encourages a spirit of cooperation that actively enhances and strengthens the already vibrant independent theater community here in North Texas.
You can only recommend two shows this year to someone who has never been to FIT or any play festival before. What do you recommend to represent the experience of a play fest?
If I absolutely, positively had to chose only two, I'd say WingSpan's "Shoe Confessions" and Circus Freaks' "Playthings." The first is our oldest company, and a more traditional theatre piece—an exploration of the female love affair with shoes. The second is one of our newest companies, performing a more experimental work that combines a theatrical narrative with live circus performance. Together they make up a perfect example of the diversity you're likely to experience while attending FIT. But mostly, because they don't actually play together, to catch them both you'd also have to see Upstart Productions' one-man show "Sick F**k" and Gorilla Theater's production of "And the Stones Will Cry Out."
Funded by the City of Dallas, Office of Cultural Affairs, FIT continues through Aug. 1. Tickets are available at www.FestivalOfIndependentTheatres.com.
Inspired by this post? Check out our Texas Audition Listings!