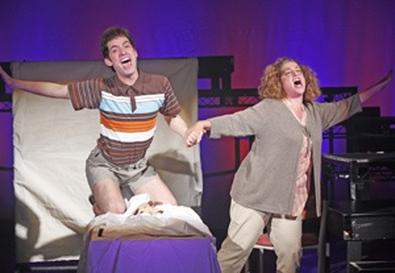 It's heartening to see established stage performers such as
Mary Testa
and Kenita R. Miller championing the work of young new writers by appearing in it. It's equally heartening to see young people forming companies such as
Jaradoa (Just a Roomful of Artists Doing Outreach and) Theater
to insure that their work gets produced and seen. Unfortunately, inexperienced artists aren't always the best judges of when their babies are ready to walk. Such is the case with "I'll Be Damned," an irritatingly naive, dramaturgically challenged musical-comedy riff on
the Faust legend
, being presented by Jaradoa at the Vineyard Theatre.
There are probably more musical treatments of this story than putative souls in hell, which makes it incumbent upon new adaptations to find a fresh take on the tale. Composer
Rob Broadhurst
and lyricist Brent Black, who also share credit for the show's inept book, have come up with the twist that Satan wants to be good again and allowed back in heaven. He makes a wager with God that he can win the soul of God's favorite person on earth. This happens to be comic book
–
obsessed, socially challenged Louis Foster, the 19-year-old home-schooled son of a single mother. The lonely Louis is desperate for a friend (smothering Mom thinks she's all he needs), and Satan gets him to sign in exchange for a promise to find one. After a string of failures, Satan succeeds (in what's meant to be a surprise but can be seen coming a mile away), and the first act ends. Act 2 follows Louis' and his mother's attempts to undo the contract.
There are more problems with the authors' realization of this scenario than I have room for here. For starters, Satan's compact with God is unbelievable. Why would God, who hates Satan and doesn't want him back, agree to such a bet? No persuasive reason is given. Later, Satan's success (I'll be good and not spoil the "surprise") is imposed by authorial fiat, because the authors need it to happen, not because they have dramatized how it does. This reoccurs late in Act 2, when Mom has an utterly unbelievable change of heart and decides she must let Louis go.
Act 1 takes too much time to establish things, then idles stubbornly in place during Satan's repetitive failures. Act 2 starts with an extraneous production number in hell featuring hip-hop demons tormenting Louis, who shouldn't even be there yet. It doesn't forward plot, it doesn't reveal character, and, worst, it doesn't entertain. The act soon bogs down in some tiresomely sentimental ballads before wrapping things up with a solution involving a cameo from God that, again, is utterly predictable.
The tone is somewhere between "Zanna, Don't!" and "Avenue Q," always reminiscent, never unique. The same goes for Broadhurst's pastiche score, ranging from traditional Broadway to rock 'n' roll to gospel. Black's lyrics show an awareness of craft and structure but are shaky in execution, particularly in a largely unintelligible rapid-fire patter song.
The mostly youthful 10-person cast does what it can under April Nickell's unfocused direction. Talented Jacob Hoffman gives Louis a spark of originality that makes the annoying character somewhat bearable, while
Kurt Robbins
endows his hipster Satan with considerable charm and comic timing. In the role of Friendetta, a comic-book superhero created by Louis (and so badly integrated into the proceedings that I haven't had to mention her), the excellent Miller, so good in "Dessa Rose," seems lost. Testa tries valiantly to make Mom lovable but misguided, but the authors have gone so overboard with Mom's possessiveness that Testa can't prevent the castrating, infantilizing character from seeming inches away from a Christopher Durang play.
Sometimes work isn't ready to be seen. The folks at Jaradoa would do well to be a bit more rigorous with themselves on that subject.
Presented by Jaradoa Theater at the Vineyard Theatre, 108 E. 15th St., NYC. July 10–18. Tue., 7 p.m.; Thu. and Fri., 8 p.m.; Sat., 2 and 8 p.m.; Sun., 3 p.m. (212) 868-4444 or www.smarttix.com. Casting by Alan Lane for Dave Clemmons Casting.