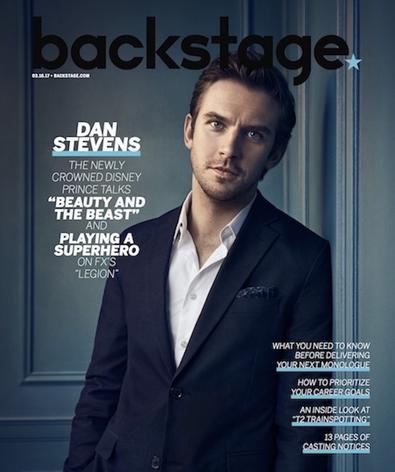 Known largely for playing Matthew Crawley on the first three seasons of "Downton Abbey," Dan Stevens is preparing to make that role a distant memory with back-to-back high-profile projects as David Haller on the FX X-Men series "Legion" and as the titular cursed prince in Disney's live-action remake of the animated classic "Beauty and the Beast."
On a Wednesday morning in February, a week before the 34-year-old actor is scheduled to kick off the "Beauty and the Beast" worldwide press tour in France, Stevens is tucked away in the back of the Trade Union Café, an espresso bar and diner in Bushwick, Brooklyn. Sporting a beard and button-down flannel shirt, he largely goes unnoticed—a far cry from what's in store. Soon he'll be in front of screaming fans and flashing cameras as he and his onscreen Belle, Emma Watson, and the rest of the cast travel from country to country in support of the highly anticipated film, which hits theaters in the U.S. on March 17.
The idea of a live-action remake—at least on this scale—was unfathomable when the animated feature first came out in 1991. But thanks to technological advances and the box office success of live-action versions of "Alice in Wonderland," "Cinderella," "The Jungle Book," and "Maleficent," it's no surprise "Beauty and the Beast" is getting a worldwide rollout and widespread attention.
But not since Stevens' largely criticized departure from "Downton Abbey" midway through the hit series' six-season run has there been so much attention surrounding the actor. "I had three years in my mind," Stevens says about sticking with the plan to hang up his ascot after three seasons to focus on new projects and his growing family (which included a newborn at the series' start and a second child born during production on Season 3). And suddenly the questions were: "What do you think you're doing?" and "What are you going to do?"
"I've spent the last five years trying to answer the question," Stevens says. He's since moved his family from England to New York City to follow opportunities that would have him stretch beyond the stage dramas and period work he's done in England.
Following his Broadway debut in the 2012 revival of "The Heiress" opposite Jessica Chastain, the actor appeared in back-to-back films, "The Guest" and "A Walk Among the Tombstones." In the latter, many noted his dramatic weight loss and disheveled appearance, but it was in "The Guest," his most notable post-"Downton" role, that the handsome leading—and significantly more lean—man turned into an unexpected and conceivable villain. "[Director Adam Wingard] wanted the guy standing there to be as charming as Matthew [on 'Downton']," Stevens says of playing David, a former soldier who cons his way into a family's home.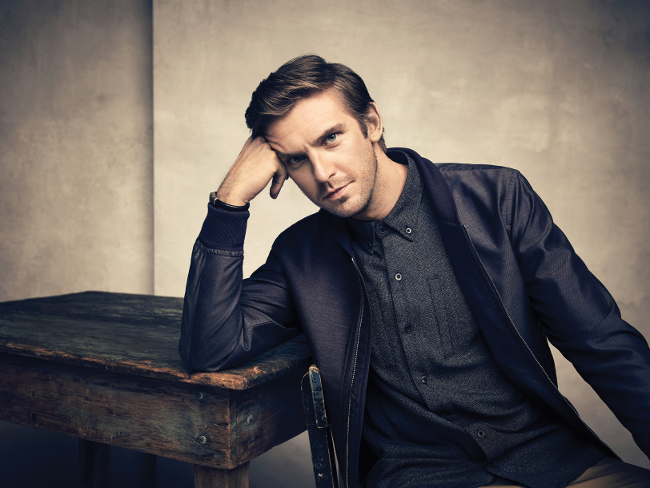 The 2014 thriller caught the attention of Noah Hawley, creator of the hit FX anthology series "Fargo," who was in the process of trying to find an actor to play the titular mutant schizophrenic on his new series "Legion." "I had seen 'Downton' and I had watched 'The Guest,' and the two roles couldn't have been more different," Hawley says of considering Stevens for the part. "Being that I needed a leading man who could hold a romance ('Downton'), and a leading man who could potentially evolve into a villain ('The Guest'), Dan seemed like a dream fit. And he was."
While Stevens has been working steadily since "The Guest," releasing a couple of films a year that have taken his career (intentionally) zigzagging from thriller to comedy ("The Cobbler" and "Night at the Museum: Secret of the Tomb") to sci-fi ("Colossal," out April 7) to romance ("Beauty and the Beast") and back to costume drama again as Charles Dickens in the upcoming "The Man Who Invented Christmas," he didn't have any specific interest in returning to TV—outside of his hilarious turn in two episodes of the web series-turned-HBO comedy "High Maintenance."
READ: The Infinite Reasons to Watch 'High Maintenance'
However, "Legion" presented a different opportunity—or rather, "an awesome playground"—to practice all of the things he's learned over the past five years. "I wasn't planning on doing a TV show again so soon, but 'Legion' seemed like a perfect melting pot," Stevens says of the series that has allowed him to play with genre and offered him the chance to dance and sing onscreen, as well as explore more physicality in his character development process with different directors. "It's a weirdly physical role even though it's not quite such an action-y role as 'The Guest,' " he explains. "I was talking to an acting teacher friend of mine, and we were talking about stress and movement and where that's held in the body. It's just something I used to never think [about] that way a decade ago."
His new skill sets have only added to his acting acumen on set. "Dan's strength is he can be whatever he needs to be in the moment. There's no traffic cop in his head second-guessing his creative instincts," Hawley says of Stevens' ability to portray the many sides of Haller, who has the power of telepathy and can absorb anyone's psyche as his own alternate personality. "Sometimes this means he has to act as if he's moving things with his mind. He comes to these moments with the same groundedness as the most dramatic scenes. But at the same time, given the tone of the show, he never descends into melodrama."
Instead, he's able to bring a sense of reality to a very stylized world—much like he was able to create chemistry with Watson while sweating beneath a Lycra bodysuit and wearing stilts that lifted him 10 inches off the ground during filming of "Beauty and the Beast." "Fortunately, she, I think probably [more than] any actress on the planet, is completely at home with the weird new technology brought in to shoot a scene," Stevens says to the credit of his co-star, who got her start in the "Harry Potter" film franchise. "She was completely nonplussed and I will be forever grateful that she was Belle for that."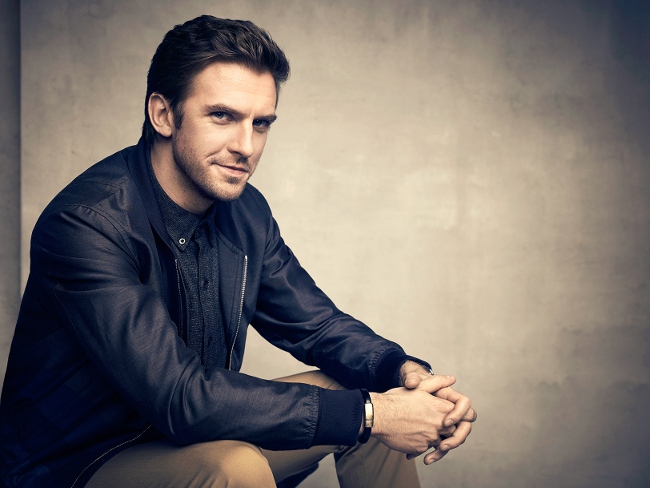 While the film is live action, much of the Beast is created through special effects, which required Stevens to film most of his scenes in what he calls an "alternate universe" to the rest of the set. "After the initial terror, which was blessedly short, it became very liberating," he says of not having to deal with costumes, hair, or makeup. Instead, he was able to focus on bringing out his inner demons through his voice and facial expressions, which were later captured in a series of sessions under UV light, with his face covered in UV paint, using over 20 cameras. "It almost became a thought exercise," he says. "You'd just be sitting there capturing whatever would be going on in the Beast's face at that point. The detail that that provides is a 10,000-dot resolution...down to the individual hair."
Even though he hadn't watched a final cut of "Beauty and the Beast" at the time of this interview, Stevens is very impressed with the versions he has seen at various stages of the digital creation of his character. "I've just watched the Beast emerge," he says happily, adding: "The rest of the movie is just so lush and so beautiful."
And now the Beast is capturing the hearts of a whole new generation of fans, who now know Stevens as the real-life version of a Disney prince. But the actor seems unfazed by the idea, just happy to be part of the legacy. "It was made with such fondness for the original that I really hope that people will see that," Stevens says, adding: "It's nice to keep that story alive."
Want to act in New York City? Check out our New York City audition listings!