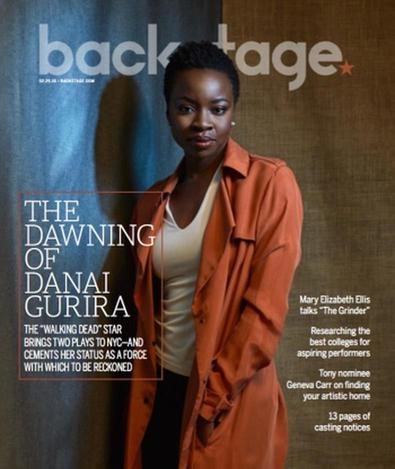 Although fans may associate her most with a sword, in Danai Gurira's case, the pen is mightier.
"I like to focus on stories that need to be told and are not told enough," the playwright-actor-activist says. "When I get bit by that bug and the story is saying, 'You must tell me,' I then go through a process which is often painful, and arduous, and long—and joyful!—of submitting to the story until I prove a worthy enough vessel to get it out."
Chatting in the lobby of Manhattan's NoMad Hotel, Gurira is charming and at ease; there's no trace of Michonne, the katana-wielding zombie assassin she plays on AMC's "The Walking Dead." Nevertheless, the language of a warrior slips into the conversation. She rattles off statistics on the war on women around the globe, calling arts education nothing short of a revolution. Writing underrepresented stories for the stage presents a "constant battle," and her dedication to the cause is an "artistic mandate," not a personal philosophy.
Her roots (Gurira was born in Iowa but raised in her parents' native Zimbabwe) are a crucial component of that mandate. "I'm not only a person of color, I'm also a woman. And I'm not only a woman, I'm also a woman from the third world. All those elements put together means I have a lot to do."
That is certainly true at the moment. "Eclipsed," Gurira's searing 2008 drama about captive women in the Liberian civil war, opens on Broadway March 6 with Lupita Nyong'o in its starring role after a sold-out Public Theater run last fall. At the same time, her Zimbabwean-American family dramedy "Familiar" began performances Feb. 12 Off-Broadway at Playwrights Horizons. All this while promoting Season 6 of "The Walking Dead," plus flying down to Atlanta to play Afeni Shakur in the Tupac biopic "All Eyez on Me."
"It feels great. I just wish I had a double, that's all," she jokes. Most exciting is "Eclipsed," which marks the first show in Broadway history with an entirely black and female creative team. It's also somewhat of a full-circle experience for Nyong'o, who had met Gurira even before an early production of the play at the Yale School of Drama. "When it got to Yale, Lupita happened to be a first-year grad student," Gurira remembers. "It was the perfect assignment for this Kenyan girl! She understudied and never went onstage. But now here she is."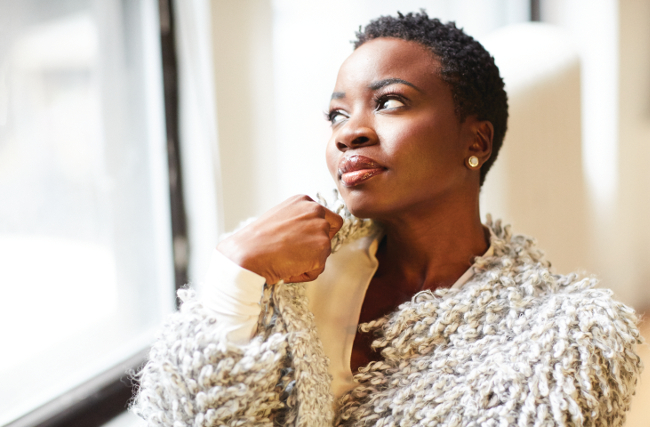 The five women in "Eclipsed" are based on real-life Liberians Gurira met in 2007 while conducting research on a travel grant. "You couldn't see it and not see war," she says of the country. "The beautiful thing was, I met so many women there who really embraced me and wanted their stories told and facilitated getting me to other women who needed to be heard." First-hand accounts, particularly from the network of women who convinced President Charles Taylor to attend peace talks by staging nonviolent protests, fueled her inspiration.
In fact, what sets Gurira's work ethic apart from other playwrights who rely on research is her tendency to connect personally with her subjects. She remains in contact with the peace women who inspired "Eclipsed"; 2012's "The Convert" probed her own Zimbabwean identity and Christianity; "In the Continuum," the 2006 Off-Broadway triumph that Gurira co-created and in which she co-starred, connects two women—one in America and one in Zimbabwe, a theatrical manifestation of her bicultural status—through their struggle against HIV.
Gurira dubs "Familiar," an ode to first-generation African families in America, her "people play" in the vein of Anton Chekhov. "He used to look at his family and people in his community and go, 'Oh my God, who are my people?' He found them infuriating and hilarious, and lovingly put them on the page." The play is yet another attempt to shine a light on the obscure, Gurira says. "It's so insane to me how rarely we hear the stories of first-generation Americans who are from the continent. Where are our stories? By the way, we have a president whose father came from another country. His name is not, like, Bob Joe Smith!"
Two young women tentatively approach the table. "I'm so sorry," announces one. "I wanted to come over because you look just like the actress from 'The Walking Dead.' "
"Oh, really?" quips Gurira. "I get that a lot."
"But you're not."
She pauses, grinning. "I didn't say that!"
After exchanging well wishes, the women hurry away, visibly thrilled. "If they don't ask me, I will let it go," Gurira says with a laugh. "That used to work, but now, the more I've been on the show, people know."
In addition to being the most-watched scripted television program in basic cable history, "The Walking Dead" allows Gurira, a fan favorite, to play with both sword fighting and ever-higher emotional stakes. "I can be pretty neurotic about my process, honestly," she says. "It's all about allowing it to click in your soul." Her training at NYU's Tisch School of the Arts enables her to find that click; as an actor Gurira depends on intense character immersion and visuals. The writer in her also demands that she studies scripts inside and out.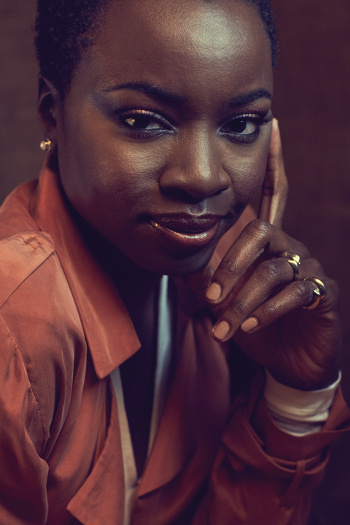 "I have to really get underneath where the words are coming from," she explains. "Nothing is said easily. I love talking to writers. I'll text my showrunner, like, 'Did you mean this?' " The vibe on "The Walking Dead" set is a fluid, collaborative one, she adds. "It creates more intimacy in a scene if you're actually working deeply together. The key thing is, leave your ego at home. It blocks artistic innovation."
Gurira's other acting advice is simple: Think like a creator. "Actors may not realize the extent of their own power," she says. "Acting is creation. It's them bringing their own stuff, letting it marinate in their soul, in their creative engine." Early-career actors often feel frustrated precisely because they're unable to create in a proactive way, she continues. "You have to remember that you are part of a craft and you are constantly building your craft. Ultimately we are artists, so it comes from us. And I think the tricky thing about being an actor is that we're looking for someone else to give us something.... Thinking like an artist and thinking like an out-of-work actor are two different things."
That goes for working playwrights, too. "Choose to believe that what you have to tell the world or what you have inside of you as an artist must get out," says Gurira. Just as actors should bring themselves into the audition room, writers must harness their individual voices to get their stories told. And as with any artist, excuses won't cut it.
"For God's sake, try," she exclaims. "If you don't even try, it's, like, how many stories are we not getting that were meant to be told? How many pieces of talent, how many amazing pieces of art are we not getting because people talked themselves out of even starting? You can look at all the 'buts' for the rest of your life. Why not just get it done?"
So if you have a story inside of you—which, as Gurira points out, everyone does—ask yourself the questions a warrior would ask: "What enrages you? What stories are not being told that you feel need to be told? What fascinates you? What makes you cringe? Find those stories and write them. It's about claiming your specificity, man, and letting it shine."
---
In Lieu of Flowers
On top of two plays and a hit TV show, Gurira remains ceaseless in her efforts as an activist. "My birthday is on Valentine's Day, and I'm in the midst of creating an awareness campaign around the issue of feminism.... It's very simple: Let's love our girls," she says. Instead of celebrating, as Gurira aptly puts it, "something about teddy bears and diamonds and nonsense," she's encouraging people to name as their valentine girls in need around the globe.
"You can't evoke change without awareness," says Gurira. By taking the pledge at her new site, logpledge.org, social media users can post a story of love or injustice with the hashtag #loveourgirls on the 14th of every month. The campaign's website also links to charities and other resources geared toward women's issues.
As Gurira's work proves, a commitment to social change enriches the life of an artist. In fact, she says, it's a responsibility. "Everyone should look at themselves and say, 'How do we all make the world a more inclusive place?' "
Want to read more? Check out our Backstage covers here!