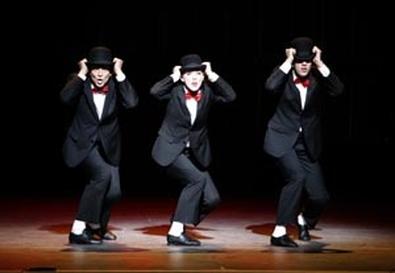 At Career Transition for Dancers, our goal is to find a new career for you that is just as fulfilling as your dance career," says William Dale, CTFD's director of development. "But we're not about quick fixes or handling crisis situations. So we want to get to you before you're ready to retire from performing. We want to help you start planning for a transition that may still be five or 10 years down the road.
"Some dancers," he continues, "have already gone back to school, decided what new career they want to pursue, and have even begun doing it before they stop dancing. That way, when they start their new career, it's not such a major adjustment. One of our clients was in 'Beauty and the Beast' while we helped her start a jewelry business. By the time she was ready to stop dancing, she already had her business running, she had a website, and she was distributing her jewelry to retail stores all across the country."
Since its founding 24 years ago, CTFD has helped thousands of dancers start rewarding second careers. Just last month, however, it launched two new initiatives, the National Career Network and Video Career Conversations, which are allowing the organization to significantly increase the number of dancers it assists. Like all CTFD programs, both are free of charge to any interested dancer or choreographer.
The National Career Network was originally a pamphlet listing dancers the organization had helped transition into new careers who were willing to volunteer their time to advise others about making similar transitions. Now the entire list is available online. You can search by field and find dancers who have gone into 13 different areas, such as government and law or healing professions, along with their complete professional (nondance) history—whatever education and jobs allowed them to establish themselves in their new field.
You can also search by educational institution. "For example," says Dale, "if you're interested in learning about the Swedish Institute, you can look that up and find a list of people who attended classes at or graduated from that school."
The network's volunteers are listed by first name and last initial only. When you come across someone you would like to contact, a link leads you to a form you must fill out, explaining why you want to speak to that person. Your information is emailed to the volunteer, who will contact you directly. But every request is first vetted by Kaylen Ratto, who works for CTFD in client outreach and coordinates its annual fundraising gala.
"I decide if your request should be put right through or if, perhaps, it would be more appropriate for you to first speak to one of our career counselors," Ratto explains. Adds Dale, "If it seems that you really don't yet know what you want to do and just want to brainstorm ideas, you may get better guidance from a counselor rather than talking right away to someone in a specific profession."
Transition Talk Online
CTFD operates two resource centers, in New York and Los Angeles, which house video recordings of all the Career Conversations seminars the organization has held over the years. The topics include everything from "Embracing the Fear of Transition" to "Finding Teaching Jobs" to "Debt and Taxes." Now, through the Video Career Conversations initiative, dancers can watch the videos on CTFD's website.
"They're in streaming format, so you can watch them just like you're watching YouTube," says Dale. "We've also set it up so you can watch the videos on your iPhone, and you can even subscribe to them through iTunes, so every time we add a new video it will be sent to your iTunes account."
In addition to the new online programs, this fall CTFD will expand its National Outreach Projects to three new cities: Orlando, Fla. (Sept. 13–14), Phoenix (Oct. 4–5), and Denver (Nov. 13–14). "These programs came about six years ago, when we realized our word of mouth was fabulous in Los Angeles and New York but that we really needed to reach out to dance populations around the country," says Ratto. "So we decided to go in person to large dance communities and do a concentrated marketing effort to let those dancers know about all of our programs."
CTFD representatives spend two days in each city. One day is devoted to the host company's dancers, in exchange for the use of its space. The other day is open to all local dancers (though reservations are required) and includes a three-hour catered workshop to help them identify new areas of interest and give them the tools to begin preparing for a career change while they're still dancing. "And then in the afternoon," Ratto says, "we offer one-on-one career counseling sessions."

For more information about CTFD's programs, visit www.careertransition.org.