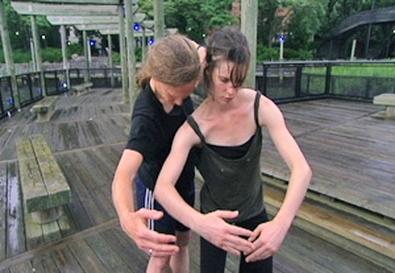 Always one of New York's most anticipated midwinter dance events, the Dance on Camera Festival, running Jan. 29–Feb. 2 at the Walter Reade Theater, is once again offering an enticing array of dance art films, documentaries, shorts, and special tributes. Now in its 38th edition (and 14th year of being co-presented by the Film Society of Lincoln Center and the Dance Films Association), the festival sports a 2010 lineup that is especially rich in documentaries. Yet the curators are not saving the best for last. The programming kicks off with opening-day screenings of two delectable documentary films: the 2009 portrait of postmodern dance pioneer Anna Halprin, "Breath Made Visible;" and the U.S. premiere of "Forty Years of One Night Stands," a 2008 Canadian production about the history of the Royal Winnipeg Ballet. The closing-night program, however, culminates with the world premiere of "New York Dance: States of Performance," an uninspired documentation of the work and ideas of seven contemporary choreographers.
'Breath Made Visible'
Scheduled for theatrical release this spring, director Ruedi Gerber's "Breath Made Visible" gives the viewer an opportunity to spend 80 glorious minutes with the incomparable Halprin, an artist who stretched the boundaries of dance to the point where dancing and living became one and the same. An intelligent, beautifully photographed, smartly edited film, the documentary intersperses performance clips of Halprin with striking archival photographs and interview footage in which she, now 90, expresses her holistic notions of self, nature, and the dancing body. "Dance is the breath made visible," Halprin says.
Having abandoned a professional dance career in New York to live with her husband in California, Halprin exerted her powerful influence on the dance world from a West Coast base. Beginning in the 1950s, she did much of her work on an enormous wooden deck her landscape-architect husband built for her among the trees behind their home.
Concentrating on Halprin's organic integration of her personal life and her art, Gerber's film reveals not only the important artistic influences Halprin had on such distinguished artists as Merce Cunningham, Trisha Brown, and Yvonne Rainer, but also what a groundbreaking force Halprin was in political and other cultural arenas. Halprin claims that her San Francisco–based troupe was America's first interracial dance company. She was one of the earliest choreographers to work closely with psychologists and actors, exploring the deep connections between emotions and the physical body, and she made significant contributions to our understandings of dance as a healing art.
'Forty Years of One Night Stands'
Though it sometimes tugs too sentimentally at your heartstrings in a folksy, little-engine-that-could way, "Forty Years of One Night Stands" relates the uplifting and unlikely tale of a determined little ballet troupe that rose to worldwide acclaim from its modest beginnings in the 1930s in the Canadian prairie town of Winnipeg. Snappily directed by Jeff McKay, with a toe-tapping score of vernacular period music that reflects the ballet company's populist sensibilities, the documentary is an entertainingly informative homage to this plucky artistic enterprise. The film ends, however, with Royal Winnipeg star ballerina Evelyn Hart winning the gold medal at Varna in 1980. Hart's then-just-burgeoning "30-year career would serve to redefine the company. But that's a whole other story," we are told. Does that mean there's a sequel in the works? Or did the filmmaker just run out of steam?
'New York Dance: States of Performance'
The problem with "New York Dance," directed by Michael Blackwood and curated by Gia Kourlas, is the selection of its seven featured choreographers: Ralph Lemon, Sarah Michelson, Ann Liv Young, Christopher Wheeldon, Jennifer Monson, John Jasperse, and Beth Gill. With slow, studied pacing, the film alternates back and forth between interviews, in which the choreographers talk about their work, and rehearsal and performance footage of their dances. Unfortunately, most of the choreography we are shown is terribly uninteresting.
Granted, video recordings are no substitute for live performance, nor should they serve as a basis upon which to judge the choreographic merit of dance created for the concert stage. Yet having seen live performances of the work of all of these dance-makers, I can attest that with the exception of Wheeldon and Jasperse, they are not brilliant choreographers. Nor do they represent the diversity of the contemporary New York dance scene. Only one is a ballet choreographer; the rest are conceptual downtown artists. There are no tappers, hip-hop performers, or choreographers from the commercial realm.
"New York Dance" is the third of a trilogy of films Blackwood has made depicting the state of contemporary dance. However, the first two installments, curated by Marcia B. Siegel and Sally Banes, respectively, featured exciting choreographers, including Bill T. Jones, David Gordon, and Stephen Petronio. Surprisingly, all of the choreographers in this third film (except for Young, whose appeal completely escapes me) are extremely articulate in explaining the concepts and processes that underpin their work. Yet their verbal explanations are much more stimulating than the resulting dance. Sadly, what Blackwood's film demonstrates is how rare those artists are who can translate cerebral concepts into compelling choreography that says as much, or more, than words.
Presented by the Film Society of Lincoln Center in association with the Dance Films Association at the Walter Reade Theater, 165 W. 65th St., NYC. Jan. 29–Feb. 2. Schedule varies. (212) 721-6500 or www.filmlinc.com. Reviewed by Lisa Jo Sagolla