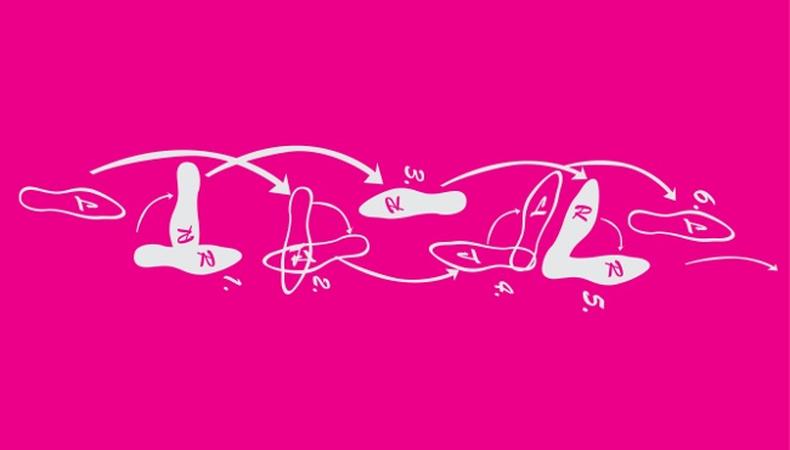 Much like the demographic they mirror and serve, Latino arts have expanded exponentially both in breadth and depth. Generational changes have sparked the blending of America's classic ballet and hip-hop, for example, with the physical lexicons of a polyrhythmic Afro-Latino culture. Drawing from history and technique, these four innovative dance companies embody the shifts that have made way for the exquisite fusion of various dance cultures.
Abakuá Afro-Latin Dance Company


Co-founded in 2000 by New York City native Frankie Martinez and Aisha Koswara, Abakuá combines classic salsa with grounded Afro-Caribbean movements and touches of modern dance and ballet. With a background in martial arts, Martinez has revolutionized the salsa scene. Made up of six members, plus Martinez, the dancers' experience adds West African, classical ballet, and modern dance, as well as Puerto Rican folklore training, to the melting pot that is Abakuá. The company is currently working to raise funds for a theatrical release of its current and future repertoire; the works include "Raices," an examination of the melding of African and Caribbean culture, "Stills," "After Hour Funk," channeling the nightlife salsa scene, "Vignettes," "Lost Battalion," and others. To see Martinez in action, catch him at the 2016 New York International Salsa Congress in September. He also teaches various classes weekly in NYC.
Ballet Hispánico
Dancers at Ballet Hispánico are praised for their ability to captivate using the company's choreographers' varied styles and influences from Brazil, Colombia, Spain, and Mexico. Theatricality, classic dance, and Latino culture all contribute to the institution's 45-year history. In addition to the grassroots-based company founded by Tina Ramirez, Ballet Hispánico comprises a school of dance, an education and outreach program, and the Instituto Coreográfico, a creative lab for Latino dancers and dance filmmakers spearheaded by Artistic Director Eduardo Vilaro.
READ: "15 Reasons You Were Born to Be a Dancer"
This Los Angeles–based ensemble infuses hip-hop, boogaloo, and popping and locking with salsa, merengue, and cumbia, and raises the bar for Latino dance companies in their concentration. Artistic director and co-founder—alongside Leigh Foaad—Jackie Lopez sits at the helm of the company that is as much about entertaining as it is about education. Last year, Versa-Style toured public schools throughout the L.A. area to spread awareness about the roots of hip-hop and Latin dance. For those looking to get involved and attend performances, Versa-Style offers mentorship through its
Next Generation program, as well as house and hip-hop classes and dancer showcases at various festivals.
Contra-Tiempo Urban Latin Dance Theater
Contemporary, hip-hop, salsa, and Afro-Cuban dance all coalesce on the Los Angeles stage of Contra-Tiempo, the subversive dance theater company born out of a desire to "express social resistance" through the abstraction of Latin dance and salsa. Founded by Ana Maria Alvarez over a decade ago, Contra-Tiempo fuses her Dunham Technique training with Afro-Cuban and Afro-Haitian movement. Their most recent repertory work, "Agua Furiosa," draws from Shakespeare's "The Tempest" and addresses race and environmental issues in America. "She Who: Frida, Mami & Me," which examines the work of Frida Kahlo, is the company's upcoming work.
Inspired by this post? Check out our dance audition listings!