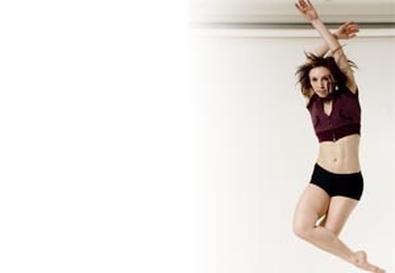 Not everyone dreams of being a star. But don't we all dream of making a living doing what we love? If dance is your passion, you may find that working as a backup dancer, a Broadway gypsy, or an ensemble performer in touring shows is just as rewarding as being a headliner. Back Stage spoke recently with six journeyman dancers, performers whose names you won't recognize but who work consistently as dancers in every corner of show business. Their stories offer clever ideas and straightforward advice about building and sustaining a professional dance career.
Christian Vincent
Born and raised in Ontario, Christian Vincent was introduced to the commercial dance industry as a kid attending dance conventions across the border in Detroit. After graduating cum laude with a BFA in dance from Indianapolis' Butler University, he moved to Los Angeles, where he has been making a living as a dancer for 10 years: as a backup in music videos and on tour with major artists like Madonna and Gloria Estefan, as well as in films (
Miss Congeniality II
) and on television (
Smallville, Buffy the Vampire Slayer, American Idol, Dancing With the Stars
). He also had featured roles in the straight-to-DVD movies
Center Stage
:
Turn It Up
and
Noah's Arc
:
Jumping the Broom
.
Vincent continues to work as a dancer during the week but now spends weekends teaching on the dance convention circuit. "If a dancer can get a job with a convention, he is very fortunate," he says. "Not only does it pay extremely well, but dance performance work can get very repetitive. Once you achieve that dream job—dancing for Janet or Madonna or whoever it is—it becomes a lot of the same thing over and over again. I got to a point where I needed some new inspiration, so I decided to return to the arena that had originally inspired me to dance. Whereas it's great to be working on a movie set or a television show, it's also really nice to be around kids and to know that you're having an impact on them. Because I've worked so much in the industry, I can offer them a lot in terms of practical application."
Vincent equates the L.A. dance scene with being in high school. "There's always a group that's on the honor roll, the people who always work," he explains. So how does a dancer get on the honor roll? "The dance world in L.A. is very image-conscious. If two dancers are equally talented, the one who will work all the time is the one who has the most compelling image. It's like being a rock star. You have to create a persona, a look. L.A. is very different from New York in that regard. As superficial as it may sound, I have a friend who wasn't getting any work out here, but as soon as she cut her hair into a really sharp bob and dyed it black, she became edgy and all of a sudden started booking jobs.
"Another difference between L.A. and New York, where the emphasis is more on technique, is that out here dancers try to look almost pedestrian at auditions. You don't want to look like a dancer. You'll see dancers at auditions here wearing tennis shoes, street clothes, anything but traditional dance attire."
Amy Hall
Broadway gypsy Amy Hall hails from Huntsville, Ala., and will celebrate her 10th year as a professional dancer in August. Currently dancing in the ensemble of Broadway's
The Little Mermaid
, she began her career immediately after graduating from Juilliard when she was cast in the first national tour of
Fosse
. She has also danced in the short-lived Broadway musical
Thou Shalt Not
, in a touring production of
Contact
, and as a Rockette in the Christmas show at Radio City Music Hall.
"But my favorite show that I was in was
Chita Rivera
:
The Dancer's Life
," says Hall. "That was the most special performance experience of my life. Being on the same stage with Chita is absolutely electrifying. I couldn't wait to get to work every night. Every performance was like a master class in professionalism and consistency. I learned so much from her. I call being in that show my doctoral program."
Before being cast in
The Dancer's Life
, Hall went through some lean times, "which is something I think all performers need," she says. "It makes you hungry for the next job, so you appreciate it that much more. I grew a lot during that downtime, in terms of understanding who I am and why I want to pursue this career. Going from job to job you feel very fortunate, but you can get very spoiled doing eight shows a week and begin to take your career for granted. When your unemployment has run out and you're forced to take another kind of job—I was working as a hostess at a salon—it humbles you. You realize how thankful you are to have a job doing something you love, because not many people get to do that. And it also makes you more respectful of your craft."
Hall advises those auditioning for dance jobs on Broadway to "be consistent": to always keep your body in the best condition, have your voice and songs prepared, and look as good as you possibly can. "Even once you have two or three shows under your belt, you can't just rely on what you think people know of you from what you did in the past," she warns. "When you walk in that room, you always need to act as though you're being seen for the very first time. Don't ever feel that you're entitled to a job. You need to go in there and nail it every time. That's how you make them feel confident about hiring you."
Tonya Kay
Dancer and "danger artist" Tonya Kay was born and raised in a farm town in Michigan and started working professionally in Chicago. "Chicago is a city where performers can really make their dreams come true and live a normal life doing it," she says. "Let's say you want to start a dance company. Sure, you can do that in New York, but it's very hard and you've got to really work to make it happen. Or you can come out to L.A. and find that nobody pays you any attention. But in Chicago, it's likely that you'll have your dance company up and performing in two years. You'll have the satisfaction of setting a goal and achieving it. And the money you make will be good, because Chicago is an affordable city to live in."
But after dancing in lots of musicals and tours out of Chicago, Kay found herself dissatisfied with musical theatre. "I felt like musicals weren't expressing what was important to me at that time in my life," she says. "It was too fun, it wasn't serious, and we weren't attacking any of the real issues. I wanted to do something meaningful and important, so I moved to New York."
There she performed in tap dance and hip-hop theatre companies, and then she was cast in
Stomp
. "I did the show for two months in New York before they shipped me out to San Francisco. And that turned out to be such a lucky thing. San Francisco is an awesome city, but it's hard to make your living as a dancer there unless you already have a contract before you arrive. So I doubt I would have ever had the chance to live there if not for that job."
Kay also spent time performing in Las Vegas but says, "I never wanted to work there long-term, because the desert climate is very harsh on me, and the art form is very different there. When I did
De La Guarda
in New York, it's a very raucous show, but the audiences were making art of it, wondering, What does all this craziness mean? But when we performed the show in Vegas, they're screaming, 'Show us your boobs!' "
After performing for years in touring shows, Kay realized it's important to determine whether you have the temperament for touring: "When you're on tour for extended periods, your whole reality changes. You have friends in every city, but you rarely see them. Your closest friends are usually miles away, and it's very difficult to maintain a relationship. You begin to view intimacy in a different way. It's not something you experience with one person all the time. You try to become intimate with many people, at whatever level you feel comfortable. In other words, you take it when you can get it. You really need to think about whether your personality is set up for that. Mine is. I do really well getting to know new places, new people. As soon as I step into a new theatre, there's this feeling of empowerment and I just love saying to myself, 'I've never seen this stage before and I'm going to rock it tonight.' "
When she settled in Los Angeles, Kay learned that one of the secrets to sustaining a dance career is to keep yourself interested in dancing. So she began exploring "danger arts" and now combines dancing with spinning fire, throwing knives, shooting guns, and cracking a bullwhip.
She also learned how important it is for dancers in L.A. to be ready to perform at all times: "Here directors, choreographers, casting people, and particularly your agent want to know that you're available—and I mean, like, today, in one hour. If you are, they appreciate that and they respond to you with a different level of commitment than they would if you were in and out of town all the time."
Availability is key in Los Angeles, she adds, because dance jobs there are generally much shorter than in New York. You might work just one week, or one day, or a few hours on a TV show, film, commercial, or music video, while a Broadway job may sustain you for months or even years.
Lauralyn McClelland
Raised in northern Idaho, Lauralyn McClelland started her performing career as a teenager in musicals at the Coeur d'Alene Summer Theatre. After graduating from Oklahoma City University in 2005, she landed a job with Music Theatre of Wichita, then was cast in an international tour of
West Side Story
—but not without a bit of smart maneuvering.
"I really didn't get the job at first," she explains. "They had decided to go with taller girls, so I took a job dancing at Tokyo Disney. Then I found out I'd be tap-dancing on cement over there, which really scared me because I'd had shin splints for two years when I was in college. I had to drop out of all my dance classes and go to physical therapy three times a week and then retrain how I used my feet in ballet class. Anyway, I decided to call the
West Side Story
people back, because they had told me I was first on the list if anyone couldn't do it, and it ended up they were then looking for a Velma. I wound up getting the part because I called at the exact right time. And I was able to get out of my contract with Tokyo Disney by explaining to them my history with shin splints."
During her month off from the tour, McClelland again made some wise moves that set up her next job: "From my home in Idaho, the closest place I could go for auditions was Seattle, so I tried out for Seattle Fifth Avenue. And I could tell they liked me, but I wasn't able to attend their callbacks because of the tour. So I stayed in very close touch with them while I was away—I emailed them whenever I had any news about anything. I heard nothing back from them, until all of a sudden someone dropped out of their production of
White Christmas
and they asked me if I could tap. I had tapped for them at my audition, but clearly they had forgotten, so I had my mom send them a DVD of me teaching a tap routine at my old dance studio, and I wound up getting the job."
McClelland went on to perform in more regional and touring shows and made her Broadway debut last spring as a vacation swing in
Grease
. She's currently performing in Boston as the swing in
Dirty Dancing
, a Broadway-bound musical based on the hit film.McClelland's advice to aspiring gypsies: "Save as much money as you can when you're working, so you can focus full-force on getting the next job when you're in between shows. And when you're auditioning, remember that in musical theatre it's all about acting. You might be able to do a lot of tricks, but if you're not telling a story while you're dancing or singing, you probably won't get cast."
Kevin Stea
A 20-year veteran of the Los Angeles dance scene, Kevin Stea got his first professional job after studying dance for only a year as a student at the University of Southern California. "But I had been doing gymnastics since I was 8," he says, "so when I started to dance, it didn't feel foreign to me. I already had my center, my balance, my flexibility; it was just a matter of learning and remembering the steps."
Today he has a six-page résumé of performance credits. He's danced in 25 movies, 42 music videos, 47 television programs, and 48 commercials, not to mention his extensive work in live shows, print modeling, and motion capture for animation. "Getting dance jobs always came easily for me," says Stea, who is half Chinese and half Welsh. "I was in a fortunate position in that I was of mixed ethnicity. When I got into the dance world here, it was filled with buxom blondes and big, muscular white men. I represented a little bit of a dip into another area. If a job wanted to bring some ethnicity to their project but not take a full step in that direction, I was the kind of crossover they were looking for. Plus, I'm tall. And generally speaking, getting dance work is a lot easier for guys."
There was a significant period in his career when Stea focused on making the most cost-effective use of his time by accepting only dance jobs that paid residuals, such as TV shows and commercials. "Many dancers get caught up in doing industrials and shows that take them all over the world," he says. "You'll make some cash from that, but you're left back at square one when you come home. You don't have any footage from it or any saved money. When I decided to just do jobs with residuals, I worked less but wound up making a lot more money."
Stea also found it useful to be very vocal with his agency and provide it with lists for guidance: "I let them know that these are people I've worked with and who know me, and that if a project comes up with them, even if I'm not right for it, they should send me out for it. And then I also give them a list of artists who I don't know but am dying to work for, and I say here are the people I'm willing to go scrub toilets for."
Richard Riaz Yoder
Though a newcomer to New York, tap dancer Richard Riaz Yoder of St. Louis has already collected a variety of dance credits. While earning his bachelor's degree in performing arts at Oklahoma City University, he performed professionally at the city's theme park, Frontier Park. He then landed a job in the ensemble of an international tour of
42nd Street
, where he learned some important lessons about the dance business.
"They prorated us," Yoder says. "For every day that we didn't perform, we weren't paid. They had told us about that at the beginning, and I'd had to take a contracts course at OCU, so I knew something about the issue. But when we signed on for the tour, they implied that the prorating would only happen every once in a while. Yet it got to the point that it significantly cut into our paychecks. There were times when we would only perform two days out of an entire week. The lesson is: You can't always trust what they tell you."
By the time Yoder returned from the tour, it was too late for him to audition for summer stock jobs, so he contacted the artistic director of Lyric Theatre of Oklahoma, where he had taught tap classes while in college, and asked if he could work there that summer. "I ended up doing three shows there," he says. He was then cast in a workshop for a revival of
Bubblin' Brown Sugar
in New York, followed by a production of
42nd Street
at North Shore Music Theatre in Massachusetts.
Now, however, Yoder is happy not to be performing. "It's good to be in New York for an extended period of time and be able to get back to regular dance classes, acting, and voice lessons," he says, "which are very important and something you don't get when you're touring or working out of town. There are also wonderful master classes you can take here with Broadway choreographers who will give you individual feedback. I always used to think it wasn't that important to work in New York and that I would be happy dancing anywhere, but now I see why performers want so much to stay here."