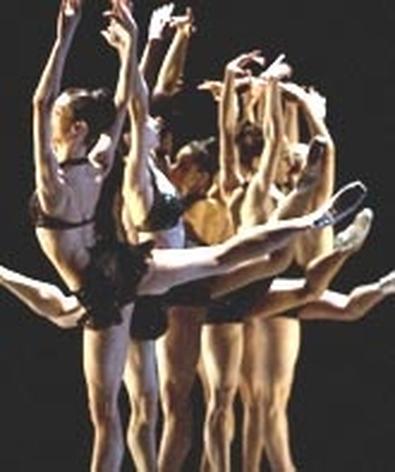 Every performance I reviewed this month featured a brand-new work by an established choreographer. American Ballet Theatre premiered a highly anticipated ballet by Twyla Tharp. Celebrating its 18th-anniversary season, the Erica Essner Performance Co-Op offered a new Essner ensemble piece. The Fly-by-Night Dance Theater presented The Amelia Project: Phase II, a new aerial dance by master trapeze choreographer Julie Ludwick. And Nicholas Leichter Dance premiered "Spanish Wells," Leichter's Caribbean-flavored group work set to a strange combination of Debussy's symphonic music and Amy Winehouse's blues.
American Ballet Theatre
Presented by American Ballet Theatre at the Metropolitan Opera House June 3-8 in a shared program with Harald Landers' familiar "Etudes," the 1948 theatricalized depiction of a classical ballet technique class, Tharp's new "Rabbit and Rogue" proved less choreographically dazzling than expected. Driven by a delightfully animated score by film composer Danny Elfman that amalgamates live orchestra and recorded electronic music, the ballet shows how susceptible people are to changing moods and energies and how a personal feud between two individuals — a rabbit and a rogue — can send the whole world into disharmony.
The choreography contains lots of fighting but nothing terribly violent; the dancers move like cute little animals engaged in harmless spats. We don't know who anyone is or why they're battling, but it doesn't matter, as it's the general concept of opposition that Tharp is exploring. The conflict between the forces of the rabbit and the rogue is mirrored in the work's contrasting black and white costumes (stylishly designed by Norma Kamali) and the striking effects of Brad Fields' white lighting on the plain black-curtained stage.
It's the glittering music that gives the ballet its personality — the choreography fits perfectly with the quirky sounds but seems to have no emotional voice of its own. The visual design elements, more than the movements, are what give the choreography hard-edged clarity. Using largely classical vocabulary with borrowings from American vaudevillian and vernacular dancing, Tharp is at her best when she employs the ensemble as a moving frame for the soloists' actions. As couples race across the stage with one dancer squatting precariously atop her partner's back, the mix of speed and balance becomes thrilling.
Most exciting, however, is Marcelo Gomes as the rogue. His slick opening solo of tricky supersonic moves is the high point of the whole ballet, though Kristi Boone gives a sparkling performance in the work's ragtime sequence. Maria Riccetto, however, is miscast as half of the gamelan couple (with Jose Manuel Carre単o), as her lanky body has little affinity for the big, quick weight shifts and groundedness of Tharp's choreography.
A fast-paced ballet that never drags or drops in energy, "Rabbit and Rogue" is undeniably entertaining but lacks the punch a Tharp work typically delivers. As the music builds to what sounds like a car-chase finale, rabbit and rogue come together and shake hands. Peace is established and all is well. Oh come on, Twyla, is that the best ending you could come up with?
Erica Essner Performance Co-Op
The premiere of choreographer Erica Essner's "Moon Uprising" opened the aesthetically rich and pleasing program of substantial contemporary dances presented by Erica Essner Performance Co-Op at Joyce SoHo June 13-15. The earthy new quintet is built of warm, swoopy vocabulary, with lots of dips, low lunges, and a supple, curving use of the torso. There is a remarkable fluidity governing Essner's phrasing; her movement sequences connect so organically that one's eyes remain forever married to the seamless choreographic action. Set to an original score by Miguel Frasconi, a specialist in glass instruments, "Moon Uprising" was performed to what the program described as "live music." But I'm not sure what that means anymore. The only musician in evidence was Frasconi, seated at a laptop computer on which he "played" his multicolored music while sometimes tapping at a little harplike gadget.
Essner's program also included three of her earlier works. In the trio "Fractured Tango," she ingeniously captures the tango's passionate kinetics without employing any of the dance's traditional steps or movement patterns. "You Go, I Go" evokes a communal atmosphere and a spiritual tone as its five dancers form a tight-knit clump, touching and dancing together, passing movement impulses from one to another, impulses that grow increasingly rough and antagonistic as the piece progresses. The quartet "Back to Tijuca" suffered from being placed last on the program. As engaging as Essner's choreography can be, an entire evening of it can feel repetitious. When we see the same kinds of moves we've been seeing all night choreographed to the work's fresh, hip Brazilian music, the result is unsatisfying.
Completing the program was "Cumulus," a Beppie Blankert quartet that makes intriguing use of E.E. Cummings' poetry and a lighting instrument employed as a hand-held prop, danced by guest artists from Core Performance Company.
Fly-by-Night Dance Theater
Aerial dance choreographer Julie Ludwick should be enjoying greater notoriety than she currently garners in the contemporary dance world. The history books will surely recognize her as an exceptional artist who has taken modern dance to new places (literally) and mined its expressive potential in a truly original fashion. As the artistic director of Fly-by-Night Dance Theater, Ludwick has developed a movement language that extends the spatial and kinetic possibilities of modern dance by blending it with low-flying trapeze work, yet with no evocation of circus-trick sensibilities.
Inspired by the fearlessness of aviator Amelia Earhart, Ludwick devised The Amelia Project: Phase II, a clever dance play celebrating the wonder of flight, which she and her five-member company performed at the Flea Theater June 19-22. Complete with crash landings, a competitive air show, a first flying lesson, and daring solo flights — one performed blindfolded — the production persuasively conveys the exhilaration as well as the perils of aviation.
The execution of the choreography within the confines of the wee Flea made for an unusually visceral experience. As a dancer hung from her knees on a wide-circling trapeze, she'd pass right across the faces of the front row of audience members, then barely miss the side walls of the intimate space, practically skim her chin along the floor, and finally fly just inches above the bodies of other dancers darting, with split-second timing, across the stage beneath her. The proximity of the risky actions — performed with comforting authority by Ludwick's courageous dancers — lent an added charge to what is already an intensely dramatic work.
Nicholas Leichter Dance
Nicholas Leichter's choreography is not as interesting as it needs to be in light of the considerable length of his works, the magnificence of their musical scores, and the provocative ideas suggested by the implied subject matter. The centerpiece of his company's season at Dance Theater Workshop June 25-29 was the premiere of the 40-minute "Spanish Wells," an overlong and underdeveloped ensemble work made of boring movement vocabulary — pedestrian actions that are performed in a stylized manner that leads one to expect greater visual interest or complexity.
Spanish Wells is the name of a Bahamian village that served as the final freshwater stop for Spanish galleons returning to Europe. Leichter's work contains fun Caribbean references — brightly colored dresses, feathered Carnival masks, and some mamboesque dancing — but its musical mixture of Debussy's lushly dramatic "La Mer" and hard-hitting Amy Winehouse soul songs begs to be paired with more-specific choreographic statements. Who were those people on stage? Why were they always vibrating, other than to reflect the shimmering sounds in "La Mer"? And why did the women do vintage rock 'n' roll line dances while the men indulged in fiercely percussive modernistic floor work? Whatever multicultural message Leichter was aiming to deliver got lost at sea.
Completing the program was Leichter's "Rite of Spring," a septet that exhibits the same flaws as "Spanish Wells," and "Love Letter," a sassy solo choreographed and performed by Leichter and built of nervous popping and robotic gestures that function like a full-body form of lip-synching to Winehouse's "Valerie."