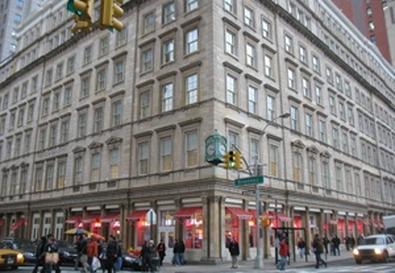 After three years of struggle and negotiations, nonprofit dance studio and performance space Dance New Amsterdam has reached an agreement with its landlord and signed a new 10-year lease to remain in its home in the Sun Building at 280 Broadway in downtown Manhattan.

DNA's executive director, Catherine Peila, made the official announcement at a press conference June 1, followed by a roundtable discussion to address the ways politicians can support cultural institutions and help arts organizations thrive. New York State Senator Daniel Squadron attended the press conference and was among the elected officials who assisted in the negotiations between Dance New Amsterdam and Fram Reality, which leases the city-owned space to DNA.

"Celebrating agreement on @dna_dance lease - 3 yrs in making! DNA is here, & it's here to stay," Squadron tweeted following the announcement.

Dance New Amsterdam was founded in 1984 and moved to its current space in 2006. It was celebrated as the first major non-profit cultural organization to relocate to downtown Manhattan, a move encouraged by the city in hopes of revitalizing the neighborhood following the terrorist attacks of Sept. 11, 2001. But increased rent, decreased philanthropic support caused by the recession, and delays in construction during renovation of the 25,000-square-foot space combined to create an untenable financial situation.

Dance New Amsterdam faced eviction in 2010 because it owed more than $500,000 in rent, which had reached $68,945 per month in 2010 and would have risen to nearly $90,000 a month by 2020. The new deal will provide "an undisclosed but substantial reduction" in rent and property taxes as well as restructure the company's debt, according to the New York Times. The Times reports that the company's payments will not have to begin until 2014.

"This will bring more faith to the public that we are going to be here and garner support for fundraising," Peila told the Wall Street Journal. She also told the Times, "We need to get our founders back on board to support us. Nobody was sure we'd be able to stay around. We'll be able to develop strong new programming to bring more visibility to Dance New Amsterdam."

The studio will continue to offer dance education and performance opportunities for professional and emerging dancers and choreographers by offering rehearsal spaces, classes, workshops, and performance programs in a variety of dance forms. Peila's plans for the future reportedly include a mentoring program that would support entrepreneurial dancers, a partnership with the Bollywood dance and film industry, and a possible library and resource center. Additional repairs and renovations totaling $350,000 are planned for this year, as well.