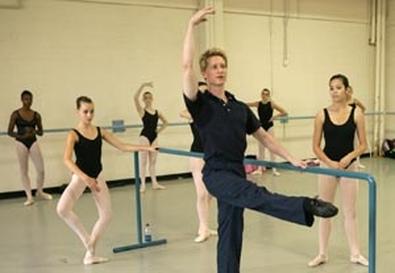 It takes many years of study to acquire a professional level of dance technique, so aspiring dancers must begin training at a very young age. Even those who start performing professionally as youngsters must continue training through their adolescent years.
And it is essential that the training be proper and age-appropriate from the get-go. Dancing relies heavily on muscle memory, and if incorrect technique becomes a part of that memory early on, it can be extremely difficult to correct later. Typically it is much harder to break an old habit than to acquire a new one.
There is an abundance of dance studios, academies, and intensive training programs in this country, many of which are excellent, but some of which are not so good. So how does one know where to start? What constitutes appropriate dance training for young performers?
From Preschool to Boarding School
"The first thing to do with young children—say, ages 3 to 6—is to expose them to creative movement," says Tiffany Barnes, director of the Junior Division (for students aged 3–17) of the Ailey School, the dance academy affiliated with the New York–based Alvin Ailey American Dance Theater. "We also advise parents to have their children listen to all different types of music and take them to see all different kinds of dance. And if they come to our program, with that age group we work on getting all their locomotor skills in place—running, jumping, skipping, hopping, leaping—and making sure they can respond to tempos and dynamics in music. They are also taught to identify and be able to engage different body parts, in preparation for pre-ballet classes."
For children who are interested in performing, the next step is ballet training. "It doesn't mean that we are preparing every student to be a ballet dancer, but the basis for performing professionally in many different dance styles involves being well-trained in ballet," Barnes explains. Students in the Ailey program continue their ballet training through the age of 17, while simultaneously studying a companion technique, such as hip-hop, West African, Spanish, or tap. "And during the tween years, they're introduced to modern dance," Barnes says. "These other techniques are very important in developing the child's coordination, sense of rhythm, and ability to move in both centered and off-centered ways."
In addition, Barnes recommends that all young dance students also study music, by learning either to sing or to play a musical instrument. She also emphasizes that even though the Ailey School is focused on developing concert dancers, the kind of training it provides is directly applicable to a career as a Broadway dancer.
Youngsters interested in fully immersing themselves in preparation for a career as a ballet or contemporary concert dancer may want to consider attending a boarding school, such as the University of North Carolina School of the Arts, which students can begin attending full time as ninth-graders. Ethan Stiefel, dean of the institution's School of Dance, says, "We supply one of the most comprehensive curriculums out there. Our students deal not only with their specific dance discipline, but they also get a cross-disciplinary training and work on projects, repertoire, performances, and special events that provide all the tools they need for a professional career. Even though we are an educational institution, we take a preprofessional approach. The student's focus is not scattered. They don't have to spend part of their day at a local high school and then drive somewhere else to take dance classes. At a school like ours, the whole environment is set up to support their artistic growth and prepare them to make a fluid segue into professional careers."
Local Options
Most youngsters who do not live near a big city or an esteemed arts institution get their dance training at neighborhood studios, which can vary widely in the quality of instruction offered. How can you tell which are the good ones? "Attend one of their recitals and see if the very young children seem to be having fun," says Rosie Gitlin, director of Center Stage Dance L.A., a children's dance studio in Los Angeles. "And then make sure you can observe a definite technical progression through the age groups."
Gitlin, who has been teaching dance to children for 25 years, stresses that it's not too late for a child to begin training at the age of 7 or 8. "That's a very good age for them to begin classical ballet," she says. "For youngsters interested in working in the commercial dance industry, that's the first thing they need to do—ballet. But they also need to learn other dance forms, such as tap, which is a hard sell in Los Angeles, even though it's a really big deal in New York. I get materials all the time from the Rockettes, for workshops and auditions, and a lot of kids can't participate because they don't have the tap technique."
A firm believer in youngsters developing their dance technique in the environment of a local studio where they get a lot of individual nurturing, Gitlin also recommends that young dancers, by the time they are teenagers, attend national conventions or competitions and take periodic classes at professional studios in New York or Los Angeles. "The dance world is very competitive," she says, "and it's important for them to go out and see where they stand in comparison to other young professionals."