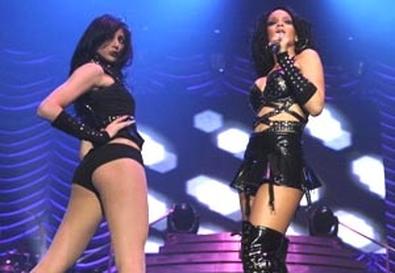 You wouldn't put a Rembrandt in a sleek metallic frame; you'd choose an antique wooden one—something that complements the period and style of the art. Similarly, the right backup dancers can add immeasurably to the performance of a pop star. They bring enormous energy to the stage, and their motion helps focus the audience's attention on the singer. They also frame the star with a particular look and movement style that contribute to his or her image, while their dancing enriches the concertgoing experience.
So how are dancers chosen for this kind of work? Does it pay well? Is it gratifying or just grueling to be out on tour for months at a time? And what kind of relationship does a backup dancer have with the star?
Victor Rojas
"I've made my career working as a dancer for musical artists," says Victor Rojas, who has toured with Janet Jackson and the Spice Girls, among other acts. "Is it satisfying? For sure! But it can be very difficult work to get. The last audition I went to in L.A., there were a thousand dancers auditioning for a spot that only required four boys and four girls."
Born in Lima, Peru, Rojas moved to New York at the age of 7 and is now based in Los Angeles, where most of the casting for big concert tours and music videos is done. He settled in L.A. when he got a job dancing with Jackson at the 2004 Super Bowl halftime show—yes, the infamous "wardrobe malfunction" performance.
"It was really the right thing for me careerwise," Rojas says. "The dance worlds are very different on the East Coast and the West Coast. In the East it's very Broadway-based and dance company–oriented, whereas in L.A. it's very commercial and mainly about tours and videos. I don't really have the Broadway look or the musical theater background, so I found it hard to find regular work in New York. But in L.A. it was much better for me. When I first moved here I had long black hair, and being from Peru, I looked very different, and that gave me a real edge in the commercial world. When that urban, hip-hop style started coming up, they really wanted people with different looks, people of different nationalities."
One of the gratifying things about dancing backup is you get to experience all the excitement that goes with being a rock star, but without all the pressure. "It can be very difficult being the front person," Rojas says. "It's all about you. There's a lot of money and people's time and talents being put into you and your name. But as one of the dancers, you really get a sense of what it's like to have that kind of notoriety without having all the responsibility that goes with it. You perform in front of really big audiences, and there's all that energy. And I love the immediate response you get from the crowd."
Particularly challenging, though, is the need to quickly pick up the styles of many different choreographers. For the Spice Girls world tour, Rojas had to dance the work of seven different choreographers in a two-hour show. "And most of the choreographers who work in this field are too busy to teach, so you can't take class with them and learn their style ahead of time," he says. "You have the pressure of picking up a style you don't know while on the job. And you know there are 999 other people waiting to replace you if you can't get it right. The best thing to do is to stay current with the work of as many choreographers as you can and train yourself to be as malleable as possible."
Rachael Markarian
"I just got off tour with Rihanna. I was a dancer and dance captain for the past almost two years on the tour for her 'Good Girl Gone Bad' album," says Rachael Markarian. "I got the job because I had done an awards show for her, and afterwards her manager asked me to tour with them. I had to turn down the tour because I was doing a film at the time, but then she recorded another album and they brought me in to replace one of the dancers. That tour was originally supposed to be only two months—you know how a lot of artists do a promo tour first—but it turned into two years. And it was an absolutely incredible experience."
Born and raised in Worcester, Mass., Markarian attended Oklahoma City University for two years and then moved to Los Angeles, her current home, in 2003. While in school, she had worked as a dancer in L.A. during the summers, but she decided to leave college permanently when she was offered a job dancing in the film "The Haunted Mansion," starring Eddie Murphy.
Prior to working with Rihanna, Markarian toured Europe and South America for a year and a half with the Puerto Rican pop singer Chayanne. "After that, I decided I wanted to work with a female artist," she says. "But it's hard for me because I'm 5 foot 8 and a half, and that's really tall for a female. Most of the artists—if you think about Janet and Britney—they're a lot shorter than that. So for me to dance for them is out of the question. But Rihanna is so tall that working with her was perfect for me." Typically, singers look for backup dancers who are around their height, and that goes for men as well as women.
Markarian found touring with Rihanna to be one of the most exciting experiences of her life: "We took this ride with her, and I think nobody realized how fast and how far she was going to grow in such a short amount of time. It was so great to be part of her team as she was evolving. And I couldn't say nicer things about how she treats her dancers. We felt like we were part of her family."
But despite the warmth and friendliness you might feel from the star, it's important to remember that he or she is your boss, and your responsibility, first and foremost, is as a dancer. It's easy to get starry-eyed and want to be the singer's friend, Markarian says, "but that's not why you're there. You're there to make the artist look good onstage. You show up on time; you do your choreography; you know your placement. No matter how nice the artist is, she hired you to do a job, not to be her best friend. If you form a friendship naturally, okay, but don't go in expecting that to happen."
Although it's not absolutely necessary to have an agent to get a job as a backup dancer, Markarian wouldn't want to do this kind of work without one. An agent negotiates your contract and makes sure the job is legitimate, you're getting paid fairly, and you're not being taken advantage of in any way. "And there's really only so far you can go on your own," she says. "For the really big jobs, they don't want to hire you unless you're with an agency."
One of the most difficult aspects of this work, according to Markarian, is the schedule: "It's really hard on your body. We were doing five shows a week, which is a lot when you're traveling. It's exhausting. Our show was about an hour and 40 minutes long, so you have to be in top shape physically, particularly in terms of your stamina. And then when the show is over, you hop right back on the tour bus with 12 other people and have maybe a 20-hour drive to the next city. When you wake up, you're at the new venue, so you go into the theater and shower, maybe check your email. Sometimes you get to go to a hotel, but not always. You have to just roll with it and say, 'Look, I'm traveling the world, I'm dancing for a great artist, I'm living out my dream, and I'm getting paid to do it. So how bad is that?' "
Cassidy Noblett
Having worked as a backup dancer for Janet Jackson, Beyoncé, Christina Aguilera, the Black Eyed Peas, and the Spice Girls, among many other prominent performers, Cassidy Noblett says, "Doing this kind of work is really rewarding for me, because the artists I've gotten to dance for sing the music that I grew up loving. And when it comes to Janet, well, it was because of her music videos that I started studying dance in the first place."
Born in Roxboro, N.C., Noblett trained in classical ballet at the North Carolina School of the Arts and spent three years dancing in New York before realizing that he really needed to be in L.A. to further his career in the commercial dance world. "For the kind of work I want to do—music videos and concert touring—for every one audition there is in New York, there are 10 to 15 in L.A.," he says.
Noblett acknowledges that auditioning for tours with popular musical acts can be very discouraging, but he advises dancers to always look at who got the job and try to figure out what that dancer brought to the table that maybe you didn't. "It really takes a good year or so after you move here before people start knowing you and realizing what you can do," he says. "So you need to be patient. Take class. Go to as many auditions as you can. And do your research, so you know what the artist you're auditioning for has done and what they're looking for. And show up at the important parties, awards shows, and performances in order to keep up with what's going on in the business."
Compared to most other kinds of dance work, the pay for dancing backup on a tour with a major pop star is very good. "And you get to see places all over the world that you wouldn't get to otherwise," Noblett says. "Granted, there is dance-company work that also involves touring to interesting places, but the pay is nowhere near as good. And you're taken care of very well on musical tours. You're put up in four- or five-star hotels, you're provided catering, you get a per diem, and you also get a very good weekly salary."
But it's not for the monetary rewards that he wants to continue doing this kind of work. "I would like to bring a classical element to the commercial dance business," says Noblett, who eventually wants to move into directing. "Not a lot of people train classically before they come to the music-video tour industry. And because there's so much money in this, you can find the quality of the work to be hit-or-miss. Not because people don't do good work, but because they're often not trained to produce work of any great artistic depth. I'm hoping that my classical training will help me to bring a different element to the business that will enhance it and allow it to move beyond what it is right now."
Los Angeles Agencies
The following agencies represent dancers:
DDO, (323) 462-8000
Dance agents include
Chantelle Ameli
,
Jacquelyn Sutkowi
, and
Jim Keith
.
MSA (McDonald/Selznick Associates), (323) 957-6680
Dance agents include
Terry Lindholm
,
Lisa Coppola
,
Jenn Proctor
, and
Shelli Margheritis
.
Bloc, (323) 954-7730, (212) 924-6200
Clear Talent, (818) 509-0121, (212) 840-4100
Trio Talent, (323) 851-6886