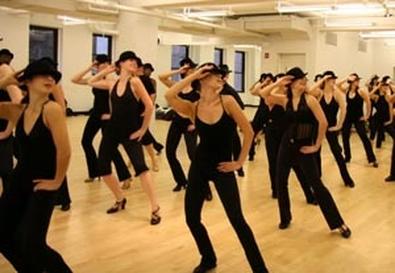 The reception area of Manhattan's Broadway Dance Center is the proverbial beehive of activity—if you can imagine bees wearing leg warmers and ballet slippers. Students and teachers talk and warm up in an open lounge area. A bank of monitors shows the classes in the center's five studios, with a sixth monitor running a musical or dance-related movie (this morning it's Disney's
The Little Mermaid
). On the opposite wall, a long board lists all the day's classes—more than 40 in over 15 disciplines each day, from 9:30 in the morning till 10:30 at night. Dancers come and go, from students eager for an hour's exercise to Broadway chorus members stretching before a performance. The center is just a few doors from the Al Hirschfeld Theatre, where
Hair
is now running, and a stone's throw from Broadway's other houses. This is its third home, and 2009 marks its 25th anniversary.
Though faced with the city's challenging real estate market, the ups and downs of the economy, "and also the changing dance industry, we've been able to successfully weave our way through those changes and still be able to give our students a space to train," says executive director Diana King.
Broadway Dance Center was founded in 1984 by Richard Ellner, who bought the Hines-Hatchett Studio, which specialized in the Broadway jazz style, with the goal of turning it into a multidisciplinary facility. "He had a vision that he wanted to bring all the disciplines, at all levels, under one roof," King explains. "He got teachers of jazz, ballet, and other forms all to come in under Broadway Dance Center's umbrella, and that's been our founding principle."
Ellner ran the center's first home, at West 55th Street and Broadway, for 15 years, then engineered the move to West 57th Street. "He worked day and night to get that place open," King says. "He was working with his daughter Allison. He passed away three weeks after the opening. Allison took the helm at that point. I joined shortly after. In December 2006, we moved from 57th Street. There were pressures from real estate concerns, and we found our current home on 45th Street. It was quite a battle to get in here. No one wants a dance studio. You're noisy; there's a lot of foot traffic. So we were able to find this space, and we had about three months to do our build-out, because this was literally a shell."
For King, the most significant change over the past quarter-century has been "the popularity of hip-hop. Towards the mid-'90s, we took a chance and took in one or two of the teachers. It has really, really thrived. Now we have equal measures of ballet, jazz, and hip-hop."
The proliferation of reality shows like
So You Think You Can Dance, Step It Up and Dance
, and
Dancing With the Stars
has led to a surge of interest in hip-hop and dance in general, King says. "In fact, we have a dance convention, Pulse on Tour, which works specifically with most of the judges and choreographers from
So You Think You Can Dance
." Offering more than 50 classes in all disciplines, Pulse on Tour will take place in Los Angeles July 17–19 and in New York July 27–30.
A gala celebrating Broadway Dance Center's 25th anniversary is set for May 5. "We've invited all our past faculty, from the '80s all the way through to the present," King says. "We're looking to have 400 to 500 guests. Our faculty and choreographers who have professional companies are going to perform." Tickets are $25. The center is located at 322 W. 45th St.; for more information on its classes and events, go to
www.bwydance.com
.