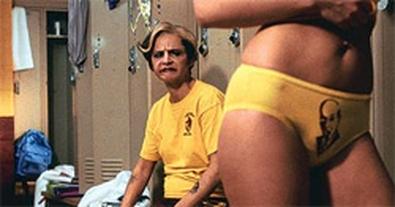 The decision to dub this year's CineVegas Film Festival "The World's Most Dangerous Film Festival" isn't that outrageous, given its nonstop 24-hour-party setting and edgy lineup of films. But as intimidating as the fest might be for mainstream multiplex patrons, it isn't threatening to displace the Sundance Film Festival, the Festival de Cannes or the Toronto International Film Festival as one of the world's top marketplaces for film acquisitions. Sure, attendees might lose their shirts at the blackjack table or their lunch at a screening of Czech director Jan Svankmajer's Sileni (Lunacy) -- which features a long list of depravities including an orgy in a church and stop-motion-animated raw meat -- but if they've come to hawk a movie they've made, they're not in much danger of scoring a distribution deal.
Since bringing aboard Sundance senior programr Trevor Groth as director of programming in 2001, CineVegas -- which runs Friday through June 17 at the Palms Casino Resort in Las Vegas -- has earned a reputation as a high-spirited, glitzy cinematic getaway where Hollywood stars such as Nicolas Cage, Jack Nicholson and Sean Penn come to hang out and talk about their craft. But to date, there have been no films sold during CineVegas, and for many industry watchers, film sales determine a festival's worth. Groth, however, does not subscribe to such thinking.
"I think a film festival is defined by the films that it shows more so than what happens with those films," he says. "I don't program films based on whether I think they're going to be acquired or not. I look for films that take risks. Some of the best films are the most challenging films, and when you have a challenging film, that's a turnoff for a distributor."
Nonetheless, Groth believes that several films at this year's fest stand a good chance of landing distribution deals, including director Ariel Vromen's psychological thriller "Danika," starring Marisa Tomei and Craig Bierko, and writer-director Eva S. Aridjis' The Favor; the films are among the festival's nine world premieres.
Deals or no deals, ThinkFilm distribution chief Mark Urman thinks CineVegas is worth the trek.
"In my experience, it takes at least a decade for a film festival to establish itself to the degree that you're going to (have) the whole buying-and-selling thing up and running, and when that happens, it can frequently pollute the very thing that makes the festival nice in the first place," Urman says. "The proximity of CineVegas to Hollywood, the fact that the programrs are incredibly smart guys who are also entrenched in the Sundance orbit and the fact that it's a wonderful place to go for a long weekend and freely associate with colleagues and others all make it a really good festival to go to."
For Urman, CineVegas is not just a place to look for potential acquisitions. It's also a tool for marketing acquisitions to the public. ThinkFilm will open the festival with its upcoming release Strangers With Candy, a prequel to Comedy Central's canceled series of the same name, which tells the story of a 46-year-old ex-junkie (Amy Sedaris) who returns to high school.
Says Urman, "We distribute independent films, and the ones that are audience-friendly, we want them to play at film festivals to create an awareness in the market, and Las Vegas is probably one of the fastest growing markets on the planet."
According to CineVegas director of operations Jen Jurgens, members of that market have been turning out in force. She estimates that 45%-50% of the approximately 40,000 people who attended last year's festival were local residents.
For local film fans, the festival provides a rare opportunity to sample nonmainstream fare.
"People who like films that are not just blockbusters are very thirsty, here in the cinematic desert," says Teller, the shorter, nonspeaking half of the comedy-magic duo Penn & Teller, which has been based in Las Vegas for 12 years. "There's one 18-plex in the far western region of Las Vegas. Seventeen of their theaters will have Terminator 25 in them, and then one will have some crazy foreign film that you're dying to see."
For Teller, who will be sitting on the jury of the festival's short film competition, CineVegas is "a place where you go to gorge yourself on film. Penn (Jillette) and I tend to work in the afternoons on new material for the show, and that tends to get suspended during CineVegas. There's an indulgence in this unwholesome feast of deliciousness."
The festival's most concentrated sampling of unwholesomeness can be found in its Area 52 section -- billed as a "bizarre underground collection of cult, avant-garde and midnight movies for the most hardcore fans" -- which will feature Sileni and Interkosmos, writer-director Jim Finn's tongue-in-cheek homage to a fictional East German space project. For fans of darker fare, there also is Outlaw Cinema: The Impact and Influence of Dangerous Filmmaking, a panel discussion featuring boundary-breaking filmmakers Gregg Araki, Abel Ferrara, James Fotopoulos, Bobcat Goldthwait and Nina Menkes, set to take place Monday.
One of CineVegas' biggest draws for both industryites and civilians has been the presence of actor-director Dennis Hopper. He went to the festival in 2003 to accept a Marquee Award and was so inspired by the experience that he subsequently signed on as chairman of the fest's Creative Advisory Board, which also includes director John Singleton, Sony Pictures Classics' co-president Tom Bernard, MTV Films vp of business development and acquisitions Troy Poon, Cinetic Media's John Sloss, UTA's Jeremy Barber, CAA's Kevin Iwashina and ICM's Shaun Redick, among others.
As chairman, Hopper's primary task has been to wrangle high-profile honorees for the festival, such as avant-garde artist and filmmaker Bruce Conner, director David Lynch, artist-filmmaker Julian Schnabel and actors Dean Stockwell and Christopher Walken, as well as Cage, Nicholson and Penn.
"We're so close to Las Vegas in Hollywood. I just thought Hollywood should be more involved," Hopper explains. "I felt that we should honor more stars there and not only do films that have no distribution but also honor the history of film. We're always talking about the big weekend gross, and our history is sort of sliding away. So, my idea was to honor people who have really contributed a lot to the film industry."
While some might complain that the lineup of honorees in recent years reads like a guest list for a dinner party at Hopper's house, Taylor Hackford, recipient of this year's Vanguard Director Award, says that's not necessarily a bad thing.
"When you go to dinner at Dennis' house, it's always scintillating," says Hackford, a friend of Hopper's since the late '60s and a producer on the actor's NBC series E-Ring. "His coterie of friends is not limited to the movie business. It stretches internationally. He's been around, and he's got a great group he hangs around with from the art world and so forth. With him being involved in the film festival means it's only going to be good because you're going to get some very fascinating people there."
For many attendees, celebrities included, one of the biggest draws of
CineVegas is the city itself. "Festivals to me are work -- doing publicity," says actress Christina Ricci, who will be honored with a Half-Life Award. "So, when I go to Sundance and stuff, I generally don't go to parties or anything. But I'm one of those people who still loves Disneyland and, for me, Vegas is like Disneyland indoors, so I'm probably a little less jaded about going to a festival there than I would be about going to one somewhere else."
One of the highlights of the CineVegas experience is the Palms Casino Resort, which is the hub of the festival. The hotel boasts 400 rooms, a 95,000-square-foot casino, six restaurants, a spa, five bars and Rain, an ultrahot 28,000-square-foot three-story nightclub, as well as the state-of-the-art Brenden Theatres 14-screen multiplex, where all of the films will be screened.
"We've had some filmmakers miss their own screenings because they got lost in Las Vegas," Groth says. "The great thing about doing a film festival in Las Vegas is, it's such an amazing city that people want to come there. But the one negative thing about doing a film festival in Las Vegas is, there are so many distractions that sometimes it's tough to get people to slow down and come check out this great little film without a name star in it. But I think that as our reputation for programming interesting films grows, people want to come see those, and hopefully that trend will continue."