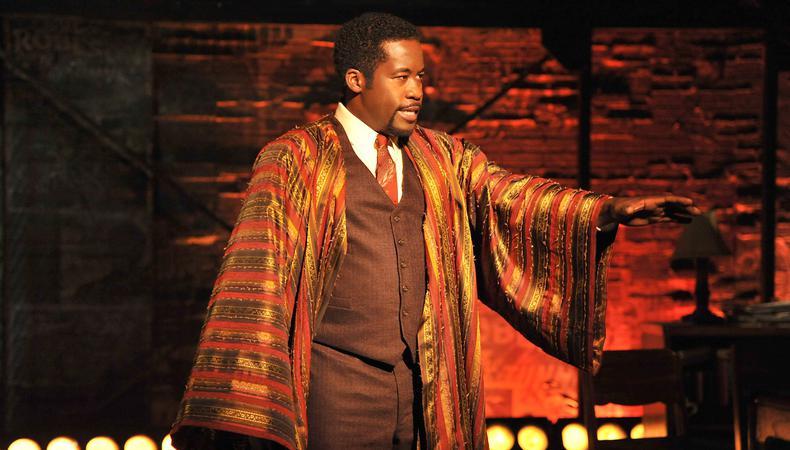 "So much of this industry," says Daniel Beaty, "is out of our hands: whether we get cast in a play; whether the play we write gets produced by the mainstream houses."
What keeps the award-winning playwright, slam poet, and solo artist sane, then, is a focus on what is within his control. "For me, that is, What is my purpose? What am I committed to giving to the world? What service do I want to provide with my talent—whether that's as an actor or writer—that comes from something that is essentially me but is also greater than me?"
Beaty's latest answer to that question carries a particular resonance, given its biographical focus. "The Tallest Tree in the Forest," a solo show receiving its New York premiere at BAM March 22–29, centers on the life of African-American actor-activist Paul Robeson. In addition to portraying the man and several of his contemporaries, Beaty's play explores the notion that celebrities have the ability to illuminate injustice, elevate public dialogue, and bring about social change.
Best known as the singer of "Ol' Man River" in the musical "Show Boat" (a song Beaty reimagines for the opening scene in "Tallest Tree"), Robeson found success as both a football player and movie star before being labeled a communist and blacklisted during the McCarthy era. Robeson was, according to Beaty, "a predecessor shouting in the wind oftentimes before a lot of the figures we know, like Dr. King or Malcolm X. He planted a lot of really core seeds that blossomed into the civil rights movement." Now, 50 years after the Civil Rights and Voting Rights Acts were signed into law, Robeson's overtly political presence in American pop culture feels like a harbinger of today's most vocal celebs, broadcasting their opinions on Twitter and in awards show speeches.
"We don't even have an African-American superstar to the magnitude he was. Honestly, the closest in terms of awareness in culture across the globe would be, like, Barack Obama or Michael Jackson."
What would Robeson have thought of Occupy Wall Street? Beaty says that movement of a few years ago got him pondering the "profound and timeless question" of the actor's role as rabble-rouser. Whether one agrees or disagrees with a star's particular beliefs, there's no denying their opportunity—Robeson might call it a responsibility—to discuss race and class in America.
Like "Through the Night," another of Beaty's acclaimed one-man shows, "Tallest Tree" was built using what he calls "contemporary narratives inspired by current realities, but characters drawn from my imagination." Working closely with director Moisés Kaufman, who has experience turning real-life history into drama with "The Laramie Project," Beaty honed and clarified his dramatization of Robeson. As both creator and performer, he gained insight into what is most essential about the man, his legacy, and his relationship to today's world.
"I'm definitely a traditional playwright in the sense that I start on the page," he says of his process. "When I get on my feet in rehearsals or workshops, I learn about the piece and take notes about what I'm learning, but then go back to my laptop or notepad and allow what I learned as an actor to inform me as a writer. I wear the two hats separately.
"As an actor, I'm always trying to make each moment as true as possible," Beaty adds. "As a writer, I'm trying to figure out how all the moments add up to create an expression that feels true."
Breathing with live audience members, too, feeds Beaty's creative process, especially in a show covering such polemical terrain. "To me, theater only becomes alive when there's an audience to receive it and respond to it and engage with it," he says. "Audience response is a core part of my process."
Inspired by this post? Check out our theater audition listings!