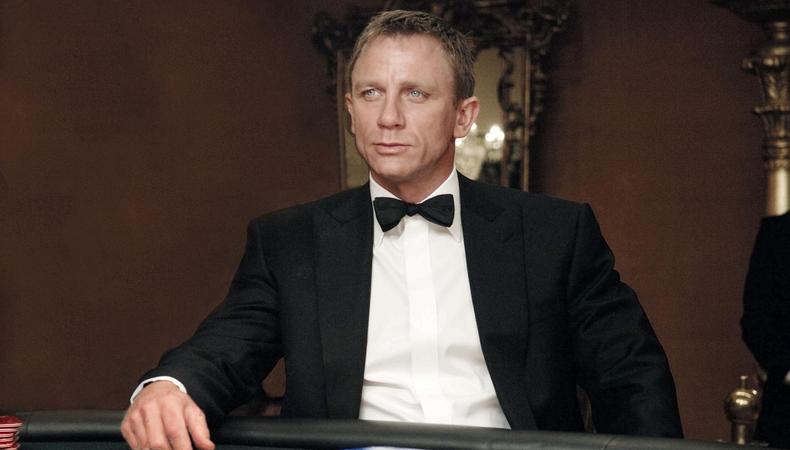 Hello and welcome back to our roundup of news you shouldn't have missed from the past week in show business.
We've been expecting you, Mr. Bond.
If Bonnie Tyler singing "Total Eclipse of the Heart" during a real total eclipse isn't coincidence enough for you, it turns out that the new James Bond is the same actor as the previous one! Yes, despite rumours and calls for a black or female James Bond, actor Daniel Craig is returning for a fifth and final turn as 007. Craig signed a five film contract back in 2005 but had spoken out about wanting to leave the franchise. More accurately he said he'd "rather slash his wrists than play James Bond again".
But after the huge commercial and critical success of "Skyfall" and 2015's follow up, "Spectre", it became clear we'd be seeing him for another instalment. If only because the producers really needed him.
Rumours abound about Christopher Nolan talking to the franchise. In reality, nothing is certain except that it's to be released in November 2019 and is scripted by long standing co-writers Neal Purvis and Robert Wade who have mentioned how Trump might influence the story. Talking earlier this year in The Telegraph Purvis said, "With people like Trump, the Bond villain has become a reality. So when they do another one, it will be interesting to see how they deal with the fact that the world has become a fantasy".
Young Marx gets his comrades.
Sir Nicholas Hytner's Bridge Theatre, down the road from his old home at The National, is opening in October this year. Though we've known for a while that Rory Kinnear is playing the young economic and political theorist, now the rest of the cast has been announced.
"Young Marx" reunites the team behind "One Man, Two Guvnors", and is about Karl as he roams the streets of Soho. The cast includes Nancy Carroll (Jenny von Westphalen), Laura Elphinstone (Nym), Eben Figueiredo (Schramm), Nicholas Burns (Willich), Tony Jayawardena (Gert "Doc" Schmidt), Miltos Yerolemou (Barthélemy), Duncan Wisbey (Fleece/Darwin), Scott Karim (Grabiner/ Singe), Alana Ramsey (Mrs Mullett), Sophie Russell (Librarian), Fode Simbo (Peter), William Troughton (Constable Crimp), and Joseph Wilkins (Sergeant Savage). Kinnear plays Marx and Oliver Chris who played William in Mike Bartlett's "King Charles III" will play Engels.
The only other two shows announced at The Bridge so far are "Julius Caesar" with Ben Whishaw and David Morrissey (also directed by Hytner), and "Nightfall", a new play by Barney Norris, directed by Laurie Sansom
Donmar cast announcement.
The full cast has been announced for "The Lady From the Sea" at the Donmar Warehouse from October.
Elinor Cook's new version of Henrik Ibsen's play about a lighthouse keeper's daughter stuck in a loveless marriage is directed by Kwame Kewi-Armah.
Ellida, said daughter, is played by Nikki Amuka-Bird. She's joined by Ellie Bamber (Hilde), Jake Fairbrother (The Stranger), Jim Findley (Ballested), Jonny Holden (Lynstrad), Finbar Lynch (Dr. Wangel), Tom McKay (Arnholm), and Helena Wilson (Bolette).
Elinor Cook's latest play, "Out of Love", is currently running in Edinburgh at Paines Plough's Roundabout in Summerhall. She won the 2013 George Devine Award for Most Promising Playwright and her previous work includes "Pilgrims", "Ten Weeks", "Image of an Unknown Woman", and "The Girls Guide to Saving The World".
One for the funding nerds.
Whoever submitted a Freedom of Information request to see Emma Rice's £1.9 Million (£475,000 a year for four years) funding application deserves a pat on the back for cheekiness. So too do Rice and her colleagues for publishing the entire document on their blog, stating "We are really proud of the ideas, imagination and graft that went into writing these applications, and think Arts Council England's assessment is detailed and fair". Some private information is redacted, as is the roster of future projects and deals with partners or venues. Otherwise, thousands of words of funding wisdom is there to enjoy. Happy reading.
Check out Backstage's London audition listings!