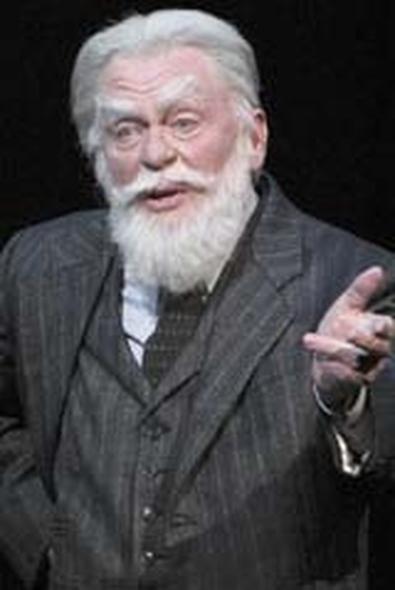 Actor Daniel Davis, best known as the prissy British butler on the sitcom "The Nanny" (1993-1999), is now tackling George Bernard Shaw in "The Frogs," the Stephen Sondheim-Burt Shevelove-Nathan Lane musical that bowed at Lincoln Center's Vivian Beaumont Theatre, Thurs., July 22.
And it's one multilayered challenge, Davis asserts. Consider this: In "The Frogs," Shaw, a major figure in theatre (to say the least), is engaged in one lofty debate with Shakespeare (Michael Siberry). The source of their contention: What is more important in theatre, thought or feeling? That's the serious sequence in a production that's otherwise a wild musical farce set in ancient Greece, with two leading characters (Shakespeare and Shaw) who lived centuries apart.
And its over-the-top sensibility cannot be ignored, says Davis during a phone interview. "I play Shaw as if he were a character in a musical-hall turn. That means I'm playing him somewhat broader than I might be in another kind of play.
"At the same time, as Shaw, I have to believe that the play begins when I arrive, even though I don't make my appearance until well into the second act. I have to suggest an impressive figure. Otherwise, I'd be ridiculous, all the more so since audiences still know what Shaw looked and sounded like.
"Like the original 'Frogs' by Aristophanes, this piece is a two-headed entity," Davis continues. "It draws the audience in with low comedy and then abruptly switches gears to make some serious points."
Abashed by the state of theatre and determined to restore it to its former glory, the god of drama, Dionysus (Nathan Lane), journeys to Hades to retrieve a great playwright. He's not sure, however, whether that's Shakespeare or Shaw, thus paving the way for the debate between the two legends. In the end, Shakespeare, who advocates emotion over intellect, wins.
In preparation for the role, the articulate and affable Davis, an Arkansas native in his late 50s, read over 4,000 pages about or by Shaw. "I also went to the BBC website to download recordings of Shaw. I tried to capture his vocal energy and the speech of an expatriate Irishman—some words betrayed him—combined with British speech.
"At the Lincoln Center Library, I was able to find newsreel footage of Shaw, which I studied to help give me a sense of his physical being: his swagger and march-like walk. His arms moved freely and his gestures were expansive. And there was a twinkle in his eye. He was an iconoclast who liked goosing people in order to provoke a truthful discussion of the issues. The modern antecedent might be Gore Vidal."
Davis, who will soon be co-starring in a Broadway revival of "La Cage aux Folles," boasts an eclectic resume. At Lincoln Center Theater several years back, he was Oscar Wilde in "The Invention of Love." Also on Broadway, he co-starred in "Wrong Mountain," playing a dementedly trendy acting teacher, for which he received a Tony nomination. And for his poignant performance as a mama's boy in "Talking Heads" Off-Broadway last year, he won Obie, Outer Critics, and New York Drama Critics Circle Awards. He has appeared in regional theatres nationwide—10 seasons at the Williamstown Theatre Festival and six years at the American Conservatory Theater—and has a number of film credits under his belt, along with guest shots on such TV shows as "The Practice" and "Star Trek: The Next Generation," among others.
"For the first 25 years of my career, only the stage interested me," Davis recalls. "I loved the rehearsal process. As I got older, I found it tedious, although that clearly depends on the role. I like performing in all media, but I continue to like the theatre best because I feel most in control of the final result."
He is especially pleased with his experience in "The Frogs," he says. "In the theatre lobby after the show, I hear people talk about what they've just seen. They're discussing the ideas. That's rare. Usually, it's 'Do we go for a drink or say goodnight here?' "
Psychotherapy Changed Everything
The son of a General Foods traveling salesman, Davis was a child actor, first on local radio and then in community theatre. He earned his B.F.A. from the now-defunct Arkansas Arts Center and launched his career at the Oregon Shakespeare Festival; within short order, he was working steadily as an actor.
"If I were not an actor, I'd be a psychotherapist," he offers. "I find psychotherapy fascinating. I waited until late in life to go into psychotherapy and became devoted to the idea of it.
"Although my approach to a role changes, depending on the play and director, it's my experience with psychotherapy that has most affected the way I work as an actor," Davis continues. "Through therapy, I learned I could create from a place of joy as well as from a place of pain."
Psychotherapy also freed Davis from defining himself exclusively as an actor. "Before I went into psychotherapy, I didn't know who I was except when I was acting. That's a terrible way to live. Yet I was always afraid that if I went into psychotherapy, the demons would be excised and I wouldn't be able to act at all. It turns out to be just the other way around."
A major career move for Davis was, of course, his six-year stint on "The Nanny," which gave him celebrity without the concomitant problem of type casting, at least not yet.
"I have not had the problem in New York theatre and, truthfully, since 'The Nanny' went off the air in 1999, I haven't worked that much in L.A," Davis observes. "It's said that after a series goes off the air, especially a popular show that has lasted six years, the industry generally will give an actor a waiting period of another five or six years before casting him in a new show. I would do another series in a heartbeat, although this time I'd prefer to do a dramatic series. It's possible that now producers may think I can only do comedy. Before I did 'The Nanny,' the producers wondered, 'But can he be funny?' "
Looking back at his "Nanny" stint, Davis says it was a learning experience. "When I started, I found myself playing for the studio audiences. It took me some time to realize that they were not watching me directly, but rather through the camera monitor, which magnified my acting. I had to bring my acting all the way down for the camera. Acting on TV requires somewhat different skills than theatre acting."
As noted, Davis is currently preparing to go into the upcoming Broadway production of "La Cage aux Folles," a project he finds especially timely in light of the "current issues surrounding same-sex partnerships. The play is important today because it celebrates gay marriage, and that's good for those audiences who are struggling with the topic, as well as being very positive for the gay community.
"There have been a lot of changes in the gay community in the 20 years that have passed since the show premiered," Davis muses. "At the time, it had shock value, and that's no longer the case. The creative team—and it's some team: Harvey Fierstein, Jerry Herman, and Jerry Zaks—will be doing some updating, I imagine. I'm just thrilled to be working with them in this show, my first musical in New York where I'll be singing and dancing. As we say in the South, 'I'll be rolling in high cotton!'"