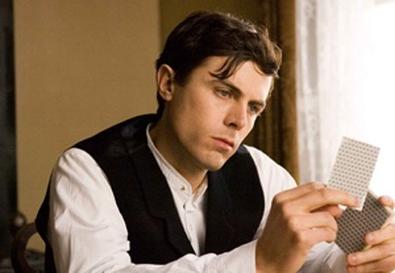 There are so few actors who shake us to our core -- Michelle Williams, Mads Mikkelsen, Niels Arestrup, Jessica Chastain, Isabelle Huppert, Philip Seymour Hoffman, and
Casey Affleck
. If this were the 1970s, we'd be lining up around the block to watch these people. This doesn't happen today. Finding performances that resonate with me personally is both sublime and extremely rare.
To pick one, I recently re-watched Affleck in "
The Assassination of Jesse James by the Coward Robert Ford
," in which he played Ford, who worships Jesse [Brad Pitt] and eventually murders him. Ford is essentially this obsequious, diminutive rodent at the feet of the internationally famous outlaw. I felt that Casey did something deeply courageous with his work here. He embraced the task of playing an ostensibly loathsome creature with great dimension and empathy. He brought dignity to something most actors would have presented as a lowly caricature. He was heartbreaking, desolate, and lonely in a way I'd never seen. To me, it's one of the most remarkable performances of the last decade.
Two particular scenes stood out. In the first, he's dining with Jesse and discussing the congruencies between him and his hero. He's clutching at straws to qualify this claim. To the viewer it's an utterly pathetic overture. And yet he does so with an innocent conviction as well as disturbing adoration. It's an immensely delicate position to say, "You and I are not so different" to his god. Affleck is unrelentingly vulnerable.
I also adore the scene when Ford knows he has to shoot Jesse. You can almost feel Ford's fear. It's one thing to walk into the labyrinth, but it's another to slay the minotaur. Affleck is just vibrating with terror before he has to carry out this impossible task. It's so moving.Those are just two of the magnificent scenes that Affleck delivered. He approached the role with such courage from the moment he appears. No one does pathetic like him. Apart from Philip Seymour Hoffman, perhaps.
In North America, we don't seem to be looking for cinematic performances that probe and disturb us. Or rather, we're not celebrating them. The cinema to which it belongs is rarely profitable. Look at the example of "Jesse James," which boasted arguably the biggest movie star in the world [Pitt], and it was a financial disaster.
Daniel Gillies is perhaps best known for his role on the CW show "The Vampire Diaries." He is currently starring on NBC's "Saving Hope." He has starred in such films as "Bride & Prejudice," "Spider-Man 2," and "Captivity."