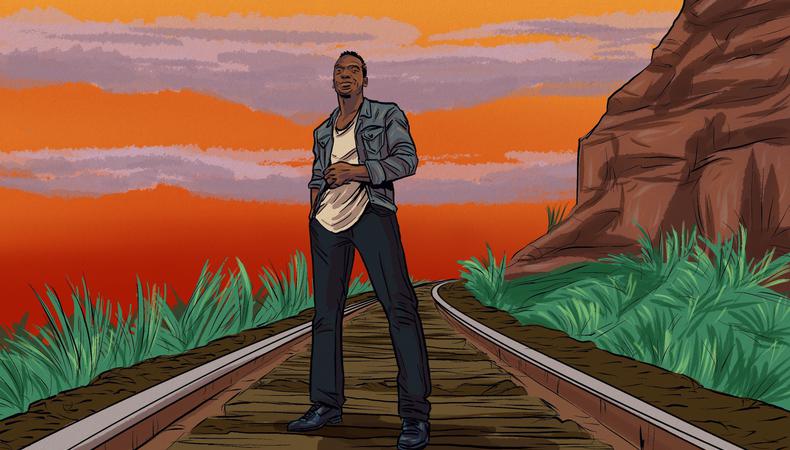 The following Career Dispatch essay was written by Daniel J. Watts, who plays Ike Turner in "Tina—The Tina Turner Musical." He's currently nominated for a Tony Award.
You know those movies like "Unstoppable" and "Speed"? Those movies where there's this large, potentially destructive vehicle hurtling forward at an incredible speed, and all these great minds are trying to figure out how to stop it before it crashes, but ultimately, it's up to our heroes on board to figure out how to save the day?
That's how I felt about my life before the pandemic. I felt the speed; I felt the inertia; I felt the reckless, out-of-control sensation of knowing there was some potential destruction awaiting me. But I didn't know how—or didn't want to know how—to stop myself or even slow myself down. Eventually, I realized the ultimate truth: that somewhere along the way, I had cut my own brakes. In my own personal runaway-train movie, I was the villain.
The thing that saved me was learning how to survive a global pandemic that was killing millions of people worldwide. The only goal became learning how to take care and be careful, i.e., be full of care for myself and recognize that it would help save lives—including my own.
So I took care. I isolated. I sequestered. I said yes to the things I wanted to do. I said no to the things I didn't. And though it wasn't easy, I did something I'd never done before: I embraced a slower pace.
Though surrounded by hardship (COVID-19, police killings, 45 and his insurrectionists, limited interactions with family and friends), my time in the pandemic came with its fair share of triumphs, too. Some highlights include an artists' residency, promoting my one-man show "The Jam" on "Today," returning to my alma mater as commencement speaker, giving a TED Talk, and just to keep things spicy, getting a Tony nomination!
Amid the accolades and virtual everythings, I had to figure out how to unlearn the unnatural: that ever-present sense of urgency that, in my opinion, has plagued humanity since the invention of the clock. The irony of spending the last 18 months trying to slow down while Zooming every single day is not lost on me.
READ: Everything the Pandemic Has Taught Us
About Virtual Theater
As Broadway "returns" (though I prefer "comes forward"), I am immediately reminded of some of the rooms, spaces, and practices we left behind—the ones of extreme urgency; bottom lines; blatant disregard for others; and the optics of diversity rather than true, invested equality and inclusion. If I have any fears at all, it is for those who plan to return instead of come forward—those still choosing villainy over heroism and standing by to cut the brakes.
As for me, I plan to bring along what I've learned, remembering that sacrifice and martyrdom are not one and the same. And instead of piling into an overcrowded, speeding locomotive, it might be best for everyone—myself, especially—to rent a car instead.
This story originally appeared in the Sept. 9 issue of Backstage Magazine. Subscribe here.
Looking for remote work? Backstage has got you covered! Click here for auditions you can do from home!