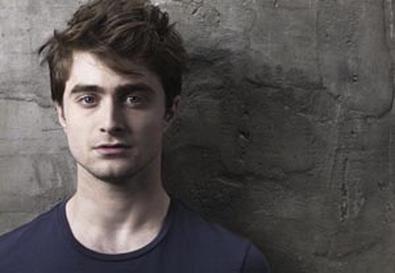 In the movie, opening this week, Radcliffe portrays Arthur Kipps, a widowed lawyer mourning the loss of his wife who is sent to a village haunted by the specter of a woman set on exacting revenge. The film is based on a 1983 book by Susan Hill; it was adapted into a play that has been running in London's West End since 1989—the year Radcliffe was born. "It's not just a horror film but a comment on grief and on loss and what happens to us if we fail to move on from things," Radcliffe says. "Arthur has not moved on and has reached a point of complete emotional paralysis because of it. And the Woman in Black herself has not been able to forgive and is so consumed by her hatred that it has followed her into the afterlife." Radcliffe pauses before unleashing a cheerful laugh. "Oh dear, that all makes it sound very melodramatic."
After seeing Radcliffe play The Boy Who Lived for eight films, audiences are used to watching him suffer onscreen. But "The Woman in Black" marks a notable leap for the actor, who ably carries the intense story line primarily on his own; many scenes feature Arthur alone, simply reacting to the creepy goings-on in a gothic mansion. So it's a relief to say that Radcliffe comes off much happier than his tortured characters. In fact, he's more like J. Pierrepont Finch, the eternally upbeat hero he just finished playing in the acclaimed Broadway revival of "How to Succeed in Business Without Really Trying." Says Radcliffe, "Finch is definitely much closer to my personality than any of the other characters I've played in terms of energy and a relentless positivity. That's kind of me."
As anyone who caught his recent gig hosting "Saturday Night Live"—in which he played, among other characters, Casey Anthony's dog and Harry Potter 10 years in the future clinging to his glory days—knows, Radcliffe has a keen sense of humor, particularly about himself. This was evidenced in 2006, when he appeared on Ricky Gervais' satire "Extras" playing himself as a teenage would-be Casanova whose attempted seduction of one woman results in him flicking a condom on the head of Dame Diana Rigg. According to Radcliffe, it was the only role he has played without having read a script. "As soon as Ricky told me about the idea, I said, 'Absolutely,' " he recalls. "I loved the idea of taking a perception that people have of you and sort of warping it slightly. When you're in a highly commercial film franchise and you get well-known young, it really pays to have a sense of humor about yourself. You have to."
Radcliffe also enjoys subverting people's expectations, which is part of the reason why he decided in 2007 to take on as his first stage role the part of Alan Strang in Peter Shaffer's "Equus." To play the mentally disturbed teenager, Radcliffe had to memorize lengthy monologues and appear in the nude. Point out to him that many actors would have taken a film job with an easier character and a bigger paycheck, and he laughs. "I don't know if it's because I've always had the money or came into the money young, but it's never been what's motivated me," he says. "I don't want to sound ungrateful in any way, because I'm incredibly grateful for the freedoms and the artistic freedom that money gives you. But what's motivated me has really been about proving to myself that I belong in the position that I'm in. And I know that every young actor has a lot to learn, we just all do, particularly when you've started so young and you haven't trained. So I suppose I just wanted to go onstage to see if I could do it, to be honest." The experience was well worth it, he says. " 'Equus' was the greatest moment in my career so far. And looking back, it has counted for so much in terms of how people see me now, which is wonderful."
Admission to Hogwarts
Radcliffe was born with the business in his blood, the only child of Alan George Radcliffe, a literary agent, and Marcia Jeannine Gresham, a casting director. Both parents have spent time in the theater, but they were far from stage parents. In fact, they originally passed on allowing Radcliffe to audition for "Harry Potter" when it was to be filmed in Los Angeles. "The audition came through a long train of connections, so bear with me," Radcliffe explains. "My father was representing a director who was directing a film being produced by Norma Heyman, who is David Heyman's mother. David is producer of 'Potter' and asked, through his mum, to ask my dad to ask me to audition. Got all that?" The younger Heyman had seen Radcliffe in his acting debut in the TV movie "David Copperfield" and thought he would make a perfect Potter. But Radcliffe's father didn't even tell him about the offer, since he didn't want him filming in L.A. When the production changed to shoot in England, he relented and Radcliffe auditioned. "It actually wasn't a long process for me," Radcliffe reveals. "I came in very late; they already had a start date for filming. Emma [Watson] and Rupert [Grint] went through like 10 or 11 auditions each. I think I auditioned for the first time in May or June, and two or three more times over the next two months, and then I got it in the middle of July."
Radcliffe says that at age 11, when he first started the series, he wasn't sure acting would be a lifelong career. "I think that for the first two films, I was thinking I might do something else after," he says. "But working on the third film with Gary Oldman was quite inspirational. I knew I enjoyed acting and being on set, but when you watch him and see how fearless he is—there's something so compelling about it, and as a young guy you just go, 'God, I want to do that.' So since then I've been quite set on the idea."
Though he had no formal training before donning Potter's robe, when he chose to do "Equus" he enlisted vocal coach Barbara Houseman. "I knew I would not be able to just walk from a film set onto a stage and expect to be able to do it," he says. "Also at that time in London, there had been quite a few film actors going on to stage, and I'd seen in the reviews the criticism was leveled again and again and again that they simply can't be heard." He worked with Houseman for more than a year before going into rehearsals and has used her on every project since.
A Long Run
Radcliffe cites Oldman and another "Harry Potter" co-star, Alan Rickman, when discussing how he chooses his roles. "They never, ever stop trying to get better and working with people they think are going to bring something new out of them," he notes. "That's what I'm interested in, so I'm just going to keep picking things that appeal to my sensibilities and what I'm interested in, and hopefully mixing stage and film for as long as I possibly can." Though after spending the last year singing and dancing in "Succeed," he says his time onstage might be limited. "There is part of me that thinks theater is more of a young man's game," he says. "I have full respect for John Larroquette for doing all our show at the age of 64. I couldn't even contemplate that. It's hard enough for me now."
Asked if he has a dream role, Radcliffe responds, "I don't know if it's been written yet. I think I'll know it when I see it." But he admits to having a fixation with originating a role in a new play or musical. "You know when you buy a play and there's that bit in the front that says, 'This was first performed in 1969 at the Old Vic with the cast of so-and-so'? I always wanted to be in one of those bits. I always had an obsession with that. It was a wonderful piece of history to be involved with a new play. So hopefully, that will be on the horizon at some point."
When it comes to giving advice, Radcliffe says he might not be the best person to ask. "Obviously, I can't be of any help in terms of advice on getting into the industry. You know, I can't say, 'Star in a major franchise! It's a great way to start!' " he says with a laugh. "But in terms of staying in the business, I think it's about showing diversity, a willingness to take risks, and a willingness not to be satisfied." He continues, "Also, an underrated quality in actors is being a leader and really leading a set in terms of enthusiasm and energy. I think it's incredibly important; actors should view themselves as the head of their department. And if you're on a film set or in a play and the lead in something, you set the tone for how the rest of the cast acts, generally speaking. So I think it's important that you're giving absolutely everything you have every time you step onto the set. Everybody else will generally follow suit, and it makes everybody's life easier."
---
On His Co-Stars
Though he's supposed to be talking about himself, Radcliffe can't help digressing when his co-stars are mentioned.
On performing "Equus" with Richard Griffiths: "It's a very hard play, and, I have to say, Richard is amazing. He just makes those monologues seem so natural and so like he is having a conversation with each person. It was so effortless and natural and grounded. It's pretty terrifying being onstage with him. Well, it's simultaneously terrifying and the safest place you've ever been."
On the ensemble of "How to Succeed in Business Without Really Trying," including Tony winner John Larroquette: "The reason that production worked so well and will continue to is it's an old-fashioned musical but smart as heck and very, very funny. And ours was cast with a bunch of complete eccentrics. John Larroquette is an anarchist, and a bringer of chaos, and it's fantastic."
---
Outtakes
- Just signed on to play poet Allen Ginsberg in "Kill Your Darlings"
- Also appeared in the films "The Tailor of Panama" and "December Boys"
- Says his most difficult role to date was Alan in "Equus," adding, "While it was the hardest part, I also felt it gave me the most tools to do it with because it was such a well-written part"