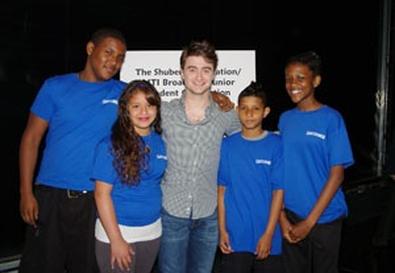 "One day I will be a Broadway star," said a small girl standing on a big stage. "But for now I'm just a student at M.S. 57."
She was one of the many middle school students who had the opportunity to perform at New York City's Majestic Theatre on Monday, thanks to a program put together by the Shubert Foundation, Music Theatre International, and the New York City Department of Education. Public school students from Manhattan, the Bronx, Queens, and Brooklyn performed numbers from such musicals as "Guys and Dolls Jr.," "High School Musical Jr.," "Once on This Island Jr.," "Annie Jr.," and "Aladdin Jr.," which are condensed, kid-friendly versions of those shows.
The performance was the year-end celebration of the Shubert Foundation/MTI Broadway JR. Program, formed in 2005 to instill the arts in public schools that have limited arts programming. Daniel Radcliffe, star of the "Harry Potter" film series and Tony-nominated for his performance in "How to Succeed in Business Without Really Trying," served as master of ceremonies.
"He too is doing his first Broadway musical, and we thought it would be a perfect togetherness with the kids," said Shubert Organization president Robert E. Wankel.
The Majestic Theatre's voluminous auditorium was filled with students shifting in their seats, laughing and bellowing in excitement as they prepared for their Broadway debuts. Prior to the performance, Radcliffe shared some advice. "Nerves fade away slightly over time, but they never disappear," he said. "Before I go on stage, I worry about a number of things—forgetting my lines or singing the wrong note. But it's never as bad as you think."
The Shubert/MTI program assists public middle schools in teaching students the skills to produce and perform in their own musicals. So far, 29 schools have participated, and 21 schools were involved in the 2010-11 cycle.
"It's become a part of the culture of their schools," said Freddie Gershon, chairman and CEO of Music Theatre International. "They have bonded with their teachers on a whole different level. Their mutuality and respect has changed."
Drew H. Cohen, president of MTI, said the true benefits of the program come from the group experience. "I think it's a great way for kids to work together and make friends and bond through a shared experience," he said. "Much of what you do in school is on an individual level—such as math or science or history. But what's also critical besides socializing is working on projects you could do in a group."
Each school added its own personality to the songs performed, from the exaggerated gestures of M.S. 004's rendition of "Friend Like Me" from "Aladdin Jr." to the Young Women's Leadership School of Brooklyn's dramatic incorporation of hand percussion on "Pray" from "Once on This Island Jr."
"I encourage you all to take a moment and realize what you have just done," said Radcliffe after the last number had been performed. "You know you have a connection to everyone who has performed on this stage."