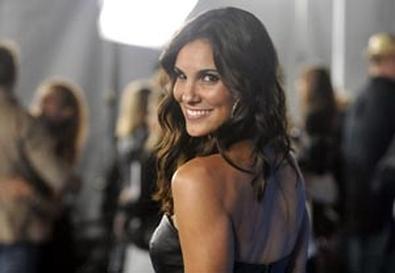 Daniela Ruah says she didn't have to reach far to relate to her character, the tough but vulnerable Special Agent Kensi Blye on CBS's "
NCIS: Los Angeles
." "She had everything to do with me in terms of speaking languages and being well-traveled," Ruah notes. "Kensi's a Navy brat, so she lived in different places in the world. There was something about the character that connected with me."
Like her character, Ruah has lived in different places. She was born in Boston, but her family moved to Portugal when she was 5. It was there that she saw an open-call notice for a role on a soap opera. She was only 16; she didn't have an agent or belong to a union, but she was cast in the project and began her acting career. "It was a teeny tiny paycheck and working almost six days a week and hours on end, and there was kind of no support as a kid in high school," she explains. "We had no tutors on set with us or anything like that, so I was literally fighting for my grades and fighting for a job that I loved." From that soap opera, she jumped right into another, which is a typical scenario for telenovela-style series in Portugal.
A unique break came in 2006, when she won the first season of "Danca Comigo," the Portuguese version of "Dancing With the Stars." She decided to put work on hold while attending college for performing arts in London, because she wasn't quite ready to let go of the dancing. "I knew it would be valuable for acting too, in terms of just spatial awareness and your own physical posture," she notes. And she was right—Ruah says she uses her dance training for the physically challenging role on "NCIS: Los Angeles." She adds, "I do probably 99 percent of the fighting part. We just have a really amazing team of people that support us and help us, and they want us to do our own stunts because it just makes it easier for the cameramen and the director. But I definitely have a stunt double for the really dangerous things."
Ruah welcomes the challenge of the stunt work. "I love doing these things, and I'm bruised from head to toe half the time afterwards," she says. "Then I'll have some sort of event where I'm wearing a skirt and it's like, 'Damn, now I have to put makeup all over my legs to hide them." She has done some stunt fight training, but she believes her dance training has made learning it so much easier, because when you dance "you become very physically aware of yourself and the space around you and your body reads movement like you read words on a page." She elaborates, "At some point, I don't have to read a whole page to know what that word is. You kind of just know what it is. It's a language that's embedded in your body so when they say kick and turn your hip out or turn your hip in or do whatever, that language is in my body already, and that's why I love having this dance background. I would suggest it to any actor to get some movement classes because it really, really makes a difference."
Back to the Basics
After college, Ruah returned to Portugal and her career began to take off. But she really wanted to move to the United States to pursue work on an international level. So she took a risk, turned down Portuguese work offers, and relocated to New York. While searching for an agent in New York, she continued studying her craft. Ruah believes it's important to keep learning. "I mean, that's the beauty of the acting world. You can play so many different characters who know and do so many things that you have no idea about as yourself," she says. "So I'm a big fan of workshops and classes and learning new things because you can always apply it. It's your little supply bag of creativity. Keep filling it up."
Ruah says she tried to get her name out by putting her headshots and résumés up on all the reliable websites she could find. She advises to never go cheap on the headshots. "You'd rather have a good headshot that cost you a little more but that's going to last than pay less money for a headshot that's not good enough."
Her ultimate goal had always been to find work in the United States. Now that she has attained that objective, she says, "I honestly feel like I'm really glad I got to do those soap operas, because they trained me really well for this. There's no better training than working on a soap opera because of the amount of hours, the amount of pages you do a day are unbelievable. It's the best training I had in terms of discipline."
Ruah got the audition for "NCIS: Los Angeles" through her agent. "I was going out during pilot season for as many things as I could," she recalls, but the audition "went terribly wrong. I forgot my lines and the more I forgot my lines, the more nervous I got. And the casting directors were just like, 'Breathe.' "
She also had an action scene as one of her audition sides. "I had to have a weapon in my hand and I'm speaking into my wrist mic and there's just so much going on in the scene and all I got from [the casting directors] was 'Just move around the room.' " But in the audition room, no matter how silly you might feel, you really have to go for it full-on, because it's when you do things halfway that you really look silly. So I just did what I could. And I remember just thinking that was the worst audition I've ever done in my life." But within a few days, her agent called: Ruah had a callback in L.A. So she flew in, did her studio and network tests on the same day, and was heading to the airport immediately after. While she was waiting for her taxi, one of the people in the room came down, gave her a hug and whispered in her ear that she had unofficially booked the role. The first thing she did was call her mom, even though it was 2 a.m. in Portugal. She notes, "It was a real turning point from student-slash–struggling actor to finally getting a job."
This experience illustrated something she had learned along the way: "When you go to an audition don't hang on to it, because no matter how well you feel it went or how badly, you just never know what the outcome is going to be. And expect noes. No matter how good you are. No actor in the world started off at the top. Everybody heard a million noes before they heard a yes. And even after they heard a yes, it doesn't mean they're going to keep hearing yeses. There's so much out of your control. That you just have to give your best and then let go."
Outtakes
– Was cast in an Italian-speaking role in George Lucas' "
Red Tails
" with Cuba Gooding Jr. and Bryan Cranston.
– Studied at the Lee Strasberg Theatre and Film Institute
– Is represented by Rhonda Price at Gersh