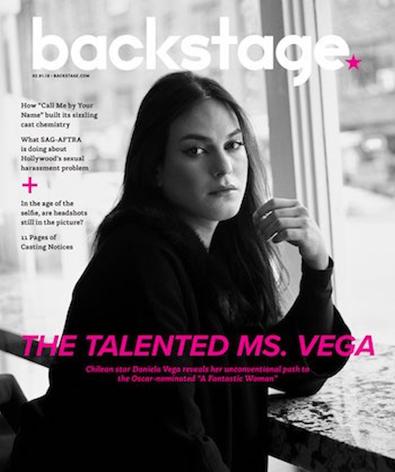 To hear Daniela Vega tell it, her career as an actor is but a string of happy accidents. She may currently be earning accolades for her captivating performance as Marina Vidal in Sebastián Lelio's "A Fantastic Woman," but she never was one to fantasize about making a living as a performer. It took her years to start thinking of herself as an actor and not just someone who was trying her hand at acting. She was as surprised as anyone to receive a script she'd been a consultant on years prior to find herself (or someone very similar to her) in the lead role.
As the star of the acclaimed indie, which picked up an Oscar nomination for best foreign language film on Jan. 23, Vega is in almost every single scene of the film. We see her character grappling with the loss of her partner, who dies suddenly and leaves her to deal with his ex-wife and son; bitter over the relatively recent divorce and ashamed of his relationship with someone who wasn't, in their eyes, "normal," his family makes Marina's grief all the harder to contain. Vega is gorgeous in her restraint.
But if she didn't daydream as a kid of being an actor, what did she fantasize about being? Her answer is as simple as it is telling: a woman. While her peers were busy charting their future paths during their teenage years, Vega was committed to making this a reality.
She began her transition at an early age, and it took over her life. "There's a loss of consciousness when it comes to who you are, physically, when you go through that transition," she tells Backstage, "especially with so few tools and such scant information as I had when I was 14, 14 years ago! It was like being in the trenches and needing to go out there and talk to people who didn't even speak my language." The transition pushed her away from everything, and Vega eventually even gave up the artistic outlet that had first entranced her: singing.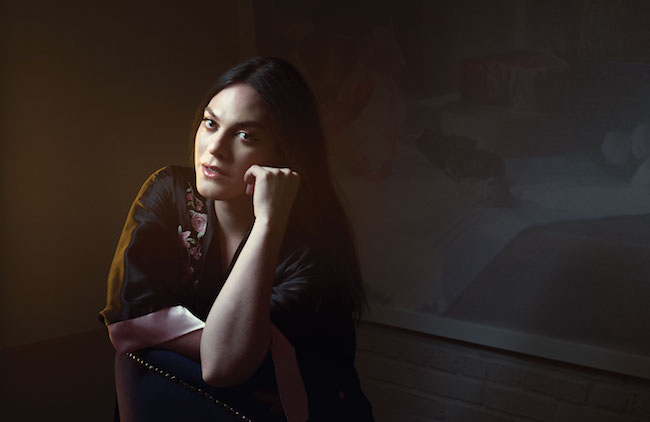 She decided instead to pursue different careers. She trained as a cook, though no one would hire her, and later got a degree in makeup and hairstyling, which eventually brought her to the stage. Through her brother, she landed a gig doing makeup work for a theater company. Knowing it sounds like the clichéd too-good-to-be-real actorly anecdote, she remembers being in the room during a rehearsal and, upon seeing the choices an actor was making, making a suggestion that caught the eye of the director. After showing what she would have done with the scene, she booked a small role with the company. She raises her eyebrow, looking back on the unlikely scenario as if to say, "See? A happy accident!"
Soon enough, there were whispers that a talented trans performer was trying to make it in the theater scene in her native Santiago, Chile—not that Vega would've put it that way. She was just having fun and meeting people. Among those was Martin de la Parra, who approached her to collaborate on a project called "La mujer mariposa" ("The Butterfly Woman"). The whole thing sounded really out there ("una cosa muy volada," as Vega puts it). For starters, it was a one-on-one theatrical experience. During the performance, she'd be stationed in a kind of confessional, a 6-and-a-half-by-10-foot black box where the sole spectator would remain for the duration of the eight-minute monologue. As an actor, such an immersive and near-meditative endeavor was a welcome challenge and chance to test her limits. On any given performance day, she'd cycle through 16 audience members; any more, she points out, would have pushed her endurance to the breaking point. The monologue, which included some singing, was ostensibly the same each time, but the point was to read the audience, tackling certain lines differently and tailoring her performance to fit whoever was in front of her. The show opened in late 2009 and ran on and off for the better part of the next five years, during which Vega also worked in other theatrical productions.
In the audience for "La mujer mariposa" one day was a writer-director who was in the process of developing his first feature film, "La visita" ("The Guest"). Mauricio López Fernández had been trying to find the right person to cast as Elena, a young woman who, after transitioning, returns home for her father's funeral. It's soon clear that her transition (everyone there still remembers her as Felipe) will be a point of contention during an already emotionally fraught weekend. López Fernández was committed to casting a trans actor for the role and had all but given up on finding one in Chile. He asked Vega whether she'd be interested in the role. Knowing very little about how to navigate such an ask, she bluffed her way through it. "I asked to read the script, thinking that was the obvious first step, though I didn't know much of what I was doing." She eventually read for the part and knew she'd nailed it as she left the meeting. "I mean, who else was going to do this? There was no one else in Chile who could do it!"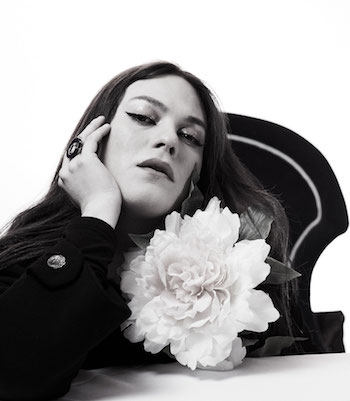 Being on the set of López Fernández's film, a first for Vega, forced her to recalibrate her own approach to performing. Not only was there little dialogue, she was working opposite formidable Chilean actors like Rosa Ramírez and Claudia Cantero. "It was a great challenge," she remembers of needing to contain her performance in minimal but expressive gestures that the camera could capture. The experience upended what she knew about being an actor. "In the theater, you open yourself up—you expand. You project your voice so that everyone in the audience can follow [along with you]. But in film you're acting for just one set of eyes; the camera."
Following the shoot, she came up with a reading curriculum to rival any course at a performing arts school to learn more about acting. In between shooting cameos for music videos, taking up voice lessons once again, and continuing to work on the stage, Vega was reading the likes of Konstantin Stanislavsky, Bertolt Brecht, and Antonin Artaud.
Around that same time, Vega found herself becoming a vocal advocate for the trans community. She enjoyed being able to offer a hopeful narrative, one that involved a supportive family and an increasingly successful career. That profile, coupled with her list of "accidental" experiences acting in high-stakes, highly demanding roles, was no doubt what caused "A Fantastic Woman" director Lelio to seek Vega out. He'd been toying with the idea of telling a story set in the trans community in Santiago but he knew he'd need some help navigating that world. Initially, Vega was a cultural consultant; she'd been a fan of Lelio's work and was eager to share tales of famed trans figures, send him books on the subject, and answer any questions he had. Two years later, he sent her a finished script. "I knew he wanted to write something, but I really didn't know what he wanted to make," she remembers.
If shooting "The Guest" felt like an intro course, Vega admits that "A Fantastic Woman" was a grueling and gratifying master class on film acting. "I learned so much from working on that film. I learned to work in close-up. Learned to use my eyes in very precise ways. Learned how to learn, actually; how to learn from my peers. Learned how to listen to advice. Learned how to move more naturally, how to use my voice as a tool." Moreover, given Lelio's decision to mix and match genres (the film swings wildly between a teary melodrama and a kinetic thriller, a quiet character study and a full-blown musical fantasy), Vega got to show off exactly what makes her so fantastic.
It may have been a series of happy accidents that put her in Lelio's path, but there's no denying her star-making performance in his film is nothing short of the consummation of everything she'd been learning and practicing. As a career-defining role, Marina is proof that Vega is now taking control of what's ahead. And she has no plans of stopping or slowing down. "A lot of people think they need some sort of validation from others to do this. That they need someone to say to them, 'Yes, sure, come in.' That's not how this works. If they close the door on you, just break in through the window."
Check out Backstage's film audition listings!
Photographed on January 16 on location at Greenwich Steakhouse in NYC by Stephanie Diani
Hair and makeup by Carola Pizarro Hernández