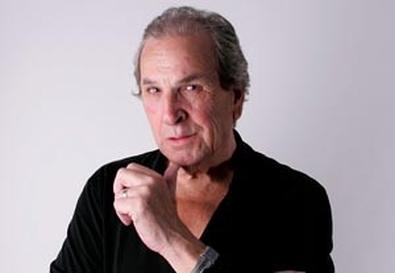 Danny Aiello's raspy voice is even raspier than usual. He is suffering from vocal strain. Nevertheless, he is excited to talk about his current project, Susan Charlotte's "The Shoemaker," in which he plays the title role, a character who reaches high emotional levels. It's not surprising his voice is tired.
Now running Off-Broadway at Theatre Row's Acorn Theatre, the play is set on Sept. 11, 2001, and recounts the tormented experiences of a shoemaker, an Italian Jewish Holocaust survivor (Aiello), encountering two disparate women (Alma Cuervo, Lucy DeVito), who unwittingly force him to confront the ghosts of his past along with his horror in the immediate wake of the terrorist attacks.
"The Shoemaker" has journeyed from one-act play reading to a film short ("A Broken Sole") to its current two-act staged incarnation, and Aiello has been with it every step of the way, delighted to be reprising the fleshed-out role on stage. Indeed, he loves the piece so much he hopes to bring it to Broadway.
Aiello launched his acting career in his mid-30s and made his film debut when he was 40. A kid growing up in a working-class Manhattan neighborhood, he never considered acting a viable career. Indeed, he made his living as a bus driver, quickly moving up the ranks. It was only after he had lost his job as president of the Amalgamated Transit Union and found himself working as a bouncer and occasional emcee at the Improvisation that his life abruptly changed course. The now deceased playwright Louis La Russo II saw him at the night spot and invited him to be in his play "Lamppost Reunion," which subsequently went to Broadway and earned a Tony nomination for best play in 1976 and a Theatre World Award for the totally untrained, inexperienced actor.
"Why Louis picked me I don't know," Aiello says, still stunned in retrospect. Since that time the now veteran actor has worked steadily, appearing in dozens of films (most notably "Do the Right Thing," "The Purple Rose of Cairo," and "Moonstruck") in addition to many television stints. "I look back and I say, 'how the hell did this happen?'"
The Critics Approve
Though mastering the art of acting has been an ongoing process for him, a watershed moment occurred when critic Harold Clurman said Aiello had the makings of a Shakespearean actor. "When I saw that in print I flipped out," Aiello recalls. "Shakespeare would have been very appealing to me. I would have loved to do Richard III. But I was a man in a hurry, learning as I went, and doing Shakespeare at that time would not have paid enough for me to support my family."
Still, the compliment and its source made Aiello see himself in a new light. "In the beginning of my career I did not think of myself as an actor," he says. "I thought of myself as an energetic person who was able to get an audience to say, 'Wow, wow,' on the basis of my energy."
Thanks to Clurman and other critics' vote of confidence, however, he believed he might be a bona fide actor, and his approach to acting deepened. He says he became more determined than ever to reveal the unexpected element in a character, making the despicable figure just slightly likable and the virtuous a tad nasty. Nevertheless, he's uncomfortable about describing what he does as a method.
"What method?" he asks rhetorically. "I talk to myself and I say, 'Mama, don't let me make a fool of myself.' When I'm acting I'm me. The only thing that changes is the rhythm of my speech. I walk around, I look in the mirror, I speak softly, I shout. And then the character comes out. It's instinctive." He pauses. "The word 'indistinctive' doesn't bother me. But for the longest time, I felt if someone said I was 'instinctive,' they were insulting me. They were saying I was not learned, not trained."
No Auditions, Please
Aiello chooses projects if he admires the writing, though he's hesitant to say what takes precedence, the script or the character he will be playing. They feed each other, he insists. He'll do small, independent films if he likes the people involved—good actors and hands-off, minimalist directors—but will not do a cameo role or serve as the bankable name in a tiny part to launch the career of a newbie, he asserts. And, he will not audition.
In fact, his breakout role as the sensible (but not sexy) Johnny Cammareri in Norman Jewison's Oscar-winning "Moonstruck" almost didn't happen because he believed Jewison was asking him to read for the part. Auditions do not show what an actor is capable of and they are not necessary, he says. On the basis of a conversation between the actor and director, the director should be able to judge if an actor is right for a role, he maintains. Further, Aiello had been hurt at auditions more than a few times and saw no reason to subject himself to the practice given his reputation.
The breaking point was auditioning for a very well-known director who was casting a film with many notables, none of whom was making much money. Aiello auditioned for a tiny role as a bartender and did not book it. "I was so upset by this," he says. "I was volunteering to work for nothing, and even under those circumstances I didn't get it. Now with 'Moon Struck,' Norman Jewison says to me, 'this character is you, Danny.' And I said, 'Mr. Jewison, I thank you so very much.' We're exchanging compliments and at the end of the conversation he says to me, 'Danny, I was thinking maybe we'd sit around and read.' I looked at him and said, 'Mr. Jewison, are you asking me to read?' He took a moment and said, 'Oh, no, no. I was just thinking when we chose the cast we'd sit around and read. You've got the part.' Had he said he wanted me to read I would have walked out, politely saying, 'Thank you, but I don't do that.' "
When Aiello is not making movies, he's touring with his eight-piece jazz band and working on albums, mostly featuring old pop tunes. He is also very much a family man, married to the same woman for more than 50 years and the father of four. His eldest son, Danny Aiello III, a stuntman, tragically died last year of pancreatic cancer. Aiello works for many philanthropic endeavors, including Major League Baseball's Stand up to Cancer campaign and The Lustgarten Foundation on behalf of pancreatic cancer research.
Living to Act
Unlike many other mature veteran actors, Aiello says he has not experienced ageism. In fact, he has many acting opportunities, but fewer offers that he's open to tackling. He also cites the pressures that come with audience expectation and his own fear that he'll forget his lines, though that has not yet happened. For many complicated reasons, "acting is more important than ever," he reports. "It's not only what I do to earn a living, but it's a distraction that takes me away from things that trouble me terribly, like the loss of my son. I suppose I could say acting is medicinal. It gives me a reason to keep living. I can't wait to get up because I'm going to act."
Always game for an unexpected challenge, Aiello is currently working on a one-man tuner about Al Capone during his final days. The piece offers an unexpected spin on the legendary gangster, presenting him not as caricature, but a figure more aligned with Lee Iacocca, "who could run a corporation," Aiello says. The meatiness of the role is alluring too. Dying of syphilis and hallucinating, "Capone talks to statues, religious figures, and people who are not there." The project will mark Aiello's first solo show and first musical. "I've never sung brand new songs," he says. "When I read the script I wasn't sure I could do this. How the hell will I learn 22 brand new songs? It terrified me."
That's not stopping him, though. But then his determination has always outweighed personal demons. "I struggled at the beginning and made it," he says. "I did it purely by dedicating myself to doing what I wanted. There is no guarantee of success. Whether you'll be a star or an extra can't be determined. But anyone who wants to act will do it."
"The Shoemaker" is playing to Aug. 14 at Theatre Row Acorn Theatre, 410 W. 40th St., NYC. Tickets: www.telecharge.com or (212) 239-6200.
OUTTAKES
– Appeared on Broadway in "Gemini," the original production of "Hurlyburly" (as a replacement), and "The House of Blue Leaves"
– Was nominated for a Golden Globe and an Academy Award for his performance in Spike Lee's "Do the Right Thing"
– Television credits include the series "Dellaventura" (title role) and a principal role in "Lady Blue."