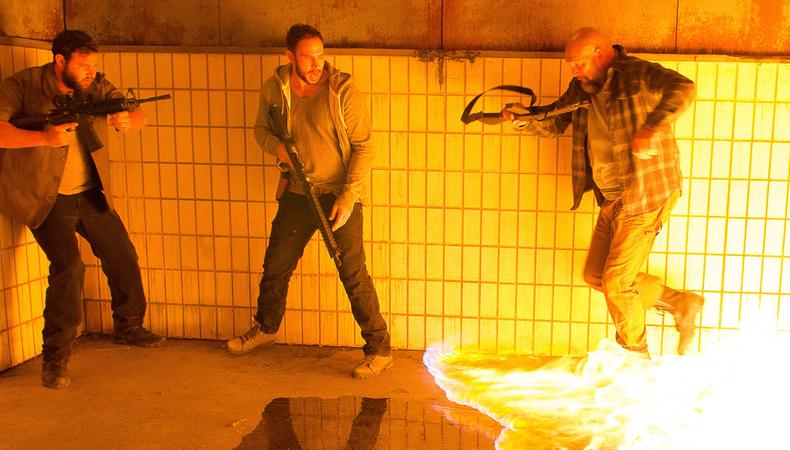 Danny Maze is quite muscular. So it's surprising to hear the stunt coordinator and actor say that a stunt person doesn't necessarily need to be in shape to book a gig.
"It helps to have athletes doing stunts being in shape," admits Maze. "But it's not a set thing that you have to be the best athlete. It's a massive category encompassing a lot of actors. If you're not the most in shape, you absolutely should not give up."
Maze, who has worked on everything from 50 Cent and Eminem videos to video games, explains that many performers in large-budget films are anything but conventionally fit. That can mean plenty of second unit work as doubles for said performers. The Michigan born and raised actor realized this years ago and stormed the industry by way of his hometown, where many big-budget, action-packed projects, such as Michael Bay's "Transformers" franchise, have been filming for years.
But Maze's actual start came through his skills on a motorcycle. After his first gig, word of mouth got him steady work in a film stunt department. Soon enough he set up shop in Atlanta and continued his trajectory of successful bookings; recently Maze played (and died) a Savior on AMC's "The Walking Dead" and doubled Lou Ferrigno Jr.
Now both stuntman and coordinator, Maze has plenty of advice to offer Backstage readers. "There is no right or wrong way [to get into stunts]. Just don't lie about what you are capable of doing!"
Maze himself used his Instagram as a means of getting work—creating various videos of himself flipping and kicking—and it wasn't long before he had amassed a huge following. Stunt coordinators, impressed with his on-camera talent, were quick to hire him.
When asked about the many stunt workshops popping up around the country, Maze is skeptical. He encourages individuals in pursuit of a stunt career to seek reputable professionals, such as James Lew and Mark De Alessandro (Sylvester Stallone's double for 23 years).
Maze says it's the "top tier talent" he works with that keeps him coming back for long days of shooting and physically taxing stunts. He is especially quick to acknowledge second unit directors, who coordinate driving shots, photo doubles, stunt doubles, and almost everything in between, as the unsung heroes of the film world. Is he upset about the lack of stunt recognition at the Academy Awards?
"Second unit directing is an entire company of the film dedicated to stunts. It costs millions of dollars. And there is no recognition by the Academy. Whether you're a stunt coordinator or second unit director, you are in charge. You are on the same hierarchy. All that stuff falls on second unit—planning, safety, talent—especially on action movies."
You can find Danny Maze on "The Walking Dead" Season 6. And stay tuned for information on his upcoming stunt training course with J.R. Seay!
Inspired by this post? Check out our Atlanta audition listings!