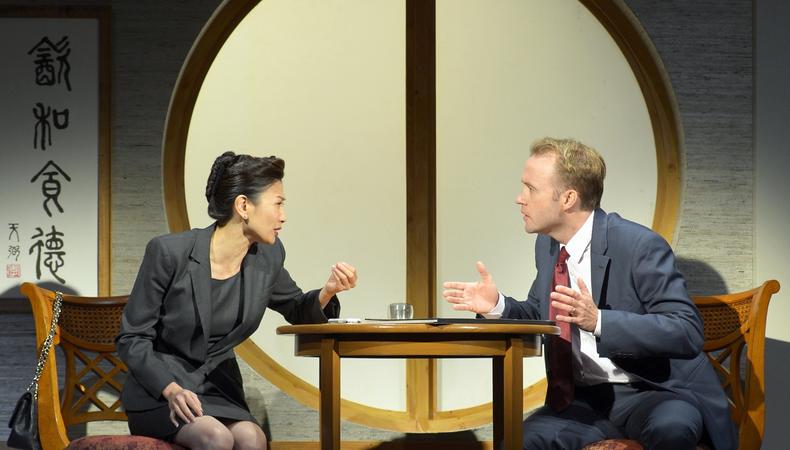 In his 2011 play "Chinglish," David Henry Hwang takes a darkly comic look at a concept that carries grave implications: Correct translation between English and Chinese is impossible. Nearly every word in either language carries a different definition and has no direct equivalent with its counterpart. Elements such as grammar and context—cultural, social, and historical—doom any English-Chinese interaction. Hwang brilliantly blends character, dialogue, and the idea that even when bilingual interpreters are present, translations are fraught with errors and misconceptions, resulting in an often uproarious mangling of both languages. Unlike his characters, Hwang's text has no weaknesses, the product of a deft writer and observer of human nature working at the top of his game. His tragicomic masterpiece of failed communication captures the complexities of all human relationships.
At South Coast Repertory, Leigh Silverman, who also directed the show on Broadway, has fielded an outstanding cast and a superb production team. The play begins and ends with American businessman Daniel Cavanaugh (Alex Moggridge) addressing the Commerce League of Ohio, using slides of nonsensically funny Chinese signs whose English translations have been comically mangled as an example of the vast gulf between the U.S. and China. The action then shifts to three years earlier, as Daniel first arrives in China intent upon landing a contract to create accurate Chinese-to-English signs. Unable to speak Chinese, and with no background or understanding of the cultural forces at work, Daniel is forced to rely upon Peter (an outstanding Brian Nishii), an Englishman who has lived in China for 20 years and speaks fluent Chinese. Still, Daniel's every encounter with Chinese officials yields butchered translations and an almost surreal level of miscommunication that we come to see as a symbol for human failures and inadequacies.
Daniel's first one-on-one with Xi Yan (Michelle Krusiec), a provincial vice minister, is a microcosm of the play's primary theme, as his ignorance and her limited spoken English create disastrous misunderstandings. That the naive, utterly clueless Daniel bungles into an affair with the severe yet beautiful young woman furthers Hwang's point, with each misinterpreting the other's thoughts, desires, and motives. "Chinglish" emerges as a comedy of blunders.
The designers' shining work supports the text without overshadowing it. Candace Chong's translations of Mandarin Chinese are fed to us via supertitles by Jeff Sugg and Shawn Duan. David Korins' clean, chic set depicts a China both traditional and modern, elegant in a spare, simple way, with each new location (office, restaurant, hotel room, hotel lobby) moved swiftly and silently into place via turntables. Darron L. West's sound employs vibrantly rhythmic Oriental music. Nancy A. Palmatier's costumes, based on Anita Yavich's original designs, and Brian MacDevitt's lighting complete the all-of-a-piece picture, as if Hwang himself had exhaled his concepts onto SCR's stage. The result is a dazzling, intimate, brutally funny, and frighteningly honest look at a communications gap that even the most brilliant interpreter could never hope to bridge.
Presented by Berkeley Repertory Theatre and South Coast Repertory at South Coast Repertory, 655 Town Center Dr., Costa Mesa. Feb. 1–24. (714) 708-5555 or www.scr.org. Casting by Joanne DeNaut and Amy Potozkin.
Critic's Score: A+