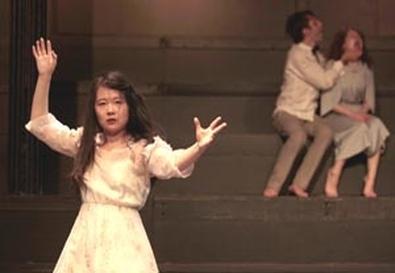 The most memorable moments in
Darling
, the new dance-theatre piece by choreographer Sam Kim, are the many entrances and exits of its four dancers. One emerges like a vampire at dusk from below the wide black staircase that dominates the stage. Another falls out of a window above the top step, and we watch her legs floating in space for many minutes. Later she reappears behind a door that opens in a long, eerie silence. These moments are calibrated to evoke the supernatural spookiness of 20th-century horror films, and the tour through such scary tropes continues throughout the evening. Whenever the dancers remain on stage, though,
Darling
becomes a confusing mix of reverence and satire, making it hard for either audience or performers to invest in the proceedings.
Sure, Kim has filled her 50-minute show with enough screams and slaps and demonic growls to rival a midnight screening of
The Exorcist
. And she's hit all the marks of great Gothic storytelling: spoiled innocence, sexual violation, family betrayal, and satanic possession. But transported from the screen to the stage, nothing manages to shock or frighten. Most of the spectacular moments, such as a woman drooling a pool of blood, drew laughter from the audience.
Kim's choreography seems to anticipate such detachment; her dancers occasionally turn presentational, posing and bowing for the audience. But if the point is to reveal horror film conventions as mere theatrical silliness—an unoriginal project at best—then why isn't anyone having more fun? More-complicated exploration of Darling's cinematic source material is undercut by the evening's uninspired movement work, which lacks in definition and charge from its dancers and in originality and daring from its choreographer. The result is an evening filled with failed seriousness, and whether or not that failure is wholly or even partially intentional is irrelevant.
Presented by and at Performance Space 122, 150 First Ave
.,
NYC. June 24
–
28. Wed
.–
Sat
.,
8 p.m
.;
Sun
.,
6 p.m
. (
212
)
352-3101
, (
866
)
811-4111, www.theatermania.com, or www.ps122.org
.