Turns out, you don't need to be of the screen or stage to be an actor. Case in point: Andrew Cunanan. In the pilot of FX's "The Assassination of Gianni Versace: American Crime Story" alone, we see the 27-year-old slip in and out of elaborate personae and biographical fabrications like a Versace model changing before the runway. Was Cunanan really warding off Gianni Versace's advances at a San Francisco club in 1990 (as he tells his friends), or was he the young stranger groveling for the fashion designer's attention with boldfaced flattery and stories of the old country? Did he really work on his military pilot father's pineapple plantation in the Philippines before moving to America for "the very best education" money could buy, or was he, as showrunner Ryan Murphy tells it, abused as a child and "groomed to inhabit this 'American Dream' that in his own family turned out to be a huge lie"?
While we now know the latter of both cases to be true, Cunanan wore his stories well, fooling Versace and others he encountered along the way. "I tell people what they need to hear," he tells a male lover in the series' first hour with chilling matter-of-factness.
Even Darren Criss, who stars as Cunanan in Season 2 of the Emmys-sweeping true crime anthology series, can't help but admit that Cunanan's innovation at times rivaled that of the fashion mogul's. "[The show has] done a really good job of paralleling these two brilliant men, who are for obvious reasons very different," Criss says. "Brilliance takes all shapes and sizes, and execution—no pun intended—varies and changes."
The fact that a character like Cunanan was also a sociopathic spree killer—best known for assassinating Versace in 1997 before taking his own life a week later—is just the cherry on top of the young actor's most formidable and emotionally demanding role yet.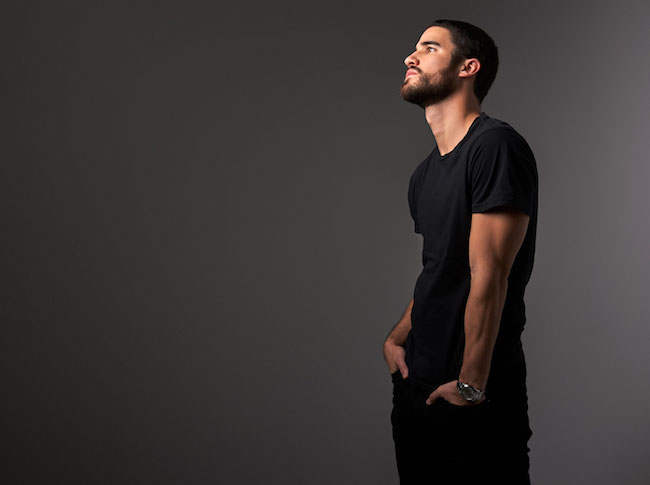 Cunanan's murderous tendencies aside, his gift for storytelling is mirrored in the man playing him. During a December interview over coffee in Brooklyn's Williamsburg neighborhood, Criss peppers in asides: "That's a whole other story in and of itself" or "That's a whole other hour, we won't go there." But the thing is, Criss—especially for actors—has quite the story to tell.
READ: The Accidental Rise of 'Glee's' Darren Criss
As a talent who rose from "Harry Potter" parody fame to become a standout supporter on "Glee," a replacement in Broadway's "How to Succeed in Business Without Really Trying," and "Hedwig and the Angry Inch," and now a leading role on what he admits is "a pretty hot show [with] a lot of buzz attached to it," the first piece of advice Criss has for any actor is to embrace an entrepreneurial spirit. He began his career in his native San Francisco at a very young age, first performing professionally at age 10 at the locally esteemed 42nd Street Moon theater company and as part of the American Conservatory Theater's Young Conservatory program.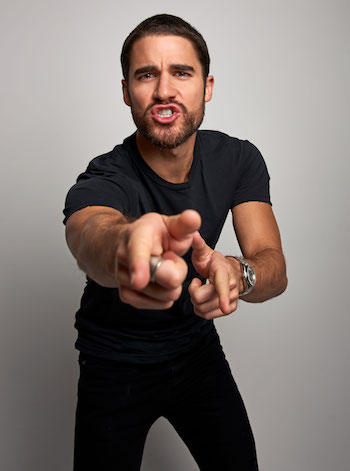 "That, to me, was where it all kind of got fostered," he says. "And of course I did high school theater. The real backbone is high school theater." (One of his favorite talking points with a new acquaintance is "[Tell me] what shows you were in, and I'll try to guess what parts you played." It's a game he quickly proves adept at over the course of our meeting.)
Criss' acting roots took him to the University of Michigan, where he received his BFA in theater performance—and by his senior year, fans were recognizing him on the street for an extracurricular student project gone viral. Featuring music and lyrics by Criss and A.J. Holmes, "A Very Potter Musical" was a comedic riff on J.K. Rowling's beloved fantasy series that starred Criss as the titular teen wizard. It began as the sort of one-off "silly shit" that many a musically inclined theater student might create in his four years on campus. But when filmed in the university's black box theater and pushed online at the advent of social media, "A Very Potter Musical" became somewhat of a subculture phenomenon among fans of the magical franchise.
"That's kind of what changed everything, because after graduating, this thing that was just a fun story that we did our senior year became immortalized on an alternate platform," Criss says. "That small, scrappy thing took on a life of its own, and from the unexpected success of that show, we became a theater company." Founded in 2009 and set on "creating accessible, quality theater for the modern era," StarKid Productions exists in Chicago's vibrant theater scene to this day.
"It was the first point that anybody had acknowledged something that I had done without knowing me in a personal way," Criss recalls. "It was my first brush with 'being known.' "
READ: How to Get a Show on FX
While a desire for fame or recognition hardly seems of high value for Criss ("I take my work very seriously, but I don't take myself seriously at all"), it's a push-pull relationship between the public and private that certainly informed his take on Cunanan. Versace's killer was obsessed with the rich and famous and had dreams of making his own way into society's upper echelons. All of his lies were intended to make him appear better than he was. Within that, there was an underlying desperation to every move he made. "The Assassination of Gianni Versace" is in part meant to explore how that desperation came to be.
"I wasn't interested in doing the boogeyman serial killer," Murphy says by phone. "Cunanan was not a person who tortured pets and animals as a child. So the question is, then, how did he become a psychopath?"
The No. 1 question people ask Criss about playing Cunanan also comes back to its natural, psychopathic emotional heft: "Is it crazy to be in a dark place?" While the role does require a certain level of brutality and psychiatric unease, the actor has two things to say to that. First is that it's "no crazier than being a cisgender, heterosexual 20-something playing a gay singing teenager," as he did on Fox's "Glee," also from Murphy. In other words, he's embodying a character. "I'm not playing myself," he says, "but you have access to emotions that those people go through, and you find as many common denominators as possible." And second is that we all may be surprised by Cunanan's less obvious, more human characteristics.
"We know Andrew was made famous by horrible things, but we don't really know a lot about his life and who he was," Criss says. "He was a really joyous, likable, affable, energetic young man…. You really question at what point could this have been you or any of us or anybody we know and love? Are we as awful as the worst thing we've ever done?"
Upon a bit of self-reflection, Criss says it's that ever-present dichotomy of right and wrong, friend and foe, that keeps him acting in the first place.
"That's probably why I like acting so much: It bends people's sense of empathy for the human experience," he says. "I'm excited for people to experience something [with this show]. I don't think people really know what's coming, and that excites me endlessly."
---
Something New
Darren Criss insists that despite his credits, he "kind of fell into musical theater by bizarre providence" and that he still views himself as "the actor who sings, not the singer who acts." That made the opportunity to tap into the psyche of a murderer for nine hours of prestige TV all the more appealing. Ryan Murphy, for one, knew Criss had it in him all along. "The only person in the world who could play Andrew Cunanan is Darren Criss," the creator says. "For several reasons: One is the obvious correct ethnicity. I thought that was very important to get that right. It would be a disservice to cast an Italian-American as a Filipino-American. But the other thing that was important to me is that I knew that it was going to be a very big, Shakespearean role. I don't think that there's going to be a bigger role on television next year in terms of difficulty. It's him going through the deepest sociopathic impulses and emotional problems. I just thought that Darren is prime. He's just turning 30 [and] I think that he's ready to graduate to more difficult material and really try something hard…. I think people will be surprised and startled by his performance and excited because it's the announcement of something new in his life."
Ready for primetime? Check out Backstage's TV audition listings!
Photographed on December 11 in NYC by Matt Doyle