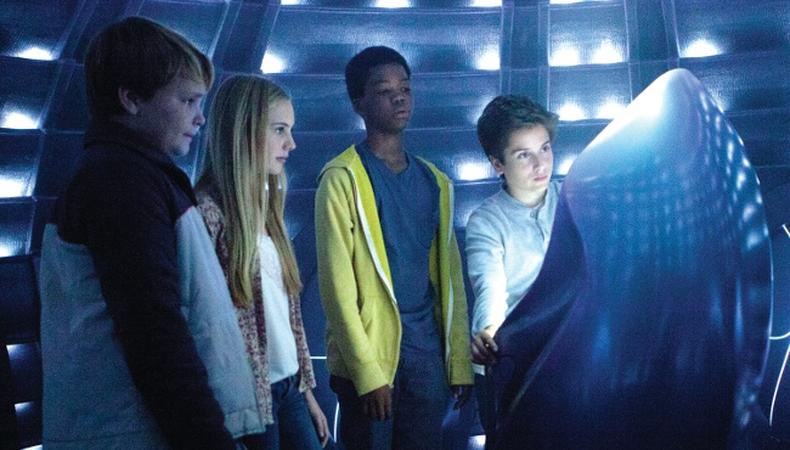 When the "found footage" convention comes up in conversation, movies such as "The Blair Witch Project" and the "Paranormal Activity" franchise come to mind; one doesn't typically think of a children's adventure story. But that's exactly what director Dave Green wanted to explore by taking on the shaky, hand-held style in "Earth to Echo," the new live-action movie aimed at the family demographic that hit theaters July 2—although he admits he was initially reluctant to employ the technique.
"Your hand-held camera is your fifth actor, because there is an element of unpredictability," says Green, making his feature film directorial debut. "If I said, 'Here's your mark on the ground,' it's not necessarily the case that the camera operator will hit that exact mark because it's not a dolly move; and same goes for the kids. So I had in mind that the kids would hit their marks and that the cameras would hit their marks, but of course when we get there, all that gets torn up into confetti and thrown up in the air—but what it lent the movie was a rawness and an organic quality that really made the kids and the scenes come to life."
Starring child actors Astro, Teo Halm, and Reese Hartwig as Tuck, Alex, and Munch, respectively, "Earth to Echo" is a tech kid's dream. The film follows the three best friends as they try to uncover the real reason they're being made to move out of their suburban Nevada neighborhood. Documenting the whole trip and uploading it to YouTube, they bike to the middle of nowhere after following a mysterious map on their glitching phones and discover something that changes their lives.
"What really excited us about doing this was that it was really the first time that I've seen a movie that's a family picture being shot in this style," says Green. "At the same time it's so intrinsic to the way kids and families live their lives today, which is like, 'I'm going on vacation!' Shoot it on tape. 'I'm going down the street to pick up vegetables.' Create a Vine. It is the language that our 12-, 13-, 14-year-old characters are living and breathing every day, so it just became a natural fit."
Finding a cast that meshed as naturally as the shooting style and narrative was a bit more challenging for the director and his casting directors, Randi Hiller and Tamara Notcutt. But regardless, Green wanted to make sure the auditions would run as smoothly as possible for his candidates. "I have friends who are actors who go through auditions every single day of the week, and sitting on the other side of the table, I know that it can't be comfortable," he says. "So I really wanted to make the casting process feel as comfortable as we could for the kids."
Green says he encouraged the actors to go off-book in the audition room to put them at ease, something he sometimes implemented on set. "We would get the scripted take and from time to time I would say [to the actors], 'Put it in your own words.' [And sometimes] they would come to me and say, 'Hey, I'm actually the age that you're trying to write and I would never say this.' And I would say, 'OK, OK.' "
The trust for Astro, Halm, and Hartwig's abilities was there because Green knew they were able to make the material seem new. When Astro auditioned, the scene was unrecognizable for the first 15 seconds "because he made it feel so real and so fresh that I didn't even recognize the dialogue I'd heard people do hundreds of times."
It seems Astro's audition was indicative of just how fresh "Earth to Echo" would go on to feel. While its style evokes comparisons to adventuresome classics like "Stand By Me" and "E.T. the Extra-Terrestrial," the technology element gives its protagonists and the audience a sense of unprecedented freedom with its storytelling.
Inspired by this post? Check out our film audition listings!