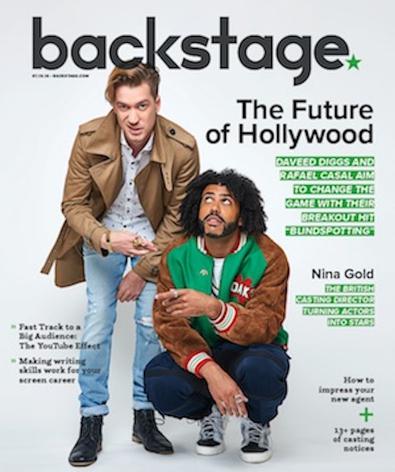 To ask Daveed Diggs and Rafael Casal what makes them such great collaborators is to see them light up. "Diggs is a very liberated, free artist," Casal shares about the "Hamilton" performer.
"A lot of people are trying to find themselves into the convention. But Diggs, to me, has always been a wrecking ball of artistry. That's a very infectious kind of creativity to want to be around! And that's great to me, because I'm an instigator."
"But you're also a finisher," Diggs tells his friend. "I don't know how many things I would've actually gotten done if not for Rafael. He finishes stuff! He's always putting it out in the world and then being like, 'Fuck it, let's work on the next thing, that's done'—without even taking the time to celebrate. Like now, our movie's not even out yet and he's making deals for the next movie, sending me new script ideas."
The film in question, the one that took them to Sundance and might just become the most timely movie about police brutality this summer season, is "Blindspotting." Set in Oakland, California, and operating on a kind of hip-hop poetic rhythm, the Carlos López Estrada–directed film is an electric look at a changing city amid racial and civil unrest. Diggs and Casal, who co-wrote and produced the film together, play a pair of friends that, in another world, would be the core duo in a buddy comedy. Collin (Diggs) is cautious where Miles (Casal) is reckless, and while the former is being extra-careful during the last three days of his probation, the latter sees no reason to dial it down; he's buying a gun from a friend in the very first scene of the movie, much to Collin's chagrin. The racial optics of this black and white Oakland pair are key to the film's humor and tension.
While Collin's braids elicit suspicion from cops and white gentrifiers alike, Miles' lingo and fade haircut often get him mistaken for a hipster poser or "culture vulture." Examining how those stereotypes operate in their respective lives is what drives a drama that culminates in a spoken-word confrontation with a police officer that's as visceral as it is nerve-racking.
To many, "Blindspotting" will seem like Tony winner Diggs' very first stab at headlining a big-screen project. To others, it will be an introduction to a brand-new talent. But to Casal and him, the film is but an outgrowth of the work they've been doing together for more than a decade. Both Oakland natives, the two went to the same high school, just four years apart. And while Diggs graduated and went on to study at Brown University, Casal ended up getting expelled ("Let's just say that, among other things, I had an issue with the history department," he chuckles).
By the time Diggs returned home, Casal had made a name for himself as a musician, having settled into a studio in North Oakland. Perhaps feeling these two artists had kindred sensibilities, their mutual friends insisted on playing them each other's tracks and encouraging them to meet. When they did, something clicked. They spent an entire night working on songs together and haven't stopped since. "I don't remember anything before that," Casal notes, "a time when I didn't have a person I work with all the time."
Diggs, who eventually went on to dazzle audiences in the dual roles of Marquis de Lafayette and Thomas Jefferson in the smash hit "Hamilton," has yet to fully process where that yearslong journey left him. While being on Broadway—let alone winning a Tony and a Grammy for his performance—was never a goal for him, he's grateful that the experience has allowed him the chance to pursue what he loves. If there's one thing he appreciates about having had that Lin-Manuel Miranda production be the thing that put him on people's radars, it's that it made boxing him in a tricky proposition. "I say I write rap songs. To me, that encompasses everything, even if people don't understand that it does," he says. "I approach everything in the way I write rap songs; that's how I figured everything out."
But even such self-labeling strikes him as unnecessary. "Truth is, I don't know an artist who does just one thing." Casal goes one further: "I don't know a person who does one thing." Those labels often come from outside, a way to limit and market you. Since his work in "Hamilton" straddled the line between rapping, acting, singing, performing, and a myriad of other things, Diggs felt there was less chance he'd be pigeonholed afterward. The meetings he had after the show were thankfully framed as "What do you want to do?" and not "I have this thing that I know is the thing that you do," he says.
Years earlier, when they'd first moved to Los Angeles, Casal had seen firsthand what that kind of bad meeting can look like. After amassing a following with his spoken word (he was famously part of HBO's "Def Poetry") and his music (he was a YouTube pioneer back in the day), he sat down with several people in L.A. only to be met with questions like, "So are you more like a Machine Gun Kelly or a Macklemore? What's your deal?" Even then—before "Atlanta" and "This Is America"—Casal was pointing to Donald Glover as someone whose artistry and career he wanted to emulate, someone who could seamlessly move between mediums and genres. And who could, it follows, use his platform to tackle pressing contemporary issues with aplomb.
Slightly disillusioned with the music industry and how it struggled to understand multihyphenate performers, Casal decided to focus on the only thing he could: the work itself. The two longtime friends, whether working on music videos, songs, or theater shows, seemed less interested in making it big than in making good art.
"I don't think I ever decided that I was going to make a living doing this," Diggs admits. "I still have trouble processing that a little bit. I just didn't stop doing it, and eventually I ran out of other skills. By default, these are the things I know how to do: I can rap songs and I can act in things. I didn't plan very much. It's a good thing that it's working out, for the moment." That final caveat reveals that despite his recent stints on shows like "Black-ish" and "Unbreakable Kimmy Schmidt" and in films like "Wonder," Diggs knows this industry is a fickle one.
Thankfully, he has Casal around to boost and challenge him in equal measure. For instance, at the time when audiences and critics were raving about Diggs' tour de force "Hamilton" performances, Casal was wowed but not surprised. "Oh, Diggs is just doing what he does," he remembers thinking. It was only that people were just now getting a chance to see what he'd been honing for years. If there was one thing that surprised Casal, it was that Diggs' decision to pursue experimental theater had somehow landed him on the path to a groundbreaking Broadway hit.
That journey is a reminder to both of them that there is no way to anticipate or predict how your career is going to turn out. "So many things other than the thing you create have to do with how it is received," Diggs points out. " 'Do you love the thing you made? What are the things about it that you would fix the next time?' That's the only useful metric." All you can do, they echo over and over again during our conversation, is focus on the work.
"I think everything else would've killed me," Casal confesses. "Every time either of us have tried other things, our very being just tries to break out of it. It feels like eating something you're allergic to. You just can't stomach it."
The laugh this elicits from Diggs is well-warranted. Those "other things" that Casal has attempted over the years include everything from teaching undergraduate classes ("Without a degree!" he smirks) and being the head of marketing for a $100 million fashion company ("Just, you know, as a side hustle," he adds). But, throughout, there was an almost infectious energy to create things.
"The goal has always been to make a living making the shit you love to do—whatever that meant." For Diggs, what's crucial is to not be a burden on anyone else; to be self-sufficient and to be able to care for himself. It's a rather modest goal, one that's rooted in both a practical and an ideal vision of what a career as a performer should look like. It's not about filling stadiums or selling records; not about earning millions of dollars or thousands of fans. It's much simpler: "It's about redefining success as living your life doing the things that inspire you."

Check out Backstage's Los Angeles audition listings!
Photographed on May 16 in NYC by Matt Doyle; Grooming by Leah Rial for Exclusive Artists using LXMI Skincare