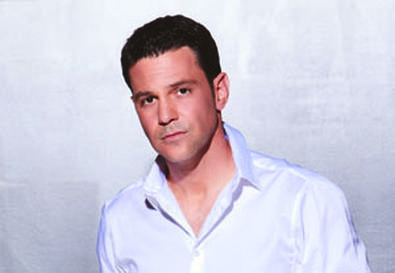 As an actor, I'm always critical watching others; it's just the nature of the beast. For me, any performance that doesn't cause my ego to say "I can do that" really signifies that it's spectacular. (It also signifies I should check my ego at the door.) I watched
Mark Rylance
in the Broadway revival of "La Bête," and it knocked my socks off. The complete commitment, passion, and unbridled enjoyment in every moment of what he was doing was overwhelming.
I saw him later in the same season in "
Jerusalem
," which was a close second. So, he has two spots on my list of top 10 all-time favorites. The performance in "La Bête" was more meaningful for me because I was doubting my ability as an actor and the big comic choices I had been making when auditioning. I saw him in December right before pilot season in January. The performance inspired me and reminded me of what comedy really is. It reminded me that to be a clown you have to be incredibly serious about what you're doing and commit 200 percent. I took that idea with me into the audition room and I nailed the first sitcom job I tried for, which is "The Exes," now in its second season.
Part of what got me the job was making big, bold comedic choices. Though television is a smaller medium than the stage, you can't be afraid to be big. It made me think of the iconic characters in comedy and how they're always the "most" of everything. Sam Malone in "Cheers" wasn't a little bit of a womanizer; he was the biggest womanizer in Boston, and the most arrogant, and the most vain. Joey Tribbiani wasn't slightly dimwitted in "Friends"; he was the dumbest guy you'd ever met. So, Rylance reminded me that big choices pay off.
Comedy can be more difficult than drama. It requires more attention to timing. In the theater, you're always dependent on the audience for the energy, but in comedy the feedback you get is more important. You can judge by the quickness and the length of the laugh just where you stand with the audience. Having to juggle that with what's going on with your character can be difficult, and Rylance was able to balance those elements brilliantly. His character, Valere, is a true clown, and I think Rylance wisely took something in himself and made it bigger, and it was so personal and specific that the performance had a laser-like focus.
At the top of the show, Valere has a 25- to 30-minute nonstop monologue. It's in rhymed verse, and throughout it, he belches, he farts, he spits. He even uses the bathroom in the middle of the speech and never stops talking.
The performance was as specific as it was random. Rylance brought a sense of play and wonder to it. He made it all work, and I was on my feet at the end of it.
David Alan Basche stars on TV Land's "The Exes" and has appeared in such series as "Oh Grow Up," "Three Sisters," "Lipstick Jungle," and "The Starter Wife."