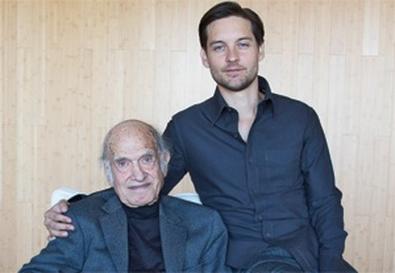 Alyson Hannigan believes that if David Legrant hadn't become an acting teacher, he could have had a great career writing bumper stickers. "David has these great sayings," enthuses the "How I Met Your Mother" star, who began studying with Legrant when she was 20. "I wish I'd written them down because they were so clever and they help me every time I think of them." Legrant has a knack for distilling his years' worth of knowledge into memorable phrases—one of Hannigan's favorites is "If you're going to paint a picture, are you going to paint it with your own eye or someone's else's?"—that encourage actors to take charge.
Fortunately for actors such as Hannigan, Tobey Maguire, Danny Glover, Bernadette Peters, and Steve Martin, Legrant opted out of the bumper-sticker business and stuck with his passion: teaching generations of actors the craft he knows and loves. "Acting can be difficult, no doubt," Legrant says. "But it should also be fun. Class is something you ought to enjoy." Actors seem to have enjoyed their time with Legrant; his students speak of him in fond, passionate terms. "I've gotten so much from David over the years, and so much joy from being in his class and just spending time with him," says Maguire, who was 18 when he met Legrant. "He's helped me a lot as an actor and, really, as a person."
Legrant was born in 1923 in Los Angeles into the business—sort of. His father was a carpenter in the film industry. Legrant was in the Air Corps (now Air Force) in World War II as a flight engineer, and when he left the service, he used the G.I. bill to study acting. He performed on a local television show and appeared in small movie roles, but he opted to move to New York in the late 1940s to pursue stage work. He met singer-actor Barbara Cook at a resort where he was performing "Jewish Borscht Belt comedy," and the two married in 1952. The following year, they embarked on a national tour of "Oklahoma" together. He also began studying at the Actor's Studio with Lee Strasberg, during a golden age of the institute. "Marilyn Monroe and I were in the same class together," Legrant recalls. "She learned a lot from me, and I learned a whole lot from her. She was a gorgeous, wonderful woman."
According to his son with Cook, Adam Legrant, the elder Legrant got into teaching at the urging of his then wife. "He had coached my mother, and it was her suggestion he start teaching," Adam Legrant, also an actor, reveals. "And it was perfect for him. Teaching is beyond imparting information to people; it's inspiring them and leading them along a path to a place you can't describe in words." Students say the teacher made a point of always being available to his students. Constance Towers, currently starring as villainess Helena Cassadine on "General Hospital," appeared in the 1967 Lincoln Center production of "Showboat" with Cook. "I would stand in the wings and watch Barbara, and I could just see the tools he'd given her," Towers reveals. "When I was going to do 'Carousel' in 1969, I was having trouble finding the character, and everyone said there was only one person to go to: David Legrant. I called him at 11 o'clock at night, and he told me to come right over. We worked until 3 a.m., and I instantly knew I had found a jewel in my life." As a child, Adam Legrant remembers his father on the phone for two or three hours some nights, coaching Bernadette Peters. Today, Peters recalls the best advice she ever got from her teacher. "The best quote from David—and I repeat it all the time when a young person asks me for advice—is, 'Never copy anyone,' " Peters says. " 'There is only one of you in the world. The best thing you have to offer is your originality. If they already have a Robert De Niro or Meryl Streep, why would they need another one?' "
Legrant taught in New York until 1978, when he moved back to Los Angeles. He continued to teach, emphasizing the need for naturalness and believability. Says Legrant, "I tell actors not to show me 'upset,' but to be upset. If you make it believable for yourself, you will make it believable for the audience." Troy Kelly has studied with Legrant for 17 years and says the classes have not only helped him as an actor but also in his career as an insurance agent. "The lessons I've learned have helped me speak in front of hundreds of people and sell the reality that is myself," Kelly notes. "He taught me how to be believable with someone else's words in a script—to make those words my own."
Another skill Legrant helps to teach is relaxation. "The biggest problem we have in acting is nervousness," Legrant says. "So many people are controlled by their nerves. They rush what they're doing and don't truly let themselves feel what they should. Many times, teaching is helping them understand that."
It's a feeling that actor Walton Goggins refers to as "a sense of abandonment." Goggins, star of the FX series "The Shield" and "Justified," was 19 years old when he was referred to Legrant's class. "I had no craft but a lot of heart and a lot of emotion," Goggins recalls. "I went to this man needing more than a teacher but a grounding force in my life. And I knew five minutes into the conversation that my life was about to change." Hannigan recalls an exercise where students had to sing a nursery rhyme, one syllable at a time. "It was terrifying," she admits. "It was probably two months before I could get through one without crying. You were exposing yourself in such a weird way." But the result, she says, was undeniable. "I would hold myself back so much, and he really pulled me out of that and gave me the confidence to be bigger than I thought I could be. It absolutely helped me in the audition room and helped me book 'Buffy the Vampire Slayer,' which was the beginning of my career, really." Agrees "Roseanne" star Sara Gilbert, "David has a way of taking an actor out of the idea of acting and into the state of being. He taught me to leave self-consciousness at the door."
Legrant also felt strongly about creating a safe haven for his actors. "David's class was a place where you let everything just hang out," Maguire notes. "I was so self-conscious when I first walked in, but I could be vulnerable and face challenges and fears I never thought I would. He can be tough but not in a way that degrades people. He speaks the truth but never to shame a person. He knows how to get the response from you that you need." Goggins recalls a time when Legrant pulled him aside with a tough message. "He said, 'You know you don't have the looks, so you damn well better get the talent. And you have something special, so I want you to be the hardest-working man in this room,' " Goggins recalls with a laugh. "And I went home and was a little depressed, thinking, 'David just called me ugly.' But I understood what he was saying, and I always worked twice as hard. It was the jolt I needed."
Legrant says simply that he has learned to be "gentle but demanding." And when it comes to the kind of students he likes, he sums it up succinctly by saying, "People who are hungry. You can't cook for people who aren't hungry." He points to Maguire as someone who came to him and was always anxious to learn more. "Tobey keeps growing," Legrant praises. "And he has the right attitude. If you're going to give the time, you're going to get better." Though Legrant technically retired a few months ago, he still talks of coaching and perhaps starting up a new class here and there. Goggins, for one, is eager to get back to work with him. "I hope he never stops," Goggins says. "A generation of actors will be missing something without his presence."