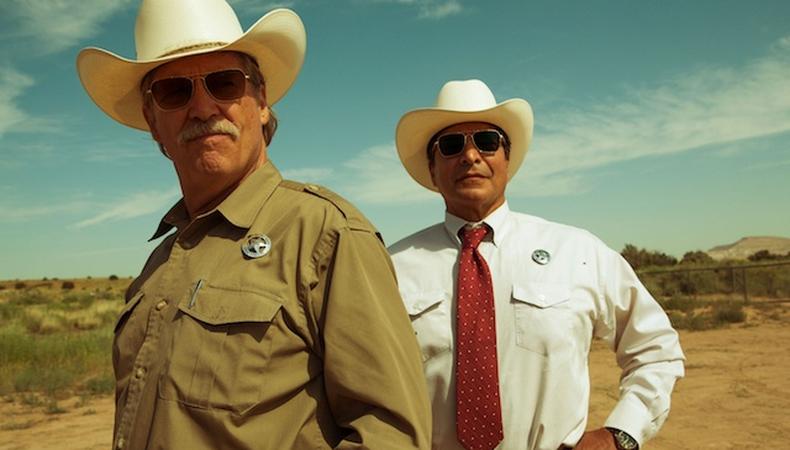 Though he's a relative newcomer to the United States, Scottish filmmaker David Mackenzie has created the most positively American film of the year.
"Hell or High Water" stormed into cinemas this summer, a bona fide critical hit. The film stars Chris Pine and Ben Foster as down-and-out brothers Toby and Tanner Howard, trying to keep the family farm after their mother's death by any means necessary—even holding up and robbing the very bank foreclosing on their property. Driven by greed, desperation, and family pride, their crime spree continues up and down the desert terrain of west Texas. All the while, Sheriff Marcus Hamilton (a never-better Jeff Bridges) is hot on their trail, anticipating their every move. Part cat-and-mouse Western, part film noir thriller, part road trip flick, the film defies genres and expectations, making for an unparalleled, full-throttle ride.
"I'm a foreigner to the United States to a certain extent, but I'm familiar with its cinema," Mackenzie tells Backstage. Upon reading Taylor Sheridan's "Hell or High Water" screenplay, he says he saw the material making connections to great 1970s films that "were able to tell human stories in a soulful way.
"There's a humanistic ache of these stories where you feel for all the characters. You're not necessarily playing a game of rooting for people—you're playing a game of rooting for the whole world, in a way," he says. "Hell or High Water" leaves audiences neither hoping for Toby and Tanner to continue raising hell nor hoping Sheriff Hamilton catches them; its two leads are empathetic criminals with a heart. "I think that it's nice to explore that stuff and not to be stuck in more simplified, codified storytelling," says Mackenzie.
That humanistic ache is thanks to the writer-director, but it wouldn't work without the humans behind the characters. That's where Pine, Foster, Bridges, and the rest of the film's supporting players come in. Pine, in particular, gets the chance to showcase a skill set not readily seen in "Star Trek," bringing a naturalistic slow burn to a man with a conscience forced to break bad. You'd never know his time on set was rushed; the actor had just a two-week window of availability between larger projects, but he savored flying by the seat of his pants with Mackenzie's invitation to experiment and improvise on set.
"It gave it a real energy," Mackenzie recalls of the time crunch. "I have a very organic process on set. There's a lot of playing with the material and seeing what happens with it. You take the script as your set of ingredients, and you work with those ingredients and cook things up. I get new flavors in there and get it as tight and as good as I want it to be."
Aside from its trio of leads, "Hell or High Water" needed an expansive cast to inhabit the west Texas that Mackenzie imagined. He sought actors with an authentic grit, people who have seen sweltering summers under the open sky and Texas sun. As such, he turned to hiring local talent to flesh out the story and provide the desired atmosphere.
"This film kind of lives or dies by the minor characters because it's so much told by them," he says, citing the waitresses and bank tellers and ranchers seen throughout. "It was very, very important to me to find actors who seemed to represent the west Texas that we were trying to describe. We found some great actors who could really embody those elements."
Want to break into the Texas acting scene? Check out our Texas audition listings! For acting advice, visit Backstage's YouTube channel!