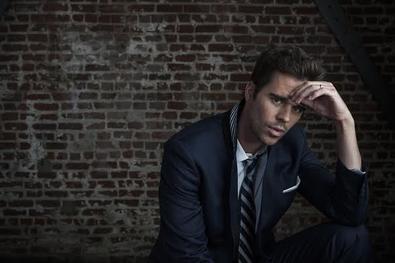 David Walton has been a consistent (and much-loved) presence on America's TVs for a decade now—but nothing ever stuck. His luck may be changing with NBC's midseason hit "About a Boy," based on the movie and co-starring Minnie Driver.
Prior to "About a Boy" and his well-received arc on Fox's "New Girl," Walton's career was rocky. Learning the business and trying to make a name for himself proved harder than he had anticipated—especially after some early success.
In 2003, Walton was studying with the Actors Center in New York City and doing theater when he got his first big break: a meeting with Marcia Shulman, the then–executive vice president of casting at Fox.
"I remember thinking I would go in there and sell her knives, 'cause that's kind of how I was making my living at the time. It was kind of my bit," he says. "I had this rap down about selling knives and it was just super weird."
Walton ended up selling her the knives and leaving with a $75,000 holding deal at Fox. "I was just grinding to stay afloat, making $100 a week doing this play," he says. "Next thing I knew, I was being flown out for pilot season and given a Town Car to take me to auditions."
Walton was quickly cast on "Cracking Up," a sitcom created by Mike White ("Enlightened") and starring Jason Schwartzman and Molly Shannon. After a year of struggling, he assumed he'd finally made it. But he quickly learned otherwise: Though 12 episodes were filmed, only six made it to air. "That show got canceled, I blew all the money, and I didn't work for, like, a year and a half," he says.
This was just the first of many hard lessons. "Once I started working as a professional actor it was like, 'Bye-bye waiting tables, bye-bye bartending, bye-bye all the clichéd jobs actors do,' " he says. "But after a year of not getting work, there's this really difficult conflict, like, Do I have to go back to being a waiter when people recognize me from a show?"
The quick cancellation challenged Walton's self-esteem as well. "It's keeping your confidence up, dealing with rejection, feeling like, if you're not making money acting, why are you acting?" he says. "If you're not able to support yourself as a man doing this thing…should you be doing it?"
After signing with the Gersh Agency and still not testing, Walton realized that his low confidence had become crippling. His coach at the time, Glenn F. Haines, turned things around, Walton says, after just a week of working with him. "He kind of talked me off the ledge and got me focused on what auditioning is…which is an opportunity to act, and not an opportunity to get a job."
Walton kept landing series leads on network sitcoms, but each show fizzled quickly. Within a six-year span, he starred on "Heist," "Quarterlife," "100 Questions," "Perfect Couples," and "Bent." But even with a fast flop such as "100 Questions," there was a silver lining. After initially being passed over for the role of roguish charmer Wayne, Walton was brought back in by the producers and tested very highly. "From that point on, NBC was, like, all about me," he says today, laughing.
One upside to having been a series regular so often is that Walton no longer has to audition for shows; now he's offered them, "About a Boy" included. Of his role as Will Freeman, Walton says, "There's some roles that just feel pretty automatic and you just kind of know the guy when you read it, and that's how I felt with this."
Walton is reflective regarding the more difficult times of his career. "If you do good work, you start to make a name for yourself and things can come around. Weird little happenstances happen," he says. "It's just one of those things. Do good work and do it for yourself."
Inspired by this story? Check out our television audition listings!