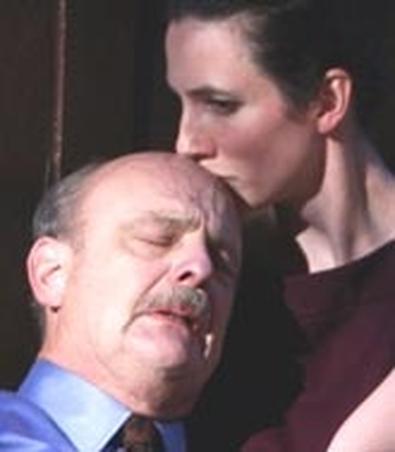 Thomas Bradshaw's reputation as a provocateur — which stems from his incorporating explicit scenes of incest, rape, sexual race relations, and decadent drug use into his plays — has led to him being hyped, fairly or not, as a young black playwright pushing boundaries. And with his latest, Dawn, in the very capable hands of director Jim Simpson, it's finally possible to see a glimmer of the human comedy in Bradshaw's stylized, absurdist queries into morality.
Simpson intuits the ridiculous nature of Bradshaw's characters and expertly strips away theatrical trappings so that we're left with a nearly bare set — save for a few chairs and props — with an LED board hanging above the action to indicate the setting (home, office, woods, etc.). The action centers on aging Hampton (Gerry Bamman), an alcoholic on the verge of death due to his drinking. Few subtleties are allowed, and the episodes of drunkenness are exploited for their ridiculous nature — as if we're seeing a soap opera writ large — so that there are few distractions from Bradshaw's "big ideas." The cast projects in a big, bold style — especially Irene Walsh, who plays Hampton's second wife, Susan, and Kate Benson as Laura, his daughter — making Dawn feel more like a fable. Forget realism; this is anti-Method acting, and for once it almost makes Bradshaw's handiwork tolerable. The clumsy dialogue now feels intentional, the outlandish actions buffoonish rather than completely heinous. The most impressive work, however, isn't by the actors; instead it comes from the ensemble of Bats, the Flea's resident company, who swiftly change set pieces and handle the actors' costume changes on stage with elegance.
Bradshaw's nihilism still overpowers. Hampton is saved from death by his son Steven (Drew Hildebrand), who takes his father to Alcoholics Anonymous. Steven, however, turns out to be a pedophile who lures his 14-year-old niece Crissy (Jenny Seastone Stern) into having sex with him. Thankfully, Simpson respects his actors enough not to humiliate them. When Crissy masturbates for online spectators, Simpson turns her away from the audience. She is always allowed to disrobe discreetly, and she is wrapped in a blanket after a sex scene. When Stern was seen in Bradshaw's Purity, her genitals were displayed in a gratuitous sex scene meant to shock the audience, many of whom left.
Because of his deft direction, Simpson even manages to elicit implausible laughs from the scenes between Steven and Crissy. Although Bradshaw insists on leaving morality in a mess at the end, Bamman's final scene of ambiguous redemption manages to be moving.
Presented by and at the Flea Theater,
41 White St., NYC.
Nov. 15-Dec. 6. Schedule varies.
(212) 352-3101, (866) 811-4111, www.theatermania.com, or www.theflea.org.