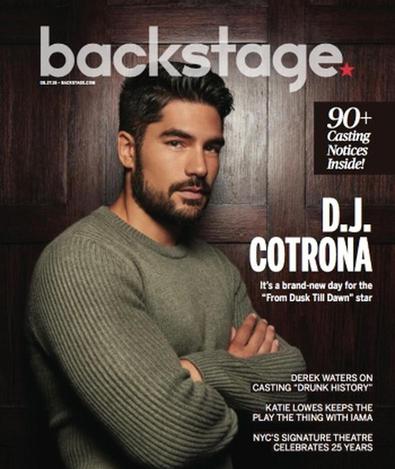 D.J. Cotrona had less than two weeks to prepare for reinterpreting one of his favorite film roles in Robert Rodriguez's TV adaptation of his 1996 film "From Dusk Till Dawn."
"We just got thrown in very quickly," he says over his second cup of coffee at the Algonquin Hotel's Blue Bar in Midtown Manhattan. "Robert shoots very fast. Everything is very fast, so you learn on your feet; it's definitely run and gun.... But I prefer it."
It's an apt description for the "From Dusk Till Dawn" world, first brought to life by Quentin Tarantino (also the screenwriter) and George Clooney as the Gecko brothers, two small-time crooks on the run who enlist a Bible-thumping family of hostages to sneak them across the Mexican border.
What moved "Dusk" beyond the run-of-the-mill crime saga into indie film history was not only Tarantino's "verbose" script and Rodriguez's seamless integration of spaghetti Western and kung fu film influences, but the radically sudden switch from heightened realism to the dark fantasy of a full-on vampire horror flick.
That shift was more drawn out in the TV adaptation's first season, starring Cotrona as fast-talking Seth and Zane Holtz as mentally unstable Richie. Now, Season 2 moves beyond the cult classic's original telling, expanding on the universe. The first two episodes bring a welcome change for Richie and a newfound low for Seth, who finds himself lost without his partner in crime.
"It's funny because my career as an actor has been extremely up and down," Cotrona says of the similarities between Seth and himself. "I've had a lot of big opportunities that have not come to fruition for myriad reasons, and it's weird but I think that really informed my experience with my character."
In 2007, Cotrona was cast in George Miller's "Justice League: Mortal" as Superman, a potentially career–making role, but the project fell through. It wasn't until 2010's "Dear John," in which he played Noodle, the Army bud to Channing Tatum's titular character, followed by 2012's "G.I. Joe: Retaliation," that audiences saw him on the big screen again.
"You think about it and [actors are] constantly just rushing to grab one job real quick and get away with it, and then that job brings us to the next job. You feel like you're always on the road to snatch a role or snatch a bag of money, just enough to continue to the next one."
But it's the "obsession" with the chase and the process, and rarely the job itself, that both entices and serves as the driving force behind Cotrona's acting career, Seth's criminal one, and "From Dusk Till Dawn."
Luring fans back into the groundbreaking film's hazy world of sex, Satan, blood, and bank robberies hinged on creative support from Rodriguez. The Texas native brought his atypical style to the TV series, making it the first original from his cable network, El Rey, a move that ensured complete creative control in front of and behind the camera.
The project was daunting, but Cotrona says being selected by Rodriguez pushed him to trust his acting instincts, as well as lean into taking agency over his choices. There was no space for self-doubt.
"[Robert's] always saying, 'Keep creating. Keep moving forward. Don't second-guess anything. Take the first instinct and just go.'
" 'There are no mistakes' is a big thing with him," says Cotrona.
Rodriguez's quick-draw style for the genre mash-up extends to his entire process; from filming and editing to composing and casting, he moves quickly and "works from the gut," according to Cotrona.
Known for his ability to find talented, under-the-radar actors, and launch their careers (e.g., Antonio Banderas, Salma Hayek), Rodriguez sees and fortifies intuitions in whom he hires by challenging them.
Cotrona recalls his initial chemistry read with his future onscreen brother, Holtz, and admits there was an almost immediate dislike for the "Make It or Break It" actor; Rodriguez honed in on it.
"I looked at [Zane] and I was, like, 'Oh, this isn't gonna work.' [It was] just something about him," says Cotrona, laughing. "I don't know what it is! I think when I see something similar to myself in someone else, I instantly don't like it, but then those are the people who become my best friends."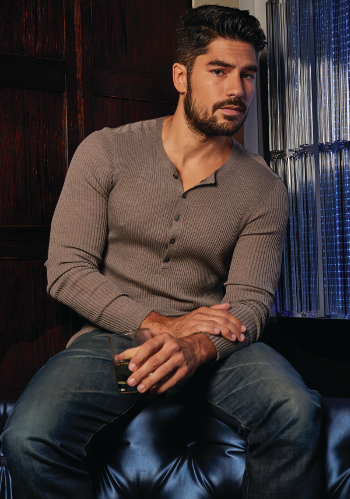 Holtz undeniably nailed his audition but lingered in the room afterward, telling "stupid jokes" and asking Rodriguez fan questions.
"I'm sitting there thinking, Dude, shut your mouth and walk out the door. You have the job and you're screwing it up. He just wouldn't leave!" Cotrona recalls, shaking his head. "I thought he blew it. And he walked out and Robert just cracked a smile and I knew what he saw in that moment.... What I thought was Zane losing the job was actually what solidified it because [Robert] saw the relationship build right there."
"We have a [connection] that's almost truly like brothers," says Holtz, who calls Cotrona's prep process "meticulous." "We jumped through the hoops of reading for Robert, so we had that bond of two actors just trying to book a job, and we cemented it by rehearsing [and] spending a lot of time together. As a credit to D.J., the things that I do [as Richie] only work when I'm playing them with him because you see our personalities bounce off each other."
While shooting the new season, the cast—including Wilmer Valderrama, Eiza González, Jesse Garcia, and Madison Davenport as Seth's Season 2 sidekick—lived in the same apartment complex, fostering a family-like dynamic that allowed them to bounce ideas off one another between takes and home-cooked meals, and stay comfortable on set.
"We have a similar process," says Davenport of her and Cotrona's approach to their roles. "D.J. and I are not Method actors so we kind of just played it as ourselves, but thought about what our characters had gone through and how that would influence our feelings toward one another. [Seth and Kate] kind of hate each other and love each other at the same time; D.J. and I have the same thing. Sometimes I tell him I'm going to murder him in his sleep, and he says the same to me!"
Their playful combativeness will offset the grittiness that Cotrona promises awaits "Dusk" viewers when Season 2 picks up mere months after the hellish experience in the first season's final episodes. And the series will not shy away from brutal clashings with the Culebras—part human, part snake vampiric creatures that feed on the living.
"The one thing Robert's always saying on set is, 'What's more dangerous?' From the shot angle to the acting choice to the effect, how far can we push the crazy horror stuff? What Greg [Nicotero, special effects supervisor] and Robert enjoy about the genre is the scare factor, the shock factor, the root of it, and we try to put the horrifying aspect back in horror," says the actor. "I mean, look, if you're going to be a monkey, be a gorilla."
---
A 'Sunstar' is Born
After working on the TV reworking of "From Dusk Till Dawn," "It's impossible not to want to get your hands dirty in all aspects," says D.J. Cotrona. "I've learned a lot about how [Robert Rodriguez] edits and why he edits the way he does and the way he picks shots and the way he shoots with the edit in his head."
Raised in "blue-collar" New England, where there was little access to the filmmaking world, Cotrona says his draw to storytelling has remained a stalwart drive regardless of surroundings, and working with Rodriguez has strengthened a desire to explore its other avenues.
"My priorities haven't changed since I was 9. I grew up making tiny little embarrassing movies with my friends," he says. "I always found a lot of escape from tough things growing up in stories and alternate worlds and films. I've got a stack of tapes in my basement that if you ever saw, you'd laugh."
Although he was rarely the lead, his childhood projects include "Deathcar," in which a possessed vehicle tries to kill him and a friend, and "Operation Sunstar," an unfinished film that sees Cotrona chasing a criminal into the woods. "Drunkenly, [my friend and I] came up with an idea to finish the movie; we just run out of the woods with beards, 20 years later," he says, laughing.
"Operation Sunstar" aside, "I definitely have a few things I'm writing that I'd ideally like to shoot someday," Cotrona says. "If I get enough courage."
Want to read more? Check out our Backstage covers here!