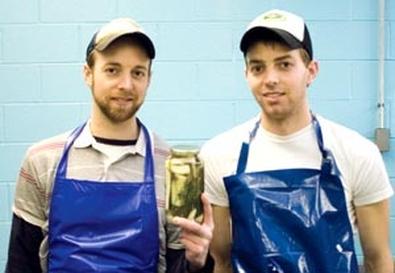 "I love teaching," declares New York actor Michael Mastro. "It took me a long time to admit that. I used to feel that if I wasn't making the majority of my income from acting, then I was a failure."
Actors have always had to supplement their income with nonacting jobs, but in today's uncertain economy, it's even more important to have a sideline business—not only for the extra cash but for the career perks and peace of mind.
Mastro, whose Broadway credits include the current revival of
West Side Story
, took a different tack at first: He made certain his day jobs were a source of misery. "I'm a recovering Catholic and felt obliged to create purgatory for myself," he says, only half-joking. For 13 years he worked in catering, restaurants, and baby-sitting, under the theory, shared by many performers, that if your day job is meaningful—or, heaven forbid, enjoyable—you could find your acting ambitions slipping away.
But when Mastro started teaching 10 years ago, he found the opposite to be true, especially when his agent began sending young actors to "pick my brain," he says. "That's when my friends said, 'Turn this into a business.' I never advertised; it was all word of mouth, and over a 10-year period it grew. And I'm now thinking of forming a real company. That will mean more money spent on accountants, but I'll also have more tax breaks and savings."
Mastro doesn't feel it's a fluke his acting career took off once he began teaching: "I was getting more sleep, feeling less stressed, and walking into auditions a more self-respecting, confident person. That first year, I auditioned for 10 pilots and got my first Broadway show and
Law & Order
. Whenever I stop teaching, I lose acting jobs. When I start teaching, I get them. I don't know what that means, but I think the universe is sending me a message."
Those Who Can, Teach
Adriana Millan teaches too—a job she's had for as long as she's been acting. For a number of years the West Coast–based actor taught for a nonprofit group that offered acting and playwriting classes in the public schools, but there were obstacles: She had no control over her curriculum or her pay and couldn't arrange for a substitute if she had an audition. So Millan created her own business, offering 7- to 15-year-olds a twice-weekly, two-and-a-half-month course at a community center.
"I love the flexibility," she says, "the fact that I decide what I get paid and what and how I teach these kids." She also has greater freedom to attend auditions.
The same is true for Jodi Nelson, who teaches acting and filmmaking privately in Los Angeles and is a visiting guest artist at East Tennessee State University. Other day jobs, including stints in real estate and marketing, "got in the way of pursuing acting," she says. "You either had a lot of money and no time or a lot of time and no money. So I went into business for myself, and I'm now able to go to many more auditions, in addition to working on my own projects, launching my own films. I'm an actor, and films are my vehicle."
Nelson also finds she has plenty of students now that the economy is wretched and many people have lost their jobs: "They're going back to their first love—acting—realizing that life is short. The economy is a jolt. They're realizing if they want to act, they'd better do it now."
Getting Out of a Pickle
Bob McClure has been a working actor for 11 years, but for three and a half years he also had a long-term temp job at Allure magazine, which he liked a lot, in part because he had flexibility to audition. But when the economy went south, his job went with it. McClure was prepared, however, having started a pickle business two years earlier with his brother Joe, a doctoral candidate in physiology. As they've always been pickle mavens—making pickles is a family tradition—turning it into a business was natural.
"My brother and I wanted to work together and create a job where we had control of our destinies," McClure says. "The initial investment, about $1,000, came from personal cash and was used to get the first few batches of pickles made. When we needed to rent a larger space about a year later, we took out a personal loan for $50,000. Currently we're seeking to obtain a loan, in addition to our own capital, to help us purchase equipment and expand in order to meet and maintain demand as our customer base continues to widen.
"We now have two facilities," he adds. "One in Michigan, where my brother is based, and one in New York, where I'm based. We do most of the preparation in Michigan because it's cheaper there, and I do the marketing and distribution from New York." Today, McClure's Pickles are sold nationally and in Canada at Williams-Sonoma stores and in specialty shops (see a list at www.mcclurespickles.com). The company's gross income this year will be about $240,000, McClure says.
The business is labor-intensive and time-consuming, he admits, but it hasn't interfered with his acting: "It has strengthened my focus, given me a business perspective in terms of how my time is spent and how I market myself as an actor. I've learned there are certain roles I can't go for, because of the time commitment needed for my business. Before I started my business, I'd take any role, out of panic. Now I have no sense of panic." He can be selective about parts—though if he takes a role out of town, he'll have to run his business via cell phone and computer.
McClure concedes that should the business take off in a major way, he may limit his acting to commercials, TV guest spots, and other gigs less time-consuming than stage work. But he says he takes a similar view of his two careers:
"For my acting career, I want to work with great people and do great projects, and there are only a handful of those. The same is true with the pickles. As long as we're creating a great product that's sold to people who share our mission—getting the best possible produce available, local if possible—it's not important that we're in every single store. We want to make a living at this, same as I would with acting."
A Sideline by Design
New York actor Betsy Head has always had a keen interest in interior design and for a long time wanted to pursue it. In 2005, after four years of subsidizing her onstage passion with day jobs that had her mentally and emotionally "checking out," she says, she launched her own business, Affordable Interior Design. Given the name, it's not surprising that her clients are largely fellow artists. "They're my target market," Head says. "These are interesting people who need to live in creative environments, whether it's one person in a studio in Astoria or someone who has six roommates in Bensonhurst."
The cyclical nature of her business coupled with her low rates means there are still times when Head has to take a survival job. But because she does much of her work online—from designing to shopping—her flexible schedule allows for it, as well as for auditioning. And the recession has been great for business. "I braced for the worst, but I've been overwhelmed with work," she says. "Because of the economy, people are staying at home. Home is now the hot spot. I'm so busy I've had to turn down clients."
Another surprise is how Head's acting skills have helped her business. Because of her talent for listening and responding, she finds that her interactions with clients are a lot like doing a scene: "When your clients are talking about their homes, they're telling you what's wrong with their lives and why they're unhappy. They're exposing themselves—it's raw—and I have to adapt. When you interact with a hipster in Williamsburg, that's very different from the way you interact with a family on the Upper West Side who has just had a newborn. You listen differently, you respond differently, and you design for them differently."
Her first love will always be acting, Head says, and as her business booms, she hopes it will allow her more time to perform. But, thinking creatively, she also envisions merging her passions: by hosting a design show on television.
Peer-to-Peer Careers
Even in a face-to-face business like performing, actors seem to spend half their lives online these days, and that opens a whole new realm for Web-savvy entrepreneurs.
Steven Leon's ActorsComfort.com is a one-year-old business addressing the concerns of New York performers, from employment to housing to finance. "Whatever an actor's background or whatever stage in his career," he says, "all actors have a common goal: to have a creative job and live comfortably." Currently the site is free to all, and Leon hopes that traffic will generate advertising revenue and eventually subscribers. "But right now I'm building value."
Until recently, Leon was working steadily as an actor and didn't feel the need to shift gears. In addition to appearing in commercials and indie films, he had a six-year gig with Family Life Theatre, doing improvisational performances on social themes for at-risk kids. "When we had funding, it was great," he says. "But when we lost our funding, I decided I had to move in a different direction."
Most of his creative energy is now focused on his business, Leon says, though he hopes to act more in the future: "I no longer want to do a role just for the sake of doing a role. I would like to be a producer and be in a position to green-light projects. This business will give me income and freedom and keep me knowledgeable about what's going on in the industry."
New York actor Jonathan Castro started his company, Let's Make It Reel, earlier this year after realizing that four years of bartending, catering, and temping wasn't exactly utilizing his skills—or providing him with enough money or flexibility, he adds. "At most jobs, you just can't get up and leave because you have an audition." His business helps create demo reels quickly and affordably by locating material, supplying scene partners, and shooting scenes—for newbies who need to create a reel from scratch and veterans who want to flesh out an existing reel. "They may have worked a lot in drama but have done no comedy and need comic material to add to their reels," Castro says.
To his knowledge, it's the only business of its kind, and recently he added another producer, a director of photography, and an assistant director. "The service I'm offering makes so much sense," says Castro, who, like the others, has no intention of abandoning his performing career. "I've got nothing but green lights all the way."